Sub Menu Toggle
UTRGV Physician Assistant students urged to pay it forward, during White Coat Ceremony
The UTRGV Department of Physician Assistant welcomed its newest cohort of 50 students, during a White Coat Ceremony, Aug. 19, 2016, on the Edinburg Campus. (UTRGV Photo by David Pike)
By Jennifer L. Berghom 
EDINBURG, TEXAS – AUG. 19, 2016 – The University of Texas Rio Grande Valley's 52 new Physician Assistant Studies students were selected from among hundreds of top candidates, and on Friday, university officials challenged them to use what they learn to serve their communities.
The UTRGV Department of Physician Assistant Studies (PA) had its White Coat Ceremony Aug. 19 at the Engineering Building's main auditorium on the Edinburg Campus. Faculty members cloaked each student, as family and other loved ones cheered and snapped photos.
The students each received an Apple iPad, which they will use extensively throughout their studies. 
For this latest cohort, UTRGV received more than 1,400 applications; about 800 of those were viable candidates for the PA program. Of the 800, the program admitted 50, and gained two more through an agreement with Howard University.
Frank Ambriz, clinical associate professor and chair of the Department of Physician Assistant Studies, told a crowded auditorium about the importance of paying it forward.
Previous cohorts have participated in physicals for student athletes at two school districts and community health fairs, he said. And in those community-related activities, the PA students and faculty found that there were children in their early teens who had never visited a doctor before.
"We hope our students have a kind heart, a compassionate heart, a giving heart, and if you don't have that in your heart, you have a heart condition that is chronically … unable to be treated," he said.
Ambriz said the new PA students will continue that tradition of giving back to the community while they are in the program, and are expected to continue giving back to the communities where they work and live.
He acknowledged Dr. Norma Iglesias, a local doctor who has supported the program by providing at least $15,000 a year for scholarships for PA students.
Students also heard from UTRGV President Guy Bailey, and College of Health Affairs (CoHA) Dean Dr. Michael Lehker, who praised them for their accomplishments thus far and reiterated Ambriz's message of commitment to their communities.
Stephanie Olawaiye, a Houston native who earned her bachelor's degree in psychology with a minor in biology from Stephen F. Austin State University, said she fell in love with the Rio Grande Valley immediately upon visiting and chose UTRGV because she felt she would be exposed to more healthcare issues here.
"I love the culture and I knew that if I came here I would be more likely to see things than I would be back in Houston in a big metropolitan area," Olawaiye said. "I worked in the ER for a little over a year, and there I got a lot of experience. I was happy to be exposed to so many different things. I feel that, being here … I'll learn."
Olawaiye said she chose the Physician Assistant path because it fits in better with her personality and lifestyle.
"PAs have more flexibility and variability," she said. "Instead of being in the same field, I can switch (specialties) and, more than likely, I think I'll switch just so I can be exposed to knowledge in different areas."
Alberto Santiago Guajardo, who went to medical school in Mexico and has worked as a medical assistant in the Valley for more than two years, said he chose UTRGV because it is one of few programs that accepts foreign medical graduates. A physician from the clinic where he worked recommended the program to him.
Guajardo, originally from Valle Hermoso, Tamaulipas, has been living in Brownsville for two years. He looked into the program and decided PA path was be best one for him.
"In two years, you get a license to do what you love – see patients and help the community," he said. "Foreign medical students have a home here."
White Coat ceremonies serve as a rite of passage for students who begin their studies in healthcare professions. UTRGV's legacy institution, UT Pan American, has had White Coat ceremonies for its newest students since it became an independent program in 1999.
The Physician Assistant Studies program started at UT Pan American in 1994 as a cooperative program with The University of Texas Medical Branch in Galveston, to provide more needed health professionals in the Valley. It was the only physician assistant program in the state that was not based at a medical school.
The program has expanded over the years, first into a bachelor's program in 1999, then a master's program within the College of Health Sciences and Human Services in 2008. Also in 2008, the university began offering a bridge to the master's program through distance learning/online courses for professional physician assistants with bachelor's degrees, to earn their master's.
In 2009, UTPA and UTRGV's other legacy institution, The University of Texas at Brownsville/Texas Southmost College (UTB/TSC), signed an agreement to accept five UTB/TSC graduates each year.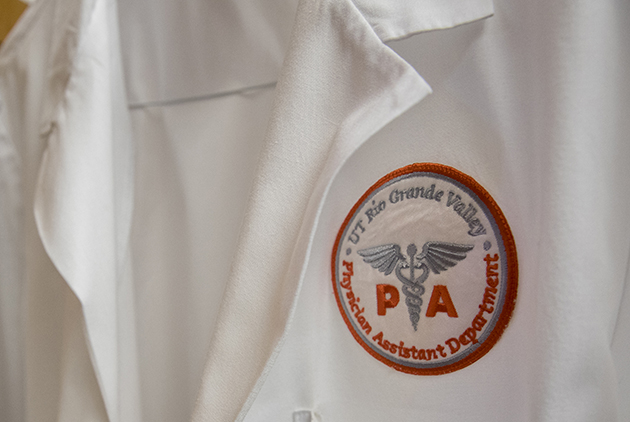 Detail of the patch on the white coats worn by the UTRGV Department of Physician Assistant. (UTRGV Photo by David Pike)
PHOTO GALLERY: https://www.flickr.com/gp/utrgvnews/Vs3M9C
MEDIA CONTACTS
Jennifer.Berghom@UTRGV.edu
UTRGV Senior Writer / 956-665-7192
Marci.Caltabiano@UTRGV.edu
UTRGV Director of News and Internal Communications / 956-665-2742