Sub Menu Toggle
UTRGV Engineering professor shares love of learning with students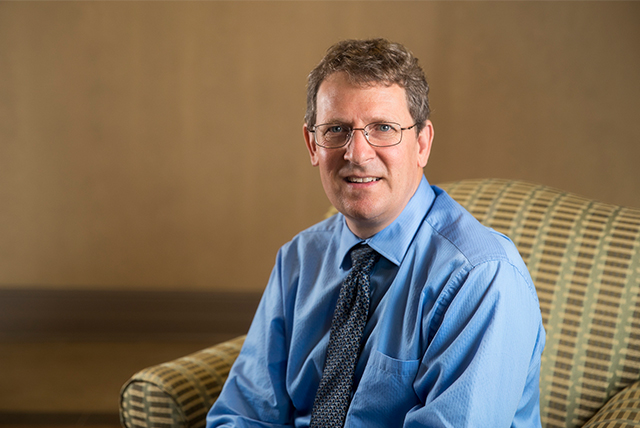 Dr. Stephen Crown, UTRGV professor of mechanical engineering, director of the Texas Pre-Freshman Engineering Program (TexPREP), and 2016 recipient of the UT System Outstanding Teaching Award (UTRGV Photo by David Pike)
By Jennifer L. Berghom
RIO GRANDE VALLEY, TEXAS – AUG. 19, 2016 – There is a maxim by which Dr. Stephen Crown and his family live: Love people, and like things.
For Crown, professor of mechanical engineering at UTRGV and director of the Texas Pre-Freshman Engineering Program (TexPREP) at UTRGV, teaching engineering allows him to follow that rule each day.
"This is a helping profession," he said. "It's helping society. But I felt a much more direct connection when the focus of my work can be people. That is a better fit for me. The subject is always engineering, but the context is always people. And of course, I still really, really like engineering."
Crown is one of five UTRGV faculty members to receive a University of Texas Regents' Outstanding Teaching Award, considered among the highest and most prestigious in the nation to recognize teaching excellence. Crown and his colleagues will receive their awards at a ceremony Aug. 24 in Austin.
Initiated by the Regents in 2008, the program recognizes tenured, tenure-track and contingent faculty (including lecturers, adjuncts and instructional assistants) for outstanding teaching, mentoring, and personal commitment to students and the learning process, as well as for motivating students in the classroom. Award recipients also are given a $25,000 prize.
Crown earned his bachelor's degree in mechanical engineering from the University of Colorado in 1985. He earned his master's degree and Ph.D., both in mechanical engineering, from Iowa State University in 1989 and 1993, respectively.
Crown, who has taught at UTRGV and its legacy institution, UT Pan American, for the past 22 years, said his goal is to make sure his students understand what they are learning so well, they can apply it to whatever task is at hand, instead of just memorizing information.
"There's a responsibility to those I teach, to show them how they can really go deeper than just getting through the program with a degree, so that they really have an appreciation for what they're learning, and learn it to a place where they feel that they understand it and beyond," he said.
"I guess the subtle difference between learning and wisdom is the ability to understand to a level where you can apply it. And really, that's my hope for all my students – that they can actually apply the principles to new situations someone hasn't even considered yet."
Crown prefers using a challenge-based method of teaching, which entails presenting students with a problem or situation for which they have to find a solution. When he taught an engineering graphics class at then-UTPA in the mid-1990s, Crown developed a software program similar to Minecraft that allowed his students to create homes and other structures using what they learned in class. The program allowed students to see each other's work, as well as communicate with one another and with Crown.
His software program won him a national award, and some of the program's components are still used in engineering programs today.
"I found that students were making things to learn, but they were also making things because they wanted their house to look really nice so that everybody in class could see what they've made," he said. "They would always go way beyond the minimum requirements, which rarely happens with homework. But, in this case, they were doing exactly that, getting excited about what they were doing and learning. I think they got that feeling of, 'I've really learned this material and I can do some things with it.'"
About a decade ago, Crown took over directing TexPREP, a four-year summer enrichment program that teaches students from seventh to 11th grade the fundamentals of engineering through hands-on activities and classes. In 2013, he started a follow-up program for high school students who completed all four years of TexPREP, called U-PREP. In this program, students, all rising seniors in high school, live on campus and take classes at the university and earn college credit.
More than 400 students attend these programs each year.
Crown said TexPREP allows students who are interested in math and science to strengthen their skills before they enter college. It also can serve as a decision-maker for students who aren't sure about what they want to do for a future career.
"I want students to explore math and science and engineering, but I really want it to be an experience where they can determine if it is what they really want to do for the future as a career," he said. "They have a lot more freedom at this point, because they're young, to explore this. A lot of them are the first in their family to pursue this path.
"It's an eye-opening experience for many of them. The students who believe it is the right fit get a little extra boost, in terms of their abilities, so when they get here, they're much more successful. And for me, as a professor, it's exciting to help them even before they get here."
In letters of support for his nomination for the Regents' award, colleagues and former students praised Crown for his enthusiasm and dedication to students.
Former student Thomas Diedrich – who now works as a Heavy-Duty, MidRange and Light-Duty (HMLD) Engine test engineer at Cummins Inc., an Indiana-based Fortune 500 corporation that designs, manufactures and distributes engines, filtration and power generation products – wrote that Crown would help students apply textbook knowledge to real-world problems, and often had his students acquire new skills, such as computer programming, to complete assignments. He also offered his personal cell phone number so students could contact him if they ever came across any obstacles in their studies.
"With the time spent under his guidance, I know I have a lifelong mentor and friend that fundamentally shaped my engineering career," Diedrich wrote. "He gave me the engineering skills required to be successful at my career at Cummins Inc."
Jazmin Ley, a former student who is now a lecturer in the UTRGV mechanical engineering department, wrote that Crown's colleagues and students regard him as a problem solver, and recalled how he helped her solve a problem while she was working on her thesis.
"He teaches more than thermodynamics, more than engineering graphics, more than measurements and instrumentation. He teaches you to be a better person and a human being after the class is over," she wrote. "He teaches you to push yourself, and expects you to give as much as you can. This is what makes him a great educator."
Fellow faculty members like Dr. Arturo Fuentes, professor and program coordinator for the UTRGV Bachelor of Science in Mechanical Engineering program, said Crown is able to engage in various enrichment programs, including TexPREP and U-PREP, collaborate with faculty on research, and maintain his dedication to teaching.
"Through my daily interaction with Dr. Crown, I found out that student learning is his passion and that he is determined to provide the best possible educational experience for his students," he said.   
For more information on the UT System Regents Award winners, visit the UT System's website at
http://www.utsystem.edu/sites/regents-outstanding-teaching-awards
.
MEDIA CONTACTS
Jennifer.Berghom@UTRGV.edu
UTRGV Senior Writer / 956-665-7192
Marci.Caltabiano@UTRGV.edu
UTRGV Director of News and Internal Communications 956-665-2742