Sub Menu Toggle
UTRGV muralists bring to life San Juan's bond with sports
Corina Carmona, a UT Pan American BFA alumna and artist, worked with UTRGV Mexican American Studies students and the City of San Juan to design and create a new mural that highlights the historical impact of sports in the community. The mural, which will be complete in September, is located at Mayfield Park in San Juan. (UTRGV Photo by Paul Chouy)
By Gail Fagan
SAN JUAN, TEXAS – AUG. 4, 2016 – Public murals represent a community's history and hopes to its residents and the world.
In San Juan, a partnership between The University of Texas Rio Grande Valley and the city to produce this form of public art is bringing to life the cultural impact of sports on the community, in a mural being created at San Juan's popular baseball/softball complex, Mayfield Park.
"Sports helped unite this community and families," said Dr. Stephanie Alvarez, UTRGV associate professor of Mexican American Studies (MAS), who initiated the mural project earlier this year with San Juan's Department of Parks and Recreation. "Public art and muralism are very important to the Mexican American community because their stories are not in the history books or in the school books. Muralism is a form of storytelling; it tells the stories of the communities."
Alvarez's MAS students had partnered with the city in 2012 to help create a mural at San Juan's municipal swimming pool, highlighting the community's history of migrant farm work.
Armando Ponce, director of the San Juan's Parks and Recreation Department, said that mural has never been tagged or vandalized and has served as a history lesson for the community's children.
 "The community respects it," Ponce said. "That says a lot about the impact of art."
PRE-MURAL PREP, COMMUNITY ENGAGEMENT
This year the nearly 50 students in Alvarez's Learning and Reflective Services class of graduate and undergraduate MAS students took on the task of creating the newest mural, hosting barbeques and other fundraisers to help support the project.
Alvarez estimates that students, along with friends and family, have put in more than 2,000 hours of work on the project during the spring semester.
In the research required by the class, students met with Mayor San Juanita Sanchez and members of the PSJA school district's 1962-1963 teams that advanced to the state finals in football, among others. They visited significant community sites like the Basilica of Our Lady of San Juan del Valley National Shrine and the offices of La Union del Pueblo Entero (LUPE), founded by United Farm Workers organizer César Chávez.
The students also conducted a survey of more than 100 residents to ask what they wanted to see on the mural.
"We didn't want the mural to be something that we just put into their community. We wanted it to be a part of them," said Valerie Cerda, a graduate student in Interdisciplinary Studies with a concentration in Mexican American Studies, who also works in the MAS Center at UTRGV.
Corina Carmona, a professional artist, muralist and UTPA BFA alumna, assisted by Iliana Rodriguez, a current UTRGV MFA and MAS Graduate Certificate student and art teacher at Juarez Lincoln High School, created the mural design from information collected by the students. The city provided paint and other supplies and equipment.
Carmona and Rodriguez then drew the design on the walls in a color-by-number fashion, and the MAS students followed their direction to paint it.
"The artists and students with extra artistic talent would then go in and provide the shading and elements that really brought it to life. It was incredible from one day to the next, when the touches of realism were added," Cerda said.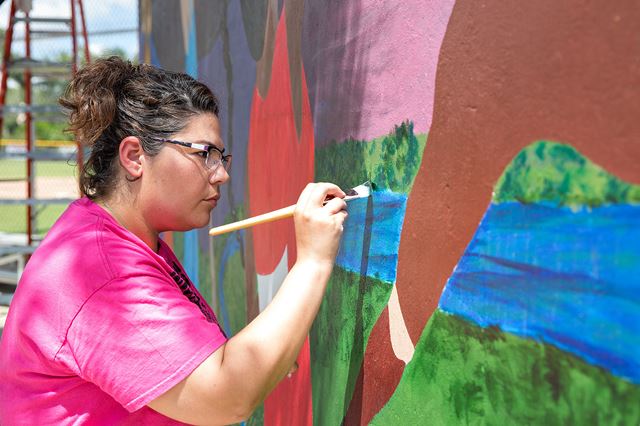 Iliana Rodriguez, a UTRGV MFA and MAS Graduate Certificate student and local art teacher, works on the sports-themed mural project at Mayfield Park in San Juan, Texas. The mural, created through a collaboration of the city and UTRGV's Mexican American Studies students, has been under way since spring and is expected to be completed in September. (UTRGV Photo by Paul Chouy)
SPORTS AS UNIFIER
Covering 900 square feet of a building housing restrooms at the park, the mural's story begins with colorful symbols from the Mesoamerican Maya and Aztec civilization. As the east wall turns into another there are two spirited athletes of that era – a life-size male and female – dressed in protective gear to vie in the first sport ever played by teams using a hard rubber ball created from the region's latex-producing plants.
"The symbols represent physical movement in sports, but also social movement in our culture, which I tried to carry throughout the mural," said Carmona, who is headed to Texas Tech this fall to earn her Ph.D.
The ball – a precursor of those used in soccer, volleyball, baseball and basketball – evolves as the mural continues. Other male and female athletes appear, as well as a horse representing the popular PONY (Protect Our Nation's Youth) League, which brought together many of San Juan's children of diverse backgrounds to play on the one baseball team the league allowed for each community.
Also displayed prominently on one female athlete's uniform is the number 72, acknowledging 1972, the year Title IX passed, prohibiting gender discrimination in education and including participation by women in sports.
The La Virgen de San Juan, her long hair intertwined with the Rio Grande, is on one of the walls, acknowledging the historical significance of the Basilica in the community. Amid the many sports depicted is a '62 and '63 PSJA-labelled football that commemorates the only team from South Texas to go to the state football championship in back-to-back years – both bonding events that united a then racially and economically divided community.
"The students found that it was a very racially integrated team, which at that time was not common," Alvarez said. "The football players themselves said they were sort of a bridge between the two cultures. Although in school everyone was very segregated, and in town everyone was very segregated, their participating on the team helped make a transition between the two and in the community."
At the final turn of the wall facing the Mayfield Park ball field, a young person is depicted running on a track that also represents education, Carmona said, moving past fields and silhouettes of farm workers, moving toward victories in sports, as well as to high school and college graduation.
THE MURAL'S LESSONS
A college graduate wearing the MAS program's colorful stole is a favorite mural scene for Cerda, who relocated to the Valley from Chicago at age 17 and has learned a greater knowledge and appreciation of her culture.
"It represents for me the transition from a student to a scholar. The finish line is our graduation, where we can see the obstacles and struggles we have overcome," she said. "I hope people like the mural and are inspired to look into their own history."
For city rec director Ponce, the mural is testimony to the power of sports and what it can do for a community.
"It is also a testimony to the UTRGV students' dedication to public service," said Ponce, who hopes to enlist UTRGV students again to create a proposed mural dedicated to veterans at San Juan's Liberty Park.
The Mayfield Park mural, which is projected to be completed in September, will be officially unveiled at a ceremony held during Hispanic Heritage month, which runs from Sept. 15 to Oct. 15.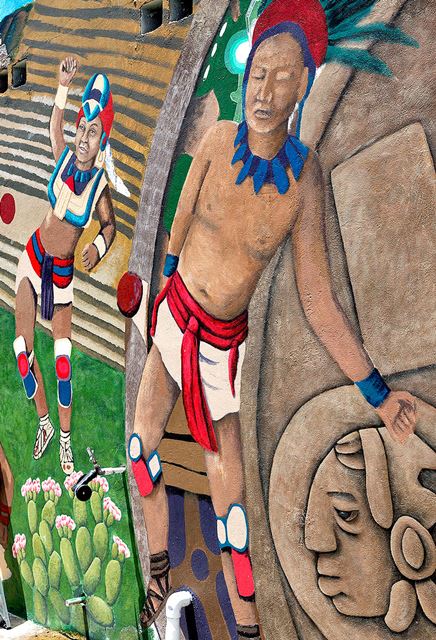 In this portion of the sports-themed mural being created at San Juan's Mayfield Park, two Mesoamerican ballplayers are shown in the athletic garb of the time. The project is a partnership of UTRGV Mexican American Studies students and the City of San Juan's Parks and Recreation Department. MAS students contributed more than 2,000 hours on the mural, which was designed and detailed by UTPA MFA alumna and art teacher Corina Carmona and UTRGV MFA and MAS Graduate Certificate student and art teacher Iliana Rodriguez. (UTRGV Photo by Paul Chouy)
MEDIA CONTACTS
Gail.Fagan@UTRGV.edu
Senior Writer / 956-665-7995
Marci.Caltabiano@UTRGV.edu
UTRGV Director of News and Internal Communications / 956-665-2742