Sub Menu Toggle
UTRGV-STISD partnership formed to boost interest in education careers
The UTRGV College of Education and P16 Integration has partnered with STISD's South Texas Business, Education & Technology Academy (BETA) campus in Edinburg, to offer an innovative program this fall called the American Association of Colleges for Teacher Education's (AACTE) Holmes Cadet Program. Students are shown here getting their badges for the Holmes Cadets Kick-Off Symposium, held Tuesday, Aug. 2-3, at the UTRGV Education Complex Auditorium on the Edinburg Campus. (UTRGV Photo by Paul Chouy)
By Melissa Vasquez
EDINBURG, TEXAS – AUG. 2, 2016 – To strengthen the educator workforce, The University of Texas Rio Grande Valley's College of Education and P-16 Integration has teamed up with the South Texas Independent School District's South Texas Business, Education & Technology Academy (BETA) campus in Edinburg, to offer an innovative program this fall called the American Association of Colleges for Teacher Education's (AACTE) Holmes Cadet Program.
The AACTE Holmes Cadet Program is one of the first of its kind in the country, and supports high school students from historically underrepresented groups pursuing a diploma or GED who are interested in a career in teaching, school administration, or the professoriate.
About 40 BETA students on Tuesday, Aug. 2, attended the Holmes Cadets Kick-Off Symposium, held on the UTRGV Edinburg Campus, to start their journey and familiarize themselves with the program, offered to students participating in the educator track at the South Texas ISD campus. The symposium continues through Wednesday, August 3.
Program benefits for high school students include access to mentorship, expanded educational resources and professional development opportunities, beginning as early as freshman year.
Dr. Patricia Alvarez McHatton, dean of the UTRGV College of Education and P-16 Integration, said the partnership is a perfect pairing for both entities, who share the mission of developing future educators.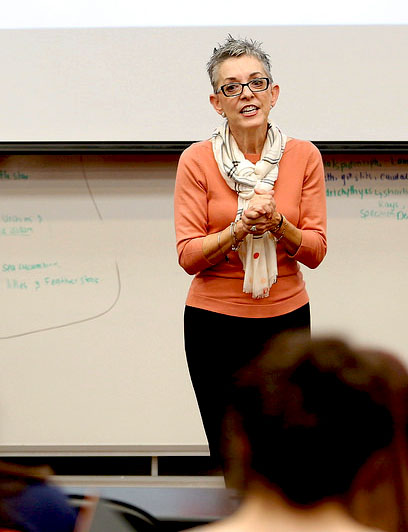 Dr. Patricia Alvarez McHatton
, dean of the UTRGV College of Education and P-16 Integration, welcomed students and educators to the Holmes Cadets Kick-Off Symposium, saying that the partnership between the college and the STISD BETA Academy is a perfect pairing because both entities share the mission of developing future educators.  (UTRGV Photo by Paul Chouy)
"The AACTE Holmes Program began in an effort to increase the number of underrepresented groups pursuing a PhD in education. Since its inception, the program has added master's, undergraduate, and most recently high school levels to the initiative," McHatton said. "BETA's focus on education made it a natural for this collaborative effort."
Dr. Havidán Rodríguez, UTRGV provost and executive vice president for Academic Affairs, was on hand to welcome and salute the first group of Holmes Cadets to the university. He congratulated them on this major achievement, which he said will transform education in the Rio Grande Valley and beyond.
"Whatever happens in the Rio Grande Valley in terms of education, economic development, etc. is going to shape and have a significant impact on what occurs in the state of Texas, and that is a fact," Rodríguez said.
"You are in a great position because now you are Holmes Cadets and you've got this great opportunity. It's not an opportunity that comes every day, and it's not an opportunity that everybody experiences," he told the students.
McHatton said that, with a goal of producing highly effective educators able to meet the needs of today's diverse learners, the program will help increase the number of students entering the education field, as well as better prepare students for college-level and foundation coursework.
"We hope that their engagement with UTRGV will encourage them to attend our university and our college. Given the types of activities planned for the students, they will be entering our programs with a strong foundation in education," McHatton said. "I believe this strong partnership allows us to stay connected to the realities of K-12 education, helping to bridge the gap between theory and practice for all of our students."
Dr. Marla M. Guerra, superintendent of the South Texas ISD, said she is excited about the new partnership with UTRGV and sees many more great opportunities on the horizon for STISD students.
"The passion we have with our university partners is wonderful, and so we hope this will be the first step in growing our partnership. We want to expand our relationship with UTRGV," Guerra said.
Guerra reminded the new Holmes Cadets that they now have a great responsibility that will benefit not only themselves, but also the people around them.
"It's important you know that you are the first at BETA to undertake this challenge. You are the ones who are going to set the pace for everybody else, and that is an awesome responsibility. And knowing our students at BETA, I know you will rise to the challenge," Guerra said.
One student who plans to rise to the challenge is Tiffany Jene Johnson, 17, a BETA senior, whose goal is to become an elementary school counselor and encourage young minds to change the world.
Johnson says she is grateful to be part of the first group of Holmes Cadets. She plans to take full advantage of this opportunity, she said, and participating in the program will help prepare her for college and her career.  
"It is definitely exciting, because this is an opportunity that no one else in the Rio Grande Valley has had. To be one of the first to be part of it is amazing," Johnson said. "I know that it is going to improve my educational experience."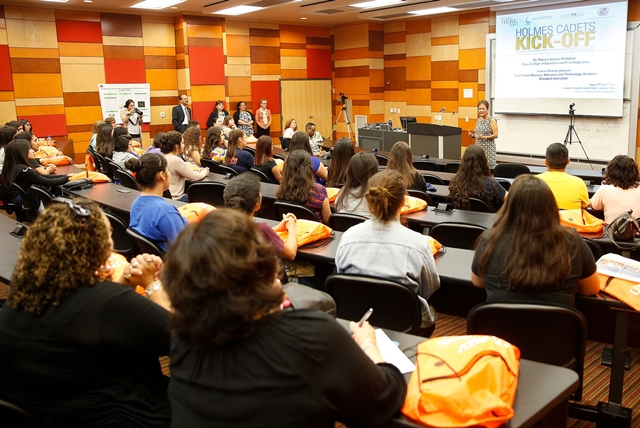 Dr. Marla Guerra, STISD superintendent, addressed students and other educators during the Holmes Cadets Kick-Off Symposium on Tuesday, Aug. 02, 2016, at the UTRGV Education Complex Auditorium on the Edinburg Campus. The Holmes Cadets program is a partnership between STISD's BETA Academy and the UTRGV College of Education and P16 Integration, and is one of the first of its kind in the nation. The aim is to prepare students for future careers in teaching. (UTRGV Photo by Paul Chouy)
MORE PHOTOS OF THE SYMPOSIUM: https://www.flickr.com/gp/utrgvnews/Z52c6C
MEDIA CONTACTS

Melissa.Vasquez@UTRGV.edu
Publications Editor/956-665-8926 
Marci.Caltabiano@UTRGV.edu
UTRGV Director of News and Internal Communications / 956-665-2742