Sub Menu Toggle
ASPIRE tutor named UTRGV Student Employee of the Year on Brownsville Campus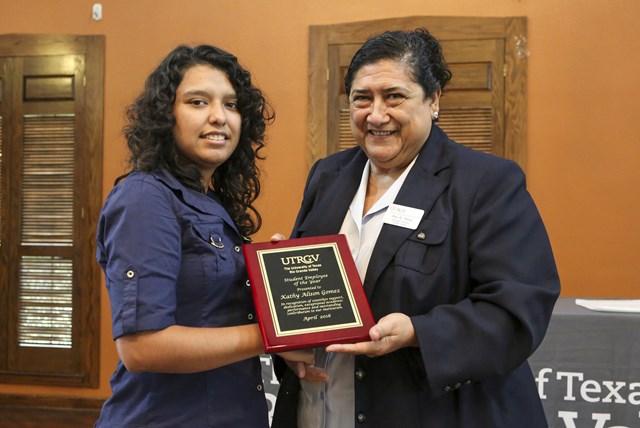 UTRGV student Kathy Alison Gómez was named Student Employee of The Year for the Brownsville Campus, during an appreciation luncheon on Friday, April 15, 2016. She is shown here with Ana Perez, assistant director for Student Employment at UTRGV. (UTRGV Photo by Veronica Gaona)
BROWNSVILLE, TEXAS – APRIL 15, 2016 – Hard work and dedication paid off for Kathy Alison Gómez. The physics education major was named UTRGV Student Employee of the Year for the Brownsville Campus, during a luncheon Friday, April 15, on the Brownsville Campus.
A similar luncheon was held Thursday, April 14 on the Edinburg Campus. Both events are part of National Student Employment Week.
Gómez has worked for three years with ASPIRE, as a science and math tutor at the ASPIRE lab. ASPIRE stands for A Support Program in Reaching Excellence.
"I pretty much tutor everything I can," Gómez said. "I have tutored in math, physics, Spanish, French and even statistics."
Gómez said receiving this honor affirms her commitment to her job over the years, and the hands-on experience of tutoring has helped her gain valuable training as an educator.
"Being a tutor has taught me to adapt to the students and how they learn, and showed me how to use other strategies to help them learn better," she said.
Gómez previously worked on campus in Learning Enrichment, before making the switch to ASPIRE. She is slated to graduate this May and hopes to secure a job as a high school physics teacher.
She was nominated by her ASPIRE program supervisor, Virginia Ledesma.
"I met Kathy when she was a freshman and she was working for Learning Enrichment as a math tutor, and I saw the potential of her to be a good tutor," Ledesma said. "So I invited her to come and work in our department as a math tutor."
Ledesma said Gómez used to travel daily from Valle Hermoso to Brownsville for work and classes.
"She would tell me that she would wake up at 4 a.m.," Ledesma recalled. "I would sometimes give her schedules starting at 8 a.m., and she would always make it on time to class or to work."
Ana Perez, assistant director for Student Employment, said working on campus is ideal for students.
"It's very easy for them to go to class and then go to work without having to leave campus," she said.
Also honored at the event was UT Brownsville/Texas Southmost College alumna Andrea M. Benton, who serves as vice president of Marketing and Communications at the Brownsville Chamber of Commerce.
Benton was named the 2016 Success Profile of the Year, which honors a former student employee who has excelled in their field since their time as a student employee.
Benton worked at the UTB/TSC student newspaper The Collegian as a reporter 13 years ago.
"My experience as a student employee taught me not only to trust myself, but also to realize the potential that others saw in me and that I didn't see at the time," Benton said. "It taught me the confidence I need to know what I wanted to do and to not be afraid of challenges."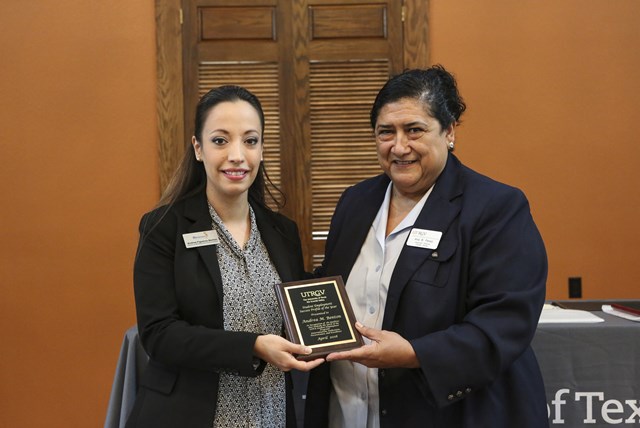 Andrea M. Benton, vice president of Marketing and Communications at the Brownsville Chamber of Commerce, was named the UTRGV 2016 Success Profile of the Year, an award that honors a former student employee who has excelled in their field since their time as a student employee. She is shown here during an appreciation luncheon on Friday, April 15, 2016, with Ana Perez, assistant director for Student Employment at UTRGV. (UTRGV Photo by Veronica Gaona)
MEDIA CONTACTS

Marci.Caltabiano@UTRGV.edu UTRGV Director of News and Internal Communications
956-665-2742
Jennifer.McGehee@UTRGV.edu UTRGV Director of Public Relations
956-882-5105