Sub Menu Toggle
Community gathers to remember musician, scholar, folklorist and friend: Américo Paredes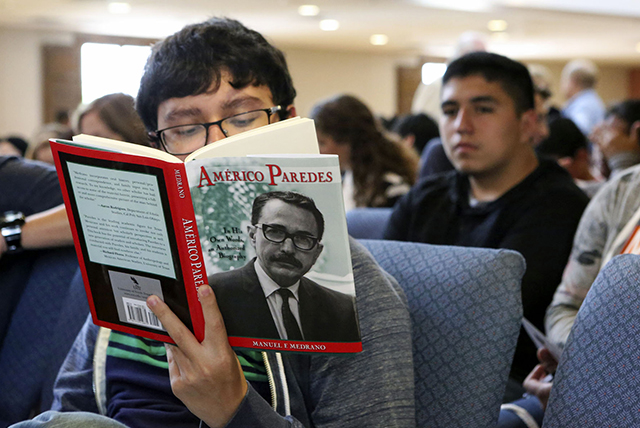 Students, faculty, staff and community members gathered on the UTRGV Brownsville Campus on Wednesday evening for a remembrance of Américo Paredes – musician, scholar, activist, folklorist and beloved native son of Brownsville, during "A Texas-Mexican Centennial: The Legacies of Américo Paredes." (UTRGV Photo by Veronica Gaona)
PHOTO GALLERY: "A Texas-Mexican Centennial: The Legacies of Américo Paredes"  
By Cheryl Taylor
BROWNSVILLE, TEXAS – APRIL 14, 2016 – An audience of students, faculty, staff and community members listened attentively to fond reminiscences and stories about Américo Paredes – musician, scholar, activist, folklorist and beloved native son – during "A Texas-Mexican Centennial: The Legacies of Américo Paredes." 
Held Wednesday, April 13, in the PlainsCapital Bank El Gran Salón on the UTRGV Brownsville Campus, the event celebrated the life of Paredes, born 1915 in Brownsville.
Speakers included Paredes' long-time friends, colleagues and students, along with those who have known Paredes only through his legacy and by studying his writings.
Dr. John Morán González, associate professor of English and associate director of the Center for Mexican American Studies at The University of Texas at Austin, spoke of Paredes' nearly 50-year association with UT Austin. Paredes founded the Mexican American Studies (MAS) program at UT Austin in 1970.
"Brownsville was always his home," González said. "His ashes were spread at Boca Chica Beach, where our two countries meet. And it is fitting that UT Austin and UTRGV have come together to honor Dr. Paredes."
Dr. Rolando Hinojosa-Smith, a Mercedes native and one of the evening's three panelists, was a colleague of Paredes at UT Austin.
"It took a lot of his energy, fighting for Mexican American Studies to be included in the curriculum at UT," said Hinojosa-Smith, the Ellen Clayton Garwood Centennial Professor in Creative Writing at UT Austin.
Hinojosa said Paredes attended Brownsville Junior College for two years, in the same building where he had graduated from high school, Brownsville High School on Palm Boulevard, and he said Paredes worked as a reporter for El Nuevo Heraldo, the Spanish-language Brownsville Herald newspaper.
Although Paredes was never far from his guitar, Hinojosa said, he also tried his hand at other artistic endeavors.
"He may have given up poetry and the piano, but what he never stopped doing was reading," Hinojosa-Smith said.
Hinojosa also spoke of Paredes' personal life, falling in love with his wife, Nena, in Japan; staying in Japan after being discharged from the U.S. Army; working for the Red Cross in Asia, where he is credited with saving thousands of Chinese lives; and then returning to the United States to pick up his education in his 30s and establish his family's life in Austin.
The keynote remarks were by Dr. Richard Flores, professor of anthropology and senior associate dean for the College of Liberal Arts at UT Austin.
"As a former early student of Dr. Paredes, I am excited to see so many students here," Flores said. "He was known for his scholarship and his dedication to family and community."
Flores said he wanted to focus on two important elements of Paredes' legacy.
"Honor and integrity of work is what we celebrate today," Flores said. "The lessons of his texts are still important after 60 years."
Paredes was among the first to cry racism and become active in the Chicano movement, Flores said.
"Dr. Paredes said it's about digging deeper and exploring conditions," Flores said. "There is no more damaging critique than when it is demonstrated the writer doesn't know the community well enough to understand it."
"The politics of the pen – this is Dr. Paredes' legacy," Flores said.
Dr. James Starling, assistant professor of history at UTRGV, read a letter to the audience that had been prepared for the event by Dr. Manuel Medrano, a lecturer for the UTRGV History Department, who was unable to participate on the panel.
As a husband, you were dedicated and caring. As a father, you were strict and insightful. As a professor, you were demanding and enlightening. As a scholar, you were an activist, respected even by your enemies. As a man you were impatient with mediocrity and cognizant of the time you were given. — Dr. Manuel Medrano.
Another member of the evening's panel, Dr. Diana Noreen Rivera, assistant professor of literatures and cultural studies and UTRGV Mexican American Studies Faculty Affiliate, said her life's focus became clear after she read her first Américo Paredes book, "George Washington Gomez."
"His words transcend the grave or ashes; they are a written validation that challenges stereotypes," Rivera said. "His words also validated the voices of women that had been lost."
Dr. Walter Diaz, dean of the College of Liberal Arts, acknowledged the Paredes family members in the audience and welcomed Margo Torres to the microphone to speak for the family.
Torres said Dr. Américo Paredes will always be remembered and revered for "preserving border culture and his lifelong efforts for human rights."
The Bachelor of Arts in Mexican American Studies is now offered to students on the UTRGV Brownsville Campus.
For more information, contact Dr. Christopher Carmona, Brownsville coordinator for Mexican American Studies, at (956) 882-7302 or christopher.carmona@utrgv.edu.
MEDIA CONTACTS
Marci.Caltabiano@UTRGV.edu UTRGV Director of News and Internal Communications
956-665-2742
Jennifer.McGehee@UTRGV.edu UTRGV Director of Public Relations
956-882-5105