Sub Menu Toggle
UTRGV donors meet students they've helped, during annual Endowed Scholarships Luncheon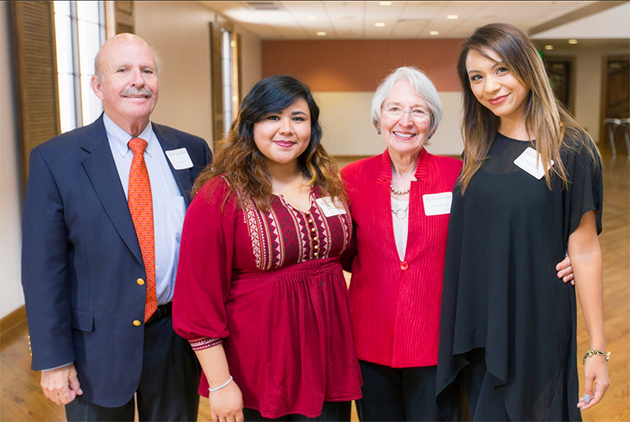 At the Endowed Scholarships Luncheon on the Brownsville Campus, Taylor (left) and Martha Blanton (second from right) were seated with students Josie Del Castillo (second from left) and Melissa Vega (right), recipients of the Oris Robertson Scholarship for art majors. Martha Blanton was a friend of the late artist, and contributed to a scholarship endowment established in his name. (UTRGV Photo by David Pike)
PHOTO GALLERY: Endowed Scholarships Luncheon 
By Cheryl Taylor 
BROWNSVILLE, TEXAS – APRIL 13, 2016 – A group of UTRGV scholarship donors were able to meet the students who have benefitted from those gifts, during the Endowed Scholarships Luncheon held April 12 in the PlainsCapital Bank El Gran Salón on the Brownsville Campus.
The annual event gives students and donors an opportunity to spend time together and share their stories.
A second Endowed Scholarships Luncheon will be held on the UTRGV Edinburg Campus on Tuesday, April 19, in the Ballroom.
Alicia King, associate vice president for Development, thanked donors for their generosity in creating endowments that enable students to flourish.
"You, our generous donors, are cultivators, breathing life into the garden that is UTRGV," King said.
Martha and Taylor Blanton sat at a table with Josie Del Castillo and Melissa Vega, recipients of the Oris Robertson Scholarship for art majors. Martha Blanton was a friend of Robertson and contributed to a scholarship endowment established in his name by a mutual friend, artist and Robertson classmate Nancy P. Thompson.
The Blantons said they enjoyed telling Del Castillo and Vega about Robertson, a Brownsville native and artist who lived and painted for many years in Guadalajara, Mexico.
"I believe the original idea of the scholarship was for students to use the scholarship to travel to study art in Guadalajara or San Miguel de Allende, but unfortunately, that is not advisable at this time," Taylor Blanton said.
Del Castillo and Vega are both seniors studying studio art, and both want to get a Master of Fine Arts degree.
"It is such a pleasure to meet donors and thank them personally," Vega said.
Del Castillo said having UTRGV Founding President Guy Bailey attend the luncheon was an unexpected surprise.
"It was a treat for me to see and hear Dr. Bailey in person," Del Castillo said.
Bailey spoke about his own experience of receiving his first scholarship while working on his doctorate at the University of Tennessee.
"I had never been beyond a small radius of my home in Alabama, and this scholarship allowed me to attend a program at the University of Hawaii," Bailey said. "That trip – a part of my education – changed my life. And education will open doors for all of you students, doors you have never dreamed of."
Bailey gave an update on expanding programs at both the Brownsville and Edinburg campuses, along with new programs being considered, including a school of pharmacy. And everyone is eagerly anticipating the arrival in June of the UTRGV School of Medicine's first 50 medical students, he said.
"A university has no success beyond the success of its students," Bailey said. "The key to a university is its students. They are the key to our future."
Arlene Binder, accompanied by grandchildren Brandon and Rebekah Binder – both UTRGV students – enjoyed lunch with student Stephanie Sanchez, who is pursuing a double major in government and history, with plans to attend law school.
Sanchez received the Joe Binder Scholarship Endowment for Students of Politics, an endowment established by family and friends of the late Dr. Norman "Joe" Binder, a well-loved professor who dedicated 34 years to his students.
"Joe loved teaching. He especially enjoyed working with and encouraging the students in his classes," Arlene Binder said of her husband. "He was a great believer in furthering one's education, and the opportunities that will arise from the scholarship endowment will be a great memorial to him."
In closing the luncheon, King again thanked donors for their generosity in creating endowed scholarships that will continue to serve generations of deserving students.
"Because of you, these students – and more in the future – are growing, learning and succeeding," King said.
For more information on giving to UTRGV, contact the Division of Institutional Advancement at 956-665-5301 or give@utrgv.edu.
MEDIA CONTACTS
Marci.Caltabiano@UTRGV.edu UTRGV Director of News and Internal Communications
956-665-2742
Jennifer.McGehee@UTRGV.edu UTRGV Director of Public Relations
956-882-5105