Sub Menu Toggle
Expansion of Rehabilitation Services program to Brownsville is big draw for students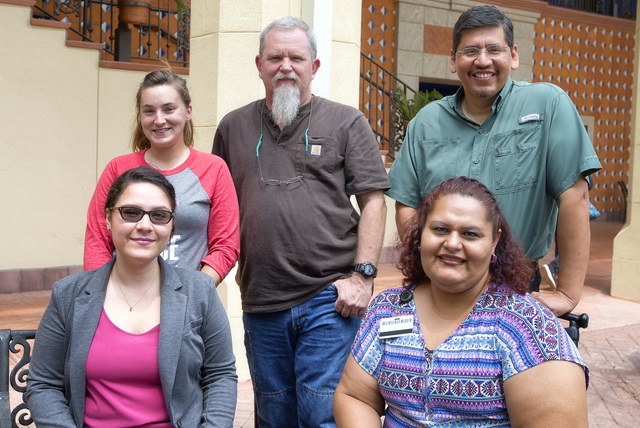 Response to the expansion of the UTRGV School of Rehabilitation Services and Counseling program to the Brownsville Campus has been enthusiastic, and students like (standing) Summer Soto and Richard Clayton and (seated) Diana Vasquez and Alejandra Esparza say it's the perfect curriculum for those who want to make a difference. Antonio Aguirre (back row, far right), clinical assistant professor in the Rehabilitation Services program, says community need has helped drive response to the program in Brownsville. (UTRGV Photo by David Pike)
By Cheryl Taylor
BROWNSVILLE, TEXAS – APRIL 11, 2016 – Brownsville native Richard Clayton, a 52-year-old junior at The University of Texas Rio Grande Valley, may be twice the age of his 26-year-old classmate Summer Soto, but the years between them are negligible due to their bond: Both are veterans of the U. S. Armed Forces.
They also share the goal of working with veterans after obtaining their Bachelor of Science in Rehabilitation Services, a degree program that became available for students on the UTRGV Brownsville Campus in fall 2015.
"We both know what it's like to serve in the military, and we also know the benefits of reaching out and seeking help after reintegrating into civilian life," said Clayton, whose 23 years in the U.S. Army included lots of time away from home, including a deployment to Desert Storm, two one-year tours in Korea, and a two-year tour in Iraq.
Soto, originally from Patton, Missouri, served in the U.S. Navy for five years, during which she met her husband.
"We decided to make our home here in the Valley, where my husband is from, and for me to pursue my nursing degree," she said. "I was in pre-nursing, but then I heard about this degree in rehabilitation services opening up here on the Brownsville Campus. I knew from my personal experience just how beneficial mental health services are, and this came along and I knew it was for me. I want to help other vets."
Antonio Aguirre, clinical assistant professor in the UTRGV School of Rehabilitation Services and Counseling, said interest in the program on the Brownsville Campus has been tremendous, with 35 rehab majors declared, and about 50 students with a rehab minor.
"As with all mental health services for all categories – children, schools, substance abuse, whatever the case – we are sorely lacking in mental health providers here in the Valley," Aguirre said.
The B.S. in Rehabilitation Services is a "flexible" degree, Aguirre said, with three distinct concentrations:
General rehabilitation.
Addiction studies.
Deaf and hard of hearing.
"Graduates will have a variety of meaningful employment opportunities with state or county entities, like Tropical Texas Behavioral Health," he said, "with private clinics, or with non-profit agencies such as Brownsville's Moody Clinic for children with special needs."
Diana Vasquez, a 21-year-old junior from Brownsville, began her studies as a music major, but changed her focus after being diagnosed with Type 1 diabetes and ulcerative colitis.
"I realized that my vocation is helping others, just as professionals helped me in my time of transition to a completely new life," Vasquez said. "I was not in a position to relocate, and I would have dropped out or pursued a career that had no meaning to me, if this program had not been opened up on the Brownsville Campus."
Vasquez keeps up with her love of music by playing in student ensembles, and she is interested in music therapy techniques.
"I am pursuing the general rehabilitative services degree, yet I'm not sure what my focus will be, whether working with individuals with autism or stroke patients or diabetics, to help those who are struggling trying to understand and control the disease," Vasquez said.
Alejandra Esparza, a 41-year-old junior from Brownsville, originally chose to study business administration. However, she changed her major to general rehabilitation with the new focus she found through her job as a community health worker with The University of Texas Health Science Center at Houston Regional Academic Health Center, Brownsville Campus.
"I worked for four years with a diabetes cohort study, and then two years ago transitioned to Salud y Vida RGV, a community-based health program designed to help people learn how to better self-manage their diabetes in a healthy way," Esparza said. "I enjoy what I do. It is very rewarding working with the community."
Working in tandem with a diabetes educator, Esparza follows up with patients every three months and administers their A1C screening exams to measure glucose levels.
"Most of the people we serve are of low socioeconomic status and uninsured, in Cameron and Hidalgo counties," she said. "I see too often where people who develop chronic complications related to diabetes end up losing their eyesight, have kidney failure, heart failure and sometimes can lose a limb."
With her degree in general rehabilitation, Esparza said, she wants to continue to help members of the community learn how to navigate the resources that will be able to provide them quality healthcare.
"There are so many reasons this degree calls out to people," Aguirre said. "And the need is so great to have trained professionals working in all South Texas communities. We are not surprised at the positive response the program has received at the Brownsville Campus. We see the program growing very quickly."
The School of Rehabilitation Services and Counseling is in the College of Health Affairs. Degrees offered are the Bachelor of Science in Rehabilitation Services, the Master of Science in Rehabilitation Counseling, and the Doctor of Philosophy of Rehabilitation Counseling.
For more information on the School of Rehabilitation Services and Counseling, contact Aguirre at (956) 882-5068 or email antonio.aguirre@utrgv.edu.
MEDIA CONTACTS
Marci.Caltabiano@UTRGV.edu UTRGV Director of News and Internal Communications
956-665-2742
Jennifer.McGehee@UTRGV.edu UTRGV Director of Public Relations
956-882-5105