Sub Menu Toggle
Teacher Jobs Expo at UTRGV draws recruiters from near and far to hire education graduates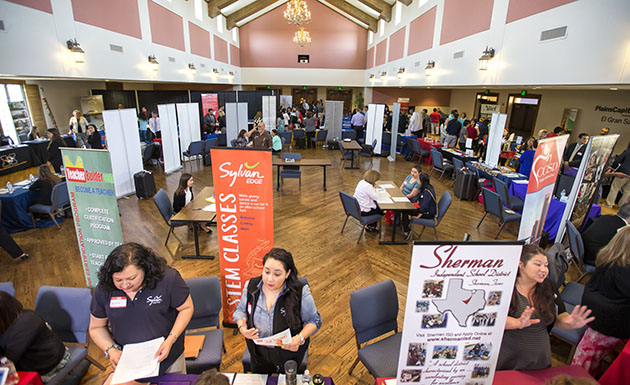 Recruiters from across Texas visited the UTRGV Brownsville Campus on Thursday, hoping to find their dream candidates for teaching positions around the state. Plains Capital Bank El Gran Salón was crowded throughout the expo, as more than 50 school districts talked with potential teachers who might be a fit for their district. The Teachers Job Expo continues on Friday, April, 8, 2016, on the UTRGV Edinburg Campus. (UTRGV Photo by David Pike)
Photo gallery: Spring Teacher Jobs Expo
By Cheryl Taylor
RIO GRANDE VALLEY, TEXAS – APRIL 7, 2016 – The word has spread throughout K-12 schools in Texas: Set up a table at the Teacher Jobs Expo, hosted by The University of Texas Rio Grande Valley, if you want to find great bilingual teachers.
The Spring Teacher Jobs Expo on the UTRGV Brownsville Campus was held Thursday, April 7.
The expo on the UTRGV Edinburg Campus will take place in the Fieldhouse from 9 a.m. to noon Friday, April 8.
The Brownsville expo drew three new school districts, joining 53 others vying for upcoming and recent graduates searching for teaching jobs. Newcomers included Diboll Independent School District, about two hours northeast of Houston; Odyssey Academy Charter School in Galveston; and Lake Worth Independent School District, northwest of Fort Worth.
"We tell possible recruits we're only 10 miles from downtown Fort Worth, so the big city is there when you want it," said Skip McCambridge, executive director of administrative services for the Lake Worth Independent School District.
McCambridge said Lake Worth ISD is a small school district that employs just over 200 teachers.
"Our student population is 60 percent Hispanic, whereas most of our teachers are Anglo," he said. "I want to break down the cultural and language barriers of our students by hiring more bilingual Hispanic teachers. … Already this morning, I'm happy to say we have had some inquiries with great potential, and I will work with UTRGV Career Services to set up SKYPE interviews very soon."
Alief Independent School District attended the teacher expo for the first time last fall, said Laura Ramirez, director of human resources.
"Alief offers a great school district in a super location – close to Houston, without the traffic, and a straight shot down 59 and 77 to Brownsville."
Ramirez said Alief ISD offers a highly competitive salary structure and a stipend for bilingual certification or for high school science and math.
Bilingual Recruiter Leticia Arroyo, from the Tyler Independent School District, said her district already has "such a good group of teachers from the Valley."
"We try to partner friends who sign with Tyler ISD to work at the same campus – so they can carpool, if they want. And it's just another way to let them know they've got our support," Arroyo said. "I hope we can convince some more today to come up to our beautiful part of the state. And we have The University of Texas at Tyler, another great draw."
Pflugerville Independent School District recruiters were all smiles at their table. Jesusita Avalos, principal of Dessau Elementary School, and Freddie McFarland, executive director of Student Affairs, attended last spring's Teacher Jobs Expo for the first time and said they were thrilled with the results.
"We hired four from Brownsville and one from Edinburg last year, and they have worked out just great," Avalos said. "They're all flourishing and are staying with us this upcoming year – including Elizabeth Sanchez, who made Rookie of the Year at Dessau Elementary."
Brownsville native Sanchez, a May 2015 graduate of UTRGV's legacy institution UT Brownsville/Texas Southmost College, accompanied Avalos and McFarland to the expo. Certified bilingual, Sanchez teaches third grade and shares an apartment with another recruit, Esmirna Almaguer.
"Pflugerville ISD a dual-language district," Sanchez said. "Our goal is to support bilingualism so students become not only bilingual but biliterate. I knew there would be a bit of culture shock when I moved up there, but actually it has been a wonderful opportunity."
Sanchez said she has a diverse classroom. Aside from Anglo, Hispanic and African American students, some are from a variety of Asian countries, Czechoslovakia and Nigeria.
"I'm very happy where I am," Sanchez said. "I wanted to spread my wings, and I did. And I'm glad that I took the risk to move to Pflugerville. My family is proud of me, being the first generation to graduate with a college degree. They were extremely supportive all through my studies, and it makes me feel good that they are happy with my degree and my decision to teach in Pflugerville."
Juan Andrés Rodríguez-Nieto, director of the UTRGV Career Center, said today's attendance was "tremendous," but he was not surprised.
"We have school districts calling us, asking to sign up well in advance," he said. "They know our graduates have the talent and the character they seek for their schools. The UTRGV College of Education and P-16 Integration has developed a reputation for producing exemplary teachers who are culturally sensitive and, for the most part, bilingual. I feel confident these recruiters will return home feeling this was time well spent."
MEDIA CONTACTS
Marci.Caltabiano@UTRGV.edu UTRGV Director of News and Internal Communications
956-665-2742
Jennifer.McGehee@UTRGV.edu UTRGV Director of Public Relations
956-882-5105