Sub Menu Toggle
UTRGV's Karen Lozano named Engineer of the Year by Great Minds in STEM
Story by Gail Fagan
EDINBURG, TEXAS – SEPT. 18, 2015 – Karen Lozano, Ph.D., a Julia Beecherl Endowed Professor in mechanical engineering at The University of Texas Rio Grande Valley, recently was named the Engineer of the Year by Great Minds in STEM (Science, Technology, Engineering and Mathematics).
She is only the third woman to garner this distinction in 27 years. The last woman named Engineer of the Year was Ellen Ochoa, the first Hispanic astronaut in space and current director of the Johnson Space Center.
Lozano, founder and director of the Nanotechnology Center of Excellence at UTRGV, will be one of 25 award recipients recognized at the 27th HENAAC STEM Career Conference, Oct. 14-18 in Pasadena, Calif.
Engineer of the Year and Scientist of the Year are the top two awards of all those nominated for recognition at the annual conference.
Dr. Havidán Rodríguez, UTRGV Provost and executive vice president for Academic Affairs, said institutions of higher education thrive and are recognized based on the success of their faculty, a critical component for UTRGV as it aims to become an emerging research institution.
"Dr. Lozano's national recognition through this important award demonstrates her commitment to UTRGV's guiding principles, including the pursuit of excellence in teaching, research-scholarship, and service," Rodríguez said. "We applaud and congratulate Dr. Lozano for promoting and pursuing excellence in everything that we do."
While humbled by the honor, Lozano said, there could not have been a better time to receive the award.
"This award has the potential to inspire a generation of students in the Rio Grande Valley to study engineering here at UTRGV," she said. "Hopefully, this can be used to promote a positive image of our brand new university, especially the College of Engineering and Computer Science, and show the world that students here in the Valley are just as smart and just as talented as students all around the world and that they can achieve greatness here, too, through hard work and dedication."
For the past 26 years, Great Minds in STEM (GMiS - formerly known as the Hispanic Engineer National Achievement Awards Corporation or HENAAC) has been honoring the nation's best and brightest Hispanic engineers, scientists and technology experts.
The Engineer of the Year Award is presented for overall leadership and technical or scientific achievement. The winner is an individual who models the kind of STEM excellence and leadership that has significant impact on an industry, a field of STEM, the community or the nation.
A top researcher in the field of nanotechnology, Lozano and a fellow mechanical engineering faculty member invented a more efficient way to produce nanofibers through Forcespinning®. That invention led to the creation in 2009 of then-University of Texas-Pan American's first startup company, FibeRio Technology Corporation, where Lozano serves as chief technology officer. She notes that some of its engineers were former members of her university research team.
"The opportunity to provide undergraduate students with hands-on opportunities significantly increases their motivation to pursue and successfully graduate from STEM programs," she said.
A developer of more than 20 patents and patent applications, Lozano was featured in the 2012 Partnership for a New American Economy's report, "Patent Pending: How Immigrants are Reinventing the American Economy," which highlights the value foreign-born graduates bring to the U.S. economy.
In 2013, Lozano, a native of Mexico, was invited, along with eight other high-achieving Hispanics, by President Barack Obama to appear on a panel discussion on immigration.
In August 2015, she received a $3 million, five-year Partnerships for Research and Education in Materials (PREM) award from the National Science Foundation. PREM awards couple the expertise of NSF Materials Research Science and Engineering Centers (MRSEC) – in this award, the University of Minnesota – with UTRGV, a minority-serving institution, to involve students in preeminent materials research. The grant, which began Sept. 1, is a renewal of a $2.7 million PREM award she received in 2009, which provided many Valley students a chance to work with faculty on the development of polymeric and nanoparticle-based materials and devices.
"The funded projects are ideal to recruit students to STEM fields and motivate them while instilling a passion for learning and discovery," Lozano said. "I take every opportunity to mentor on work ethics … about the importance of hard work, discipline, responsibility, persistence, determination, and the pursuit of excellence."
The University of Texas Board of Regents recognized Lozano's expertise at engaging students through her research by awarding her a 2013 University of Texas System Regents' Outstanding Teaching Award, considered one of the highest awards in the nation to recognize teaching excellence in higher education.
Increasing external funding is one of the goals of the Nanotechnology Center of Excellence she heads. The center also aims to increase the number of refereed reviewed publications, faculty retention and the number of undergraduate students entering graduate school and entering the workforce in emerging technologies.
Lozano, a first-generation college student, earned her Ph.D. in mechanical engineering and materials science from Rice University. She is the first Mexican to receive a doctorate from Rice in science and the fifth woman to receive a doctorate from Rice's mechanical engineering and material sciences department. She was the first woman hired in UTPA's Engineering Department when she became a faculty member in 2000.
As a person who surpassed many barriers and stereotypes herself in pursuing an engineering career, Lozano is intent on promoting education and hard work, as well as serving as a role model.
"Young students, in particular girls, need to be aware of the opportunities and fulfillment that science and engineering careers can provide," she said. "They do need role models to learn from or identify with to be motivated to do their best, and then to be that 'best' individual for a specific job," she said.
For more information on Great Minds in STEM and the HENAAC awards, go to the GMiS website.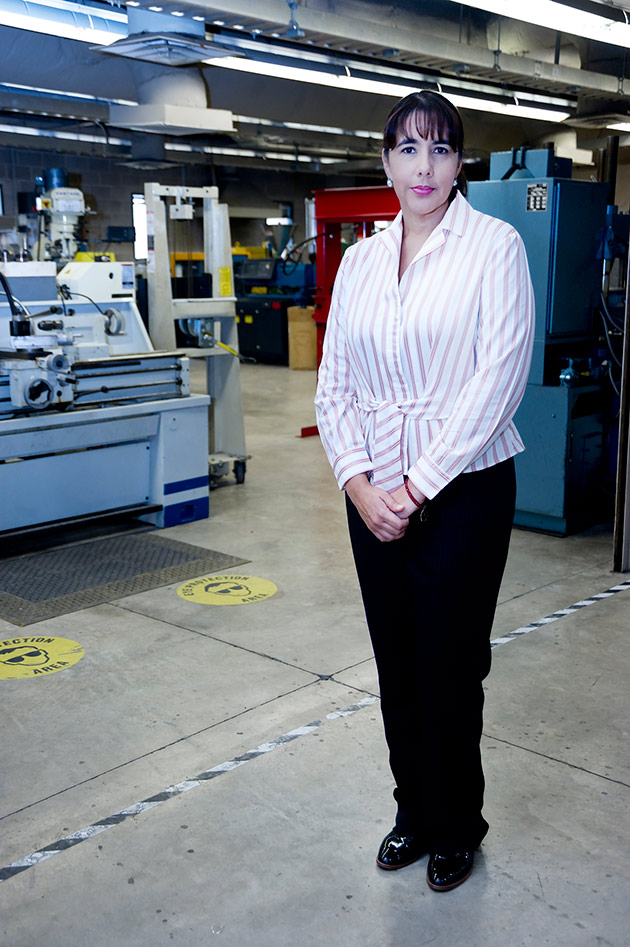 DR. KAREN LOZANO (UTRGV Photo by Kristela Garza)
MEDIA CONTACTS

Marci.Caltabiano@UTRGV.edu
UTRGV Director of News and Internal Communications
956-665-2742
Jennifer.McGehee@UTRGV.edu
UTRGV Director of Public Relations
956-882-5105