Sub Menu Toggle
Top VA official welcomes collaboration with UTRGV to serve Valley veterans
Story by Gail Fagan
McALLEN, TEXAS – SEPT 15, 2015 – U.S. Army veteran Frank Martinez was one of nearly 300 veterans who travelled to McAllen's Veteran's War Memorial on Monday, Sept. 14, to hear from U.S. Department of Veterans Affairs Secretary Robert A. McDonald.
McDonald was on his first trip to the Rio Grande Valley – home to more than 40,000 of the state's 1.6 million veterans.
Martinez, who works as a program coordinator for The University of Texas Rio Grande Valley's Veteran Services Center, served two tours in Iraq. A UT Pan American alumnus and current UTRGV graduate student in rehabilitation counseling, he was pleased to see McDonald visiting the Valley.
"I appreciate his coming down here and identifying the Valley as a place that is not just in need but deserving of additional, and more thorough, services," Martinez said.
McDonald was invited to the Valley by U.S. Sen. John Cornyn, who accompanied him earlier in the day on a visit to the UTRGV Regional Academic Health Center in Harlingen, along with Texas Gov. Greg Abbott and members of the Valley Congressional delegation.
Also participating in Harlingen were UTRGV Founding President Guy Bailey; Francisco Fernandez, founding dean of UTRGV's School of Medicine (via teleconference); and Dr. Leonel Vela, UTRGV's School of Medicine senior associate dean for education. While there, officials participated in a roundtable discussion about UTRGV's plans for the medical school and toured the UTRGV Simulation Center, located on the second floor of the VA's Outpatient Clinic in Harlingen.
McDonald, a U.S. Army veteran and former CEO of Proctor & Gamble, told veterans and community leaders – assembled at the memorial and at a luncheon at the McAllen Convention Center hosted by the McAllen Chamber of Commerce – that the Department of Veterans Affairs (VA) is working hard to clear its backlogs and improve its customer service.
"Nevertheless, if we have one in the backlog, it is one too many," McDonald said.
Having adequate space, and providers, is critical to giving veterans proper access to care, so establishing partnerships with medical schools like the UTRGV School of Medicine, which is pending accreditation, is essential, he said.
"The best doctors we have who typically work in the medical schools and the VA simultaneously do all three legs. They do research with us. They also teach in the medical school and in the hospital through residencies. And, third, they do clinical work. So those relationships are critically important," McDonald said.
"I talked with the dean this morning about how we could create a stronger relationship and a broad relationship with the medical school here."
He said partnerships with hospitals and the School of Medicine are the better way to serve the health care that veterans need and deserve now, rather than building a new inpatient facility here,  as many veterans locally have requested.
"In the federal government, if we started building a hospital today, it wouldn't be built for a minimum of five years," he said. "We want to focus on the objective of making sure that the veterans get the care they have already earned."
Homer Gallegos, an Air Force veteran who served in Vietnam and received both his bachelor's and master's degrees from UT Pan American, is optimistic that veterans will be better served with the creation of the UTRGV School of Medicine.
"Having a medical school in the area is certainly a big plus for education, for our youth and for the veteran community," said Gallegos, who worked as a VA readjustment counselor before retiring and is now a VFW post commander. "The 20-county South Texas region has more than 70,000 veterans and is rich in history and service to our country. We have been neglected in the past.
"This visit means that the VA will realize that there is a medical school close by that it can partner with to better serve veterans," he said.
Richard Sanchez, UTRGV's associate vice president for Governmental Relations, said McDonald's visit indicates the rest of the state and the nation have taken notice of the Rio Grande Valley and the new UTRGV School of Medicine, which can help with the problems of addressing healthcare for veterans.
"There is a shortfall in the amount of access to care for veterans," he said. "The medical school, with its private hospital partners, can help address that. We can expand on collaborations already in place by Valley Baptist and McAllen Medical with the VA, where we currently have medical interns cycling through," Sanchez said.
"We can increase the amount of care if we have more slots for interns in these institutions," he said. "We want more private hospitals in the Valley to partner with the VA and with us. Once we have more partners, we can put in more programs, like dedicated family medicine and family medicine psychiatry training."
The UTRGV School of Medicine is pending accreditation and is on schedule to open in fall 2016. Learn more at the UTRGV website.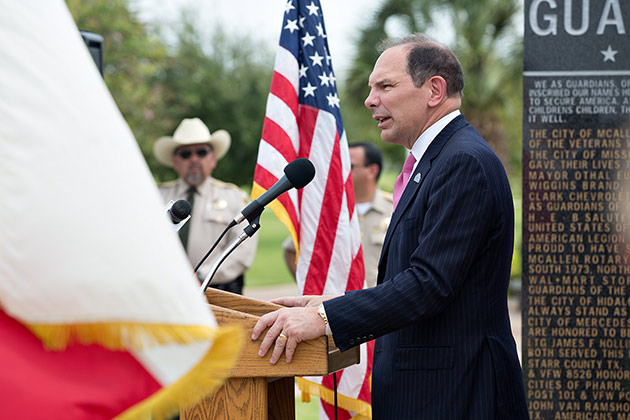 U.S. Sec. of Veterans Affairs Robert A. McDonald addressed veterans in the Rio Grande Valley on Monday, Sep. 14, 2015, at McAllen War Memorial. He spent the morning at the UTRGV Regional Academic Health Center in Harlingen, where he visited the UTRGV Simulation Center and the VA Outpatient Clinic, and participated in a roundtable discussion with community leaders and area veterans. (UTRGV Photo by Paul Chouy)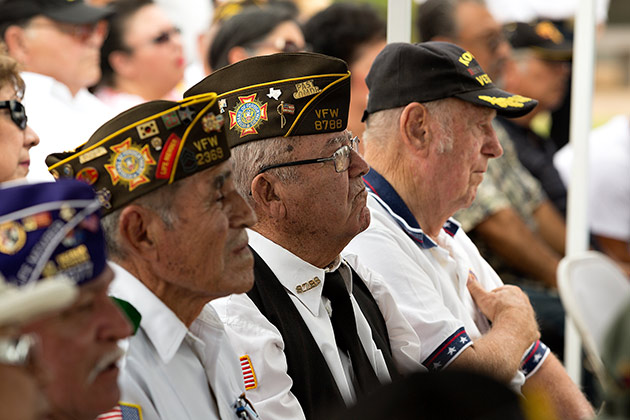 Local veterans attended a visit by U.S. Sec. of Veterans Affairs Robert McDonald, Texas Gov. Greg Abbott, U.S. Sen. John Cornyn and other members of the Valley Congressional delegation, on Monday, Sept. 14, 2015, at the McAllen War Memorial. (UTRGV photo by Paul Chouy.)

U.S. Sen. John Cornyn speaks to local veterans on Monday, Sep. 14, 2015 at McAllen War Memorial in McAllen, Texas. (UTRGV Photo by Paul Chouy)
MEDIA CONTACTS

Marci.Caltabiano@UTRGV.edu
UTRGV Director of News and Internal Communications|
956-665-2742
Jennifer.McGehee@UTRGV.edu
UTRGV Director of Public Relations
956-882-5105