Sub Menu Toggle
UTRGV professor's tour of China yields insights for her students
By Cheryl Taylor
BROWNSVILLE & EDINBURG, TEXAS – SEPT. 11, 2015 – By the time she joined the Peace Corps, Dr. Jennie Johnson already had traveled to a number of countries, many of which she visited in a professional capacity as a human resource consultant.
After entering academia, Johnson, now an associate professor in the Department of Management of the College of Business and Entrepreneurship at The University of Texas Rio Grande Valley, continued to travel for personal and professional reasons.
"I teach human resources management and organizational behavior. Both address understanding and managing people for the best outcomes of the organization," she said. "Certainly, the topic of diversity is an important component in both of these courses, and culture is one of the many aspects of diversity that students must become familiar with during their studies."
Johnson draws upon her many years of international experiences to make classes relevant for her students. However, she felt a void because she never had visited China – until recently.
Through a competitive process, Johnson was selected to participate in the China Studies Institute Zhi-Xing China Academic Leaders Fellowship Program, a collaboration between the China Education Association for International Exchange and the American Association of State Colleges and Universities.
Johnson and 11 other educators in diverse disciplines began an intensive 21-day study tour of China, convening in Shanghai on Sunday, June 7.
Time in Shanghai and the surrounding area included visits to East China Normal University, Shanghai Museum, Shanghai Jiaotong University and the adjacent ZiZhu High Tech Park.
"The high tech park in Shanghai is an example of modern China – a city unto itself, with apartments, grocery stores, schools and parks, where Chinese and foreign engineers work for companies such as Microsoft and Intel," Johnson said.
Throughout the trip, experts in Chinese education, politics, culture, language, history, sociology, religion and economics gave lectures and led discussions with the group and their Chinese counterparts.
"Mr. Jiang Bo, vice president of Tongji University, gave an interesting talk on the history of higher education in China," Johnson said. "We learned China is modeling its universities after those in the U.S. and Europe. The universities are aggressively internationalizing the courses and curriculum, with a goal to have 25 percent of students study abroad to gain a better understanding of the rest of the world."
After almost a week in the Shanghai area, the group flew to Xi'an, the ancient Chinese capital and home of Northwest University. Here, the studies focused on Chinese history, culture and life outside the big cities. Among the highlights were a lecture on the development of acupuncture and clinical application by Dr. Wang Ruihui, vice president of Sha'anxi University of Chinese Medicine, followed by a visit to a traditional Chinese medicine hospital.
"The Sha'anxi Provincial Education Department hosted a lovely banquet and made us feel welcome. Every day in this province was a treat," Johnson said. "We explored China's rich history at the Sha'anxi History Museum, and no trip to China would be complete without visiting the famous Terracotta Army, a breathtaking experience."
Part three of the tour began on the high speed train from Xi'an to Beijing, covering 735 miles in about 4.5 hours.
Beijing's highlights included the Forbidden City, Tian'anmen Square, the National Museum of China and several universities in the city.
"We heard an informative and well-developed lecture on the emergence of social enterprise in China by a professor in the School of Social Development and Public Policy at Beijing Normal University," Johnson said. "Of the many universities that we visited in Beijing, Shanghai and Shaanxi, each had a university museum which we visited on its campus – something I hope we will develop in time here at UTRGV."
Another must-see for the group was the Great Wall of China.
"We went to what is called the Mutianyu section of the Great Wall of China, a large portion open to visitors," Johnson said. "A cable car lifted us up onto the wall, where we walked along a section and took in the grandeur of this unique feat of engineering. From the vantage point of the path, the wall looked like a long serpent making its way across a green, mountainous landscape. I will never forget that vision."
Johnson said China is a country of great contrasts, with 21st Century China developing alongside its ancient culture and philosophy.
"The Chinese philosophy of honoring nature is apparent in the beautiful parks that can be found almost everywhere," she said. "Families spend time together in the parks and they are popular for retirees doing their early morning exercises."
Throughout the trip, the group engaged in discussions about the importance of understanding diversity as one of the ways their experiences in China will be channeled to enrich their students' learning and development.
"Also, by incorporating my China experience into the classroom, I hope to foster student interest in studying abroad in China or elsewhere," Johnson said
The educational tour was a pilot program that entailed teamwork among several institutes and associations.
"I hope this program will continue and grow and foster future collaboration among institutes of higher education on both sides of the Pacific," Johnson said. "As educators, we are natural ambassadors, eager to learn and share with others to create greater global understanding and cooperation."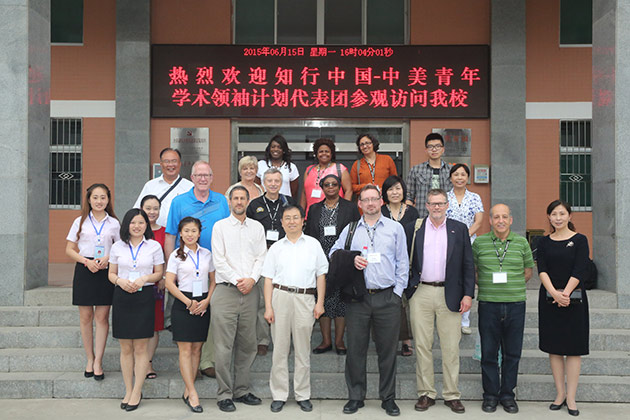 The 12 fellows of the China Studies Institute Zhi-Xing China Academic Leaders Fellowship Program are joined by escorts and lecturers at the Shaanxi University of Chinese Medicine in Xianyang, Shaanxi, China. UTRGV's Dr. Jennie Johnson is in the third row (short blond hair). (Courtesy Photo)
MEDIA CONTACTS
Marci.Caltabiano@UTRGV.edu
UTRGV Director of News and Internal Communications
956-665-2742
Jennifer.McGehee@UTRGV.edu
UTRGV Director of Public Relations
956-882-5105