Sub Menu Toggle
The Stomp reset for Sept. 15 on UTRGV Brownsville Campus
By Victoria Brito
BROWNSVILLE, TEXAS – SEPT. 11, 2015 – The signature University of Texas Rio Grande Valley event will finally take place on the Brownsville campus, after heavy rains and flash flooding in many parts of the city forced a delay.
The Stomp has been rescheduled for 6-9 p.m. Tuesday, Sept. 15, on the Casa Bella lawn.
The event originally had been scheduled for the evening of Aug. 31, to celebrate the first day of classes for the brand new university during its inaugural Best Week Ever.
The Stomp will bring UTRGV departments, academic programs and student organizations, as well as area merchants and community service agencies, together in a festive environment to welcome students to the first semester of the school year.
FJRM Avenue will be closed for the occasion.
Abraham Villarreal, UTRGV program specialist for Student Organizations, said the university expects to have about 38 university booths featuring campus representatives, organizations and departments.
Additionally eight businesses and 12 community service organizations will be represented.
There will be free food, entertainment and UTRGV commemorative items, and will serve as a one-stop event to connect to the many campus opportunities available.
"The Stomp is the kickoff event to help students have the opportunity to get involved in the community," Villarreal said.
For more information, call the UTRGV Brownsville Campus Student Involvement Office at (956) 882-5111.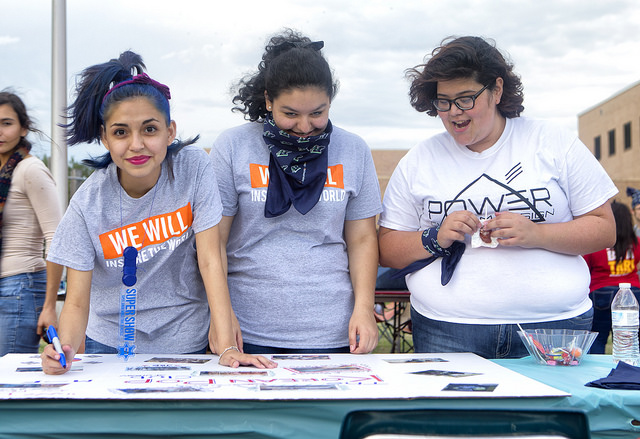 UTRGV students, organizations and member of the community came together Aug. 31 on the Edinburg Campus for The Stomp, to celebrate the launch of the new university and the first day of class. Heavy rains and flash floods that day forced the delay of the event on the Brownsville Campus, but The Stomp has now been reset for Sept. 15 on the Casa Bella lawn. (UTRGV Photo by Kristela Garza)
MEDIA CONTACTS

Marci.Caltabiano@UTRGV.edu
UTRGV Director of News and Internal Communications
956-665-2742
Jennifer.McGehee@UTRGV.edu
UTRGV Director of Public Relations
956-882-5105