Sub Menu Toggle
UT System student regent tours UTRGV campuses during Best Week Ever
By Jennifer L. Berghom
BROWNSVILLE & EDINBURG, TEXAS – SEPT. 2, 2015 – Justin A. Drake is just 27 years old, but Gov. Greg Abbott had enough faith in him to appoint him student regent for The University of Texas System.
On Sept. 1, he arrived in the Rio Grande Valley in his official capacity as a student representative to visit both campuses of The University of Texas Rio Grande Valley. He met with students and administrators, conducted interviews with area media and celebrated the launch of the new university.
Drake started his day with a tour of the Brownsville Campus, then headed to the Edinburg Campus for the Picnic with The President event, where UTRGV President Guy Bailey and university administrators served hot dogs and other treats to roughly 1,500 people.
"Dr. Bailey was literally asking each student their name and their degree. He was super-engaged, I thought that was fantastic," Drake said. "There was an energy in the room – everyone seemed really excited – and I think it was a great way to start off the new school."
The trip to UTRGV was the first stop of a tour in which he will visit all 14 institutions in the UT System.
Drake, from Austin, is a fourth-year graduate student in the Biochemistry and Molecular Biology Department at The University of Texas Medical Branch at Galveston. He earned his bachelor's degree in 2011 in Biomedical Engineering and a certificate in Scientific Computation from The University of Texas at Austin.
He has been the student regent since July 2 and will serve a one-year term on the Board of Regents.
As he toured the Brownsville and Edinburg campuses, he had a chance to speak with students about their questions and concerns.
"The students have been incredibly welcoming and very personable," he said.
He wants to meet with students at each institution to get their input on their respective campuses, and chose UTRGV as his first visit so he could experience the celebration of the new school's opening.
Among the programs and initiatives he heard about, Drake said, was UTRGV's partnership with the UT System's Institute for Transformational Learning, as well as UTRGV's Middle School to Medical School program.
Alberto Adame, president of UTRGV's Student Government Association (SGA), said he appreciated that Drake took time to meet with students and learn about the issues affecting the campuses.
"It's really exciting," Adame said. "It's the second day of classes and we've had the chancellor and our student regent here. It's great."
CUTLINES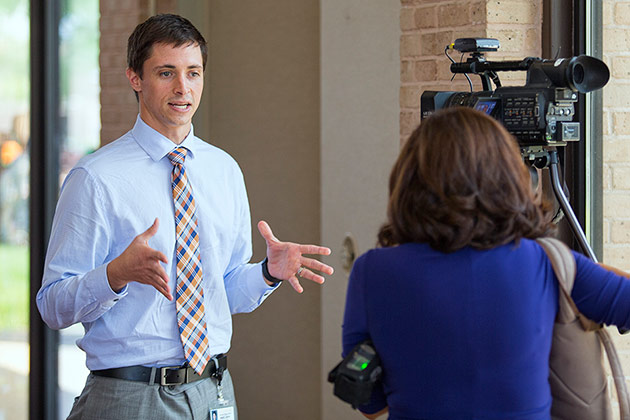 UT Student Regent Justin Drake toured UTRGV's Brownsville and Edinburg campuses Tuesday, Sept. 1, during Best Week Ever. He also attended the Picnic with The President on the Edinburg Campus, where he conducted interviews with area media (shown here). (UTRGV Photo by David Pike)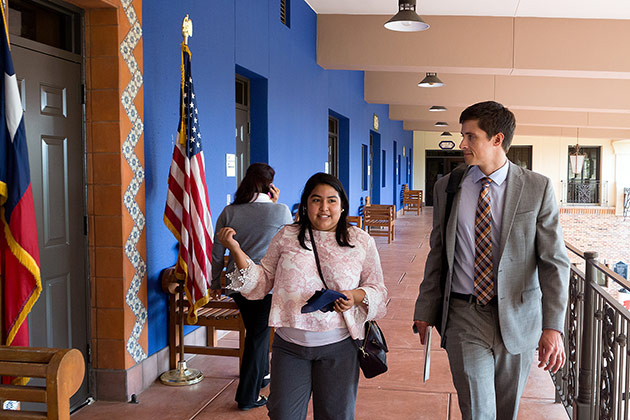 UT Student Regent Justin Drake toured UTRGV's Brownsville and Edinburg campuses on Tuesday, Sept. 1, during Best Week Ever. Here, gets a guided tour of the Brownsville Campus from SGA Vice President Denisse Molina. (UTRGV Photo by Paul Chouy)
MEDIA CONTACTS
Marci.Caltabiano@UTRGV.edu UTRGV Director of News and Internal Communications
956-665-2742
Jennifer.McGehee@UTRGV.edu UTRGV Director of Public Relations
956-882-5105