Sub Menu Toggle
UTRGV celebrates Tree Campus USA designation during Campus Sustainability Day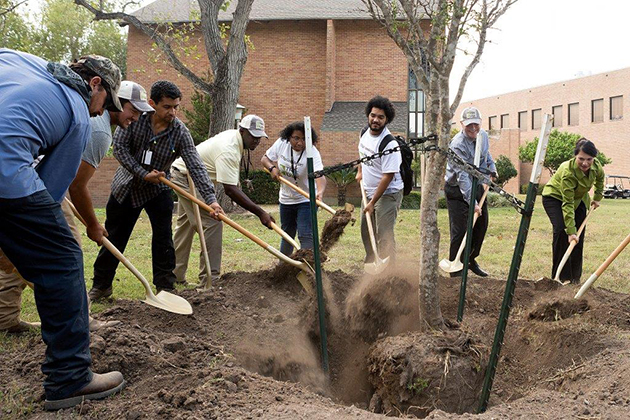 Students at UTRGV planted a tree on Thursday, Oct. 22, 2015, at the Chapel Lawn on the Edinburg Campus, in celebration of Arbor Day and to commemorate its Tree Campus USA designation. The cities of Edinburg and McAllen each recognized UTRGV with a proclamation. (UTRGV photo by Paul Chouy)
By Karen Perez
EDINBURG, TEXAS – OCT. 23, 2015 – The University of Texas Rio Grande Valley Edinburg Campus, home to nearly 2,000 trees, recently celebrated a community-wide effort that led to its designation as a Tree Campus USA this summer. 
The Arbor Day Foundation named the UTRGV Edinburg Campus as a 2014 Tree Campus USA university for its commitment to effective urban forest management, and for engaging the campus community in environmental stewardship.
Tree Campus USA is a national program created in 2008 by the Arbor Day Foundation and sponsored by Toyota. The university achieved the title by meeting Tree Campus USA's five core standards of tree care and community engagement:
Establishing a campus tree advisory committee.
Having a campus tree-care plan.
Verifying dedicated annual expenditures on the tree-care plan.
Being involved in an Arbor Day observance.
Instituting a service-learning project aimed at engaging the student body.
A recognition ceremony that coincided with Campus Sustainability Day was held Oct. 22 at the Chapel Lawn on the Edinburg Campus, to honor individuals who contributed to the effort to achieve the designation.
The initiative was led by UTRGV's Office for Sustainability with the Facilities Management Department, as well as Dr. Alexis Racelis, assistant professor of biology, and former University of Texas-Pan American graduate assistant Jorge Cantu (MS '15), who directed a cadre of 32 students in an inventory of the trees on campus.
"Students enjoyed being outside and learning practical tools," Racelis said. "The students were trained by myself and the city and state foresters to identify trees, how to measure them, how to estimate their health, and how to get all of the dimensions we needed. They're becoming better stewards of this region and they know the value of trees – not just the monetary value, but the environmental value."
During the ceremony, Martin Baylor, UTRGV executive vice president for Finance and Administration, expressed his gratitude for the decades of service that have gone into maintaining and preserving the 1,971 trees on campus with a structural value of nearly $5,735,000.
Baylor acknowledged the hard work of the 16-member grounds crew.
"This team takes on the responsibility for approximately 15 acres per person, on just this campus alone," Baylor said. "They do an enormous amount of work every day to keep this campus looking as beautiful as it is."
Baylor is looking forward to expanding the Tree Campus USA designation across all of the UTRGV campuses and locations.
"This is something we had started early on at UTPA (a UTRGV legacy institution), and I'm so excited that this is one of the first really cool things that UTRGV gets to immediately inherit," he said. "We had some great graduate students participating, and we certainly want to get that same level of participation to carry on that designation throughout the Valley."
McAllen Mayor Jim Darling and Edinburg Assistant City Manager Sonia Marroquin presented proclamations on the UTRGV Tree Campus USA award. 
The event concluded with the ceremonial planting of a Texas Ebony tree – a symbol of UTRGV's new beginnings.
"A tree is a representation of establishing roots," said Marianella Franklin, UTRGV chief sustainability officer. "Those roots grow and connect with other trees, so it represents the connection and the unity of our region."
A similar event will be held at the Brownsville Campus on Nov. 5, at the Main Lawn. For more information about the Brownsville Campus event, call the Office for Sustainability at (956) 665-3030.
MEDIA CONTACTS
UTRGV Director of News and Internal Communications
956-665-2742 
UTRGV Director of Public Relations
956-882-5105