Sub Menu Toggle
UTRGV Tuba-Euphonium Festival features performances, training, by top world musicians
By Gail Fagan
EDINBURG, TEXAS – OCT 28, 2015 – The public is invited to a number of free performances during the RGV Tuba-Euphonium Festival, Oct. 30 and 31 at the Edinburg Campus of The University of Texas Rio Grande Valley.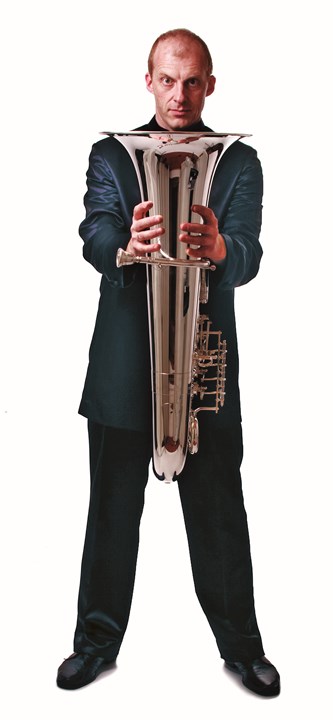 Oystein Baadsvik (Courtesy Photo)
All the festival events are free and will be held in UTRGV's Performing Arts Complex.
The festival kicks off with a concert at 7:30 p.m. Oct. 30 by the North Texas Euphonium Quartet.
On Saturday, Oct. 31, registration begins at 8:30 a.m. for a 9 a.m. ensemble rehearsal. Local tuba and euphonium students are invited to bring their instruments and participate. A master class with Norwegian tuba soloist and chamber musician Oystein Baadsvik follows at 10 a.m.
At 1:30 p.m., a mass ensemble performance will be conducted by Dr. Bill Waterman, a faculty member at the University of Tennessee at Martin, who directs that university's athletic bands and studio tuba/euphonium.
Baadsvik, who will present a guest artist recital at 2 p.m. Oct. 31 to conclude the festival, made his New York recital debut at Carnegie Hall in 2006 and has performed with orchestras worldwide.
He is known for his master classes, performances and tuba clinics, which are held in numerous universities throughout the United States, including The Julliard School, Indiana University and the Cleveland Institute of Music, among others.
His unique performance skills include "lip beats" and multiphonics, in which he produces several notes at once on his monophonic instrument.
The festival is being presented by UTRGV's School of Music in the College of Fine Arts.
For more information, contact UTRGV Associate Professor of Tuba/Euphonium Dr. Scott Roeder at (956) 665-7134, or email scott.roeder@utrgv.edu.
Video of Baadsvik in concert: http://www.baadsvik.com/baadsvik-videos/
MEDIA CONTACTS
Marci.Caltabiano@UTRGV.edu
UTRGV Director of News and Internal Communications
956-665-2742
Jennifer.McGehee@UTRGV.edu
UTRGV Director of Public Relations
956-882-5105