Sub Menu Toggle
Linger joins UTRGV School of Medicine as AVP for Accreditation and Institutional Effectiveness
By Jennifer L. Berghom
RIO GRANDE VALLEY, TEXAS – OCT. 19, 2015 – Dr. Barry Linger has held onto a piece of advice he received on his graduation day from West Virginia University: "If you're not happy doing what you're doing, you need to find something else."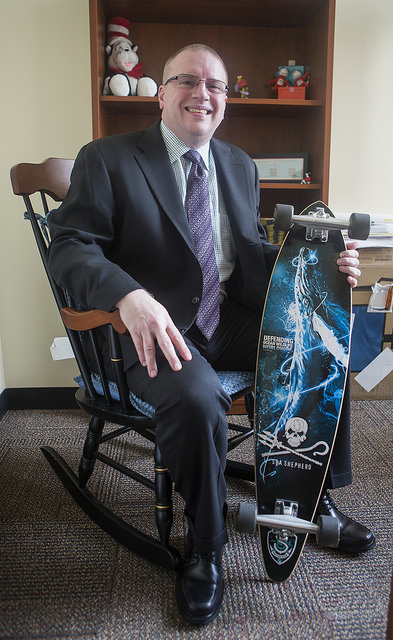 Dr. Barry Linger's office is full of interesting items meant to spark interest and discussion. Here, he displays his skateboard, which sports the emblem of the anti-whaling vessel
Sea Shepherd.
(UTRGV Photo by David Pike)
That piece of advice was from Homer H. Hickam Jr. – an author and former NASA engineer on whose biography the film "October Sky" is based – during the commencement ceremony where Linger received his doctoral degree.
"He said, 'Half your waking life is going to be working going forward, and if you're not happy in that part, then the other part will suffer,'" Linger said.  "You should always enjoy what you're doing."
Linger, who is now assistant vice president for accreditation and institutional effectiveness for the UTRGV School of Medicine, said seeing the Rio Grande Valley community's excitement about the creation of the new university and medical school is what drew him to the area.
"I think what has impressed me about UTRGV as a whole is the overwhelming task it took to really bring these two institutions together, and the way so many people have come together to make that happen," he said. "There are very few places anywhere else in the country that could have pulled off what has happened thus far, and there's still a lot of work to do."
UTRGV's School of Medicine is on schedule to open in the fall 2016.
Dr. Francisco Fernandez, inaugural dean of the UTRGV School of Medicine, said Linger has played a pivotal role in the accreditation process to date.
"Dr. Linger first learned about us as a consultant for our preliminary accreditation process. A great deal of making our goals a reality is what he is focused on. We are looking forward to Barry's interactions with faculty, staff, administrators and university leaders on campus to fulfill our mission, while preparing our students to succeed. And, as a bonus, we know Barry will make it fun."
Linger comes to UTRGV from Florida Atlantic University in Boca Raton, Florida, where he served as senior associate dean for medical education and faculty development in the Charles E. Schmidt College of Medicine, and lead the charge to secure accreditation for that institution before it opened in 2011.
Previously, he had served as associate dean for academic affairs and associate dean for curriculum and student affairs at The Commonwealth Medical College in Scranton, Pennsylvania, and as assistant dean for medical education at West Virginia University School of Medicine, Eastern Division, in Martinsburg, West Virginia.
Linger received his doctoral, master's and undergraduate degrees from West Virginia University: an Ed.D. in special education, learning disabilities and gifted; a Master of Arts in reading and a Bachelor of Science in secondary education, biology and science.
In his role at UTRGV, Linger will oversee the accreditation process for the School of Medicine, as well as determine best practices for operating the medical school efficiently and effectively.
Linger said he originally planned to attend medical school, then realized he preferred education.
"Someone asked me early on if I regretted not going to medical school — and there was a part of me that said yes. And then I realized the bigger picture. If I had gone to medical school, as a physician, I could only help the patients that were my own patients," he said. "But as someone who helps start a medical school, or who teaches at a medical school, I in some way am involved with them becoming a doctor. And I in some way have impacted the lives of all their patients."
Linger said a childhood hobby – juggling – helped prepared him for his two-decade career in academic medicine by helping him handle the many demands of his job.
Multi-tasking skills are vital in medical education, he said. So much so that he passed on his knowledge of juggling to medical students in West Virginia.
"Part of our orientation for medical school was, we would take the students out to this 4-H camp or Boy Scout camp, and the faculty had to teach a skill (to the medical students)," Linger said. "I would teach students how to juggle. I told them, it's always a good skill because, as you're moving through your medical career, you're going to learn that you're doing a lot of juggling." 
Watch Dr. Linger ride his skateboard.
MEDIA CONTACTS
Marci.Caltabiano@UTRGV.edu UTRGV Director of News and Internal Communications
956-665-2742
Jennifer.McGehee@UTRGV.edu UTRGV Director of Public Relations
956-882-5105