Sub Menu Toggle
Dr. Robert Nelson named chair of Pediatrics
By Jennifer L. Berghom
RIO GRANDE VALLEY, TEXAS – OCT. 19, 2015 – The University of Texas Rio Grande Valley School of Medicine has named Dr. Robert M. Nelson Jr., M.D., M.S., senior associate dean for Faculty Matters and Innovation, and chairman of Pediatrics.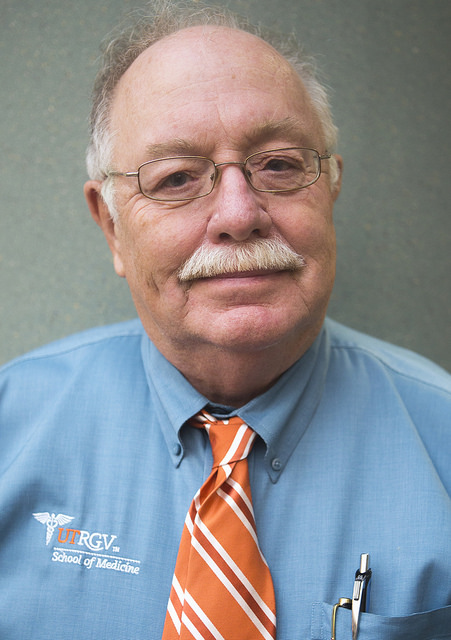 Dr. Robert M. Nelson Jr. (UTRGV Photo by David Pike)
Nelson earned his undergraduate degree from Harvard University, his Doctor of Medicine from the University of Washington, and a Master of Science in administrative medicine from the University of Wisconsin, Madison.
He has worked in graduate medical education for more than 30 years, most recently at the University of South Florida Morsani College of Medicine in Tampa, where he served as associate vice president of Child Health, USF Health, and as professor of Pediatrics and Psychiatry and professor of Community and Family Health.
Dr. Francisco Fernandez, inaugural dean of the UTRGV School of Medicine, said Nelson brings with him special teaching skills and a focus on children's needs that mesh perfectly with the goals of the new medical school.
"When I think of defining wellness outcome improvements in children's health for the Valley, the name Bob Nelson comes naturally and immediately to mind," Fernandez said. "Whether it is intrauterine growth and nutrition, healthy eating habits, developmental delays, sexual health, sports safety, poor school performance – any and all childhood health issues – Bob is the one that focuses on improving quality of health and quality of life for all."
Nelson is a "game-changer" for the UTRGV School of Medicine, he said, especially in the many positions he holds that span the entire scope of the SOM's missions in undergraduate and graduate medical education, interprofessional education, clinical care and research.
"I am excited by the many ways in which he will propel our faculty and our trainees into excellence," Fernandez said.
Previously, Nelson held administrative and faculty positions at the University of Nebraska Medical Center in Omaha and the University of Florida College of Medicine in Gainesville.
For three decades, he has trained others to positively affect the lives of others as an educator and administrator, and said he enjoys preparing the next generation of physicians to go on to help countless people.
He came to the UTRGV School of Medicine because he was interested in being a part of starting a new medical school — especially in a region where there is a great need for more and better access to health care — as well as being a part of a medical school that focuses on addressing the health needs of the population it serves.
"We want to add to the likelihood that kids growing up here will have the same health status, and educational and other opportunities, that they would if they were anyplace else in the country," he said.
Nelson has been impressed with the community's support for the new university and its medical school.
"Everyone is passionate about the future success of UTRGV and the School of Medicine," he said.
Nelson chose pediatric medicine because it was a way to have an impact on someone's entire life.
"The thing that struck me as I was going through training was that if I worked with young children and improved their health, I was going to have a positive impact on a life that may stretch for 60, 70, 80 years or more," he said.
Now, he will help improve the lives of children in South Texas.
As associate dean and head of pediatrics, Nelson wants to establish models of care that meet the needs of the children of Valley in both a cost efficient and high-quality manner; increase capabilities of meeting the needs of Valley children and their families; and create a generation of pediatricians who understand the importance of the health of the population and how to provide care for patients when unlimited resources are not available.
"I don't want to give the impression that I or anybody is swooping in here to save the Valley from itself," he said. "Our job is to work with the citizens of the Valley who are our neighbors and friends, and look for solutions to problems that are documented to occur here in the Valley.
"The more we can impact the needs – especially those related to kids – the more we can impact the future of the Valley."