Sub Menu Toggle
UTRGV open house showcases newly created Office of Accreditation and Assessment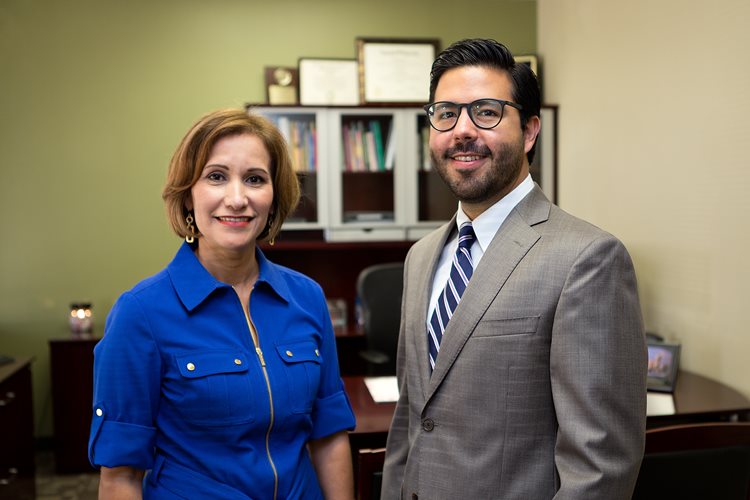 Dr. Laura Saenz, associate provost for Accreditations & Assessment, and Dr. Carlos Cuellar, director of Institutional Assessment, welcomed visitors to the newly established UTRGV Office of Accreditation & Assessment, during an open house Friday, Oct. 16, on the Edinburg Campus. (UTRGV photo by Paul Chouy)
By Gail Fagan
EDINBURG, TEXAS – OCT. 16, 2015 – The new Office of Accreditation and Assessment (OAA) at The University of Texas Rio Grande Valley opened its doors Oct. 16 to curious visitors at an open house on the Edinburg Campus.
The OAA, under the Division of Academic Affairs, will be responsible for coordinating, monitoring and supporting accreditation and assessment activities across the university to ensure all units meet UTRGV expectations and accreditation standards.
The department will be led by Dr. Laura Saenz, associate provost for Accreditation and Assessment. Dr. Carlos Cuellar is OAA's director of Institutional Assessment.
"Accreditation and assessment represent critical compliance areas and encompasses the interwoven process of continuous improvement and accountability in higher education," said Saenz, former interim dean of UT Pan American's College of Education and for UTRGV's College of Education and P-16 Integration.  "The OAA was created to assign greater value and priority to accreditation and assessment activities at UTRGV."
The office will assume responsibilities formerly distributed across several units of UTRGV's legacy institutions – UT Pan American and UT Brownsville/Texas Southmost College. In Edinburg, the office takes on some of the former tasks of the Office of Institutional Research and Effectiveness and the Offices of Graduate Studies and Undergraduate Studies. In Brownsville, those duties were under the Office of Institutional Research, Planning and Effectiveness. Six of the 10 new OAA staff members worked in those legacy institution offices.
Some of activities OAA will oversee or play a critical role in are:
Ongoing SACSCOC (Southern Association of Colleges and Schools Commission on Colleges) accreditation activities.
Self-study processes, including academic program review and administrative unit goal setting assessment.
Student learning outcome assessment.
Core curriculum assessment.
Discipline-specific accreditation work done by academic programs.
Ensuring that data are available for academic and administrative review processes.
SACSCOC is the regional body for the accreditation of degree-granting higher education institutions in the Southern states. Regional accreditation, which UTRGV has from SACSCOC, sets standards to assure the educational quality and effectiveness of its member institutions. Currently, 20 academic programs are also accredited at UTRGV.
Cuellar, who will oversee all assessment activities from course to institutional level, came to UTRGV from Northern Arizona University, where he was a faculty member in the Department of Politics and International Affairs. He is a Brownsville native and graduated from the Science Academy of South Texas in Mercedes before earning his master's degree at St. Mary's University and his Ph.D. at Rice University.
  
He said he looks forward to helping improve the university, its reputation and its status in the region.
"The point of assessment is to try to come together as a unit and determine what it is your unit wants to accomplish, what you want to improve in your functionality and the services it provides for the university," Cuellar said. "Once this is done, our office helps provide support and identify what tools to use to achieve those goals."
Saenz said assessment is an important process for higher education to undertake efficiently.
"At the federal and state level, institutions of higher education are facing increased performance accountability due to a variety of factors, including but not limited to rising tuition costs, increasing student debt and increased debt from the private sector," she said. "Building ownership for assessment and embedding a culture of accountability into all units of the institution has been and continues to be an issue facing all universities."
Saenz said the 2015-16 academic year is a time of building for the new office. Next year, the OAA will provide training and development on administrative and academic self-study activities, and will work with stakeholders to evaluate, identify and implement an assessment management system for UTRGV. Previously, the two campuses used two different systems, she said.
Other goals include working with UTRGV departments to identify common assessment and accreditation data reporting needs, to adopt an institution-wide assessment model for implementation in the 2016-17 academic year, and to establish a timeline and process for UTRGV's academic program review.
By moving beyond compliance toward a culture of evidence-based decision making, Saenz said, UTRGV seeks to improve student learning, promote academic excellence and enhance the university's institutional effectiveness.
Dr. Cynthia Brown, UTRGV deputy provost, will oversee the OAA. Its activities relate to UTRGV becoming a great university, she said, and UTRGV Founding President Guy Bailey sees assessment as a necessary and key process to demonstrate to invested external stakeholders that the university is achieving its goals.
"To be great, you have to know about your progress along the way, and to see if you are achieving your goals as you move forward," Brown said. "We have very lofty goals for UTRGV that I'm sure we will reach, but we have to measure our progress along the way. It is all about being better and doing things in the best possible way for all the units within the university."
The Edinburg campus OAA office is located in Room 1.102 in the Marialice Shary Shivers (MASS) Building.
The OAA office in Brownsville is in Room 2.406 in the Life and Health Sciences Building (LHSB).
The OAA will host an open house at the Brownsville Campus office, 10 a.m.-noon on Monday, Oct. 19.
MEDIA CONTACTS
Marci.Caltabiano@UTRGV.edu UTRGV Director of News and Internal Communications
956-665-2742
Jennifer.McGehee@UTRGV.edu UTRGV Director of Public Relations
956-882-5105