Sub Menu Toggle
First time for community audience: Bravo Opera Company performs 'Hansel and Gretel'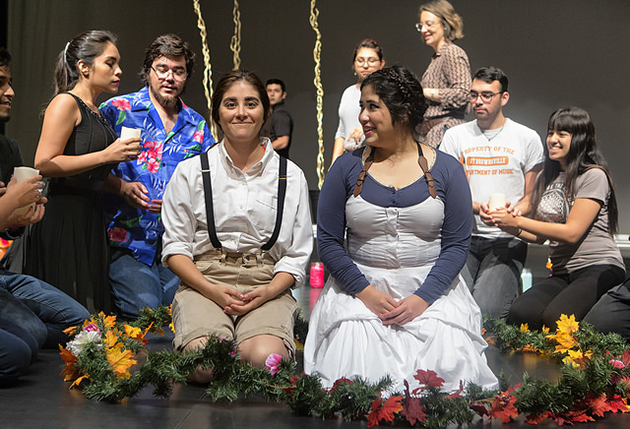 Sylvia Lopez, left, a senior vocal music education major from Harlingen, performs the role of Hansel, and Alexa Salas, a senior vocal music education major from Brownsville, is singing the part of Gretel, in the UTRGV opera 'Hansel and Gretel' at the Arts Center in Brownsville. They are shown here in rehearsal. (UTRGV Photo by David Pike)
By Cheryl Taylor 
BROWNSVILLE, TEXAS – OCT. 14, 2015 – For more than a decade, Bravo Opera Company on the Brownsville campus of The University of Texas Rio Grande Valley has been performing Hansel and Gretel for area school children as part of the School of Music's community outreach program.
This year for the first time, Patron of the Arts is presenting this family favorite for the general public to enjoy at 3 p.m. on Saturday, Oct. 17 in the TSC Arts Center.
"We are reinventing Hansel and Gretel with a new English translation and updated costumes and sets with a Dia de los Muertos theme," said Dr. Nicole Asel, assistant professor of voice and director of opera. "This is one of the students' favorites – they love performing for the school children. And now, friends, family and all arts enthusiasts can attend the show at the Saturday matinee."
About 40 music students are involved in the production, with roles including the witch's helpers, the sandman's helpers, the dew fairy, and the gingerbread children. Some will be costumed as the Dia de los Muertos characters Catrina and Catrin. Everyone in the production helps with the sets, costumes and making props.
Sylvia Lopez, a senior vocal music education major from Harlingen, says she is applying what she is learning in her movement and vocal improvisation class for her upcoming role as Hansel.
"This will be my first 'pants role,' when a female, often a mezzo-soprano or alto, plays the part of a young male," Lopez said. "Dr. Asel and Dr. Hunter-Holly (associate professor and UTRGV interim associate director of music) are helping me with my movements and male mannerisms. This is the most challenging part for me."
Iliana Zendejas, a sophomore vocal music education major from Brownsville, plays the wicked witch.
"Because this is an opera that is geared more towards children, one might think that the music isn't as challenging. But do not be fooled," Zendejas said. "The music is very chromatic and has a lot of meter changes that can be difficult. Learning the parts of this opera is just as difficult as it would be to learn something from a Mozart opera, for example."
Also from Brownsville and a senior vocal music education major, Alexa Salas plays Gretel.
"Musically speaking, the character of Gretel can be difficult to sing because at times it is just constant high notes," Salas said. "That can get a little tiring, so I have to work on my technique to make sure I'm being as efficient as possible with my voice.
Isaiah Garcia, a sophomore music education major from San Benito, said he looks forward to his non-singing role as the narrator, an important position that must engage the audience and carry them through the story.
Asel said bringing school children to see Hansel and Gretel at the Arts Center is an enriching experience for the youngsters. For many, this field trip is their first time to a college campus and to a performing arts center.
"Arts education and outreach is critical for establishing young children's relationship with the arts, which, in the long term, can benefit the students' academic future, emotional maturity and help establish healthy social relationships."
To become familiar with the music, Bravo Opera Company students received copies of the show's music at the beginning of the summer. They were provided with a new English translation at the start of the fall semester, and have been practicing since August.
"I know our students enjoy presenting Hansel and Gretel to the children as much as the children enjoy the entire experience."
Bravo Opera Company will delight school children at morning and afternoon performances of Hansel and Gretel on Friday, Oct. 16. The community is invited to attend a public performance at 3 p.m. on Saturday, Oct. 17, at the Texas Southmost College Arts Center.
General admission is $5; there is no charge for Patron of the Arts members.
For more information, call the School of Music at 956-882-8247 or Patron of the Arts at 956-882-7025.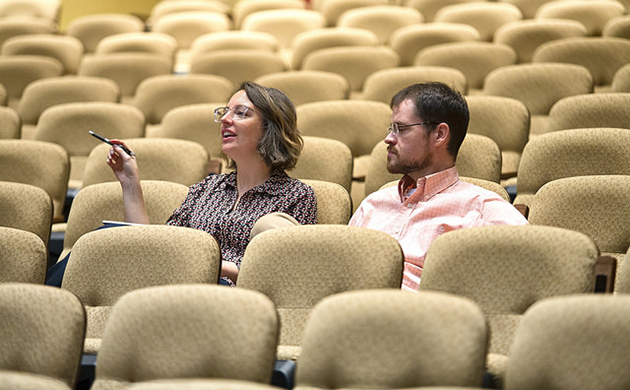 Dr. Nicole Asel, left, UTRGV assistant professor of voice and director of opera, here leads performers through rehearsals for the UTRGV musical performance of Hansel and Gretel, at the Arts Center in Brownsville. (UTRGV Photo by David Pike)
MEDIA CONTACTS

Marci.Caltabiano@UTRGV.edu UTRGV Director of News and Internal Communications
956-665-2742
Jennifer.McGehee@UTRGV.edu UTRGV Director of Public Relations
956-882-5105