Sub Menu Toggle
PSJA Southwest High School wins U.S. Navy SeaPerch Challenge at HESTEC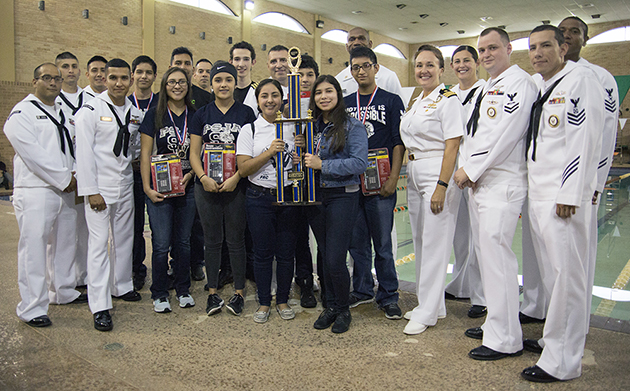 PSJA Southwest High School won the fifth annual U.S. Navy SeaPerch Challenge at HESTEC on Friday, Oct. 9, held on the UTRGV Edinburg Campus. Flanked by service members of the U.S. Navy are team members (front) Yesenia Mireles, Adaylin Alvarez, Claudia Ortiz and Alejandra Urbina. In back are students Antonio Martinez, their teacher and coach, Nelson Carrasquero, Ramiro Leal, Francisco Rodriguez and Christian Segovia. The team is now eligible to compete in the national SeaPerch competition in May at Louisiana State University. (UTRGV Photo by Kristela Garza)
By Jennifer L. Berghom
EDINBURG, TEXAS – OCT. 9, 2015 – Lessons learned at last year's HESTEC led the Pharr-San Juan-Alamo Southwest High School team to victory in the fifth annual U.S. Navy SeaPerch Challenge, held Friday, Oct. 9, at The University of Texas Rio Grande Valley's Hispanic Engineering, Science and Technology Week.
The team had to forfeit last year because of faulty wiring on its remote-control watercraft robot. This year, though, the team made modifications to its robot, "Lucy SW2," to capture first place with 123 points. 
Team members said they had worked on Lucy SW2 until as late as 8 p.m. the past few nights.
"We work well under pressure," said Alejandra Urbina, 15, a sophomore at PSJA Southwest High.
Twenty-four high school teams from across South Texas competed at the UTRGV natatorium on the Edinburg Campus.
Students developed remote-control watercraft robots that they maneuvered through an underwater obstacle course, picking up plastic rings from the bottom of the pool.
They also had to present their device, along with a poster explaining the process of developing the robot, to a panel of judges. Judges tabulated scores from the obstacle course, ring pickup, and presentation, to determine the winner.
Team members were emotional as they received their trophy and Texas Instruments calculators.
As winners, the PSJA Southwest High School team is eligible to compete in the 2016 National SeaPerch Challenge in May at Louisiana State University in Baton Rouge.

"It's like somebody so little from the Valley – only six years old – to finally making it to something big as nationals, right?" 16-year-old Adaylin Alvarez, a junior at PSJA Southwest High, said of her high school. "This is my first year competing, and it's amazing."
The Office of Naval Research sponsors the SeaPerch Challenge and The Association of Unmanned Vehicle Systems International Foundation manages it.
This is the first year the regional competition was held at UTRGV, but its legacy institution, The University of Texas-Pan American, has hosted the challenge since 2011. It also is the first year the competition is officially a regional competition.
Veterans Memorial High School in Mission won second place, and Sharyland High School won third place in the SeaPerch competition. Those teams also received a trophy and a Texas Instruments calculator for each member, as well as the opportunity to compete in the national competition.
To learn more about the SeaPerch Challenge, visit www.seaperch.org.
HESTEC culminates Saturday, Oct. 10 with its Community Day, featuring various musical acts, exhibits and other activities for the whole family.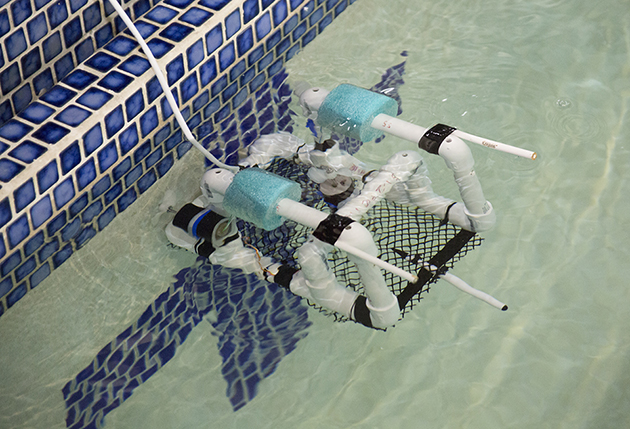 UTRGV hosted the fifth annual U.S. Navy SeaPerch Challenge at its Edinburg Campus on Friday, Oct. 9, during HESTEC 2015. This year, 24 high school teams from across South Texas competed for a chance to move on to the national SeaPerch competition in May at Louisiana State University. Students developed remote-control watercraft robots they maneuvered through an underwater obstacle course, picking up plastic rings from the bottom of the pool. (UTRGV Photo by Kristela Garza)
MEDIA CONTACTS

Marci.Caltabiano@UTRGV.edu UTRGV Director of News and Internal Communications
956-665-2742

Jennifer.McGehee@UTRGV.edu UTRGV Director of Public Relations
956-882-5105