Sub Menu Toggle
Participants say HESTEC's Latina Day helped empower and encourage
By Gail Fagan, Jennifer L. Berghom,
and Melissa Vasquez
 
EDINBURG, TEXAS – OCT. 7, 2015 – Dressed in matching pink T-shirts, about 1,200 female high school students and their mothers were encouraged to dream big and aim high at Latina Day, part of Hispanic Engineering, Science and Technology (HESTEC) Week at The University of Texas Rio Grande Valley.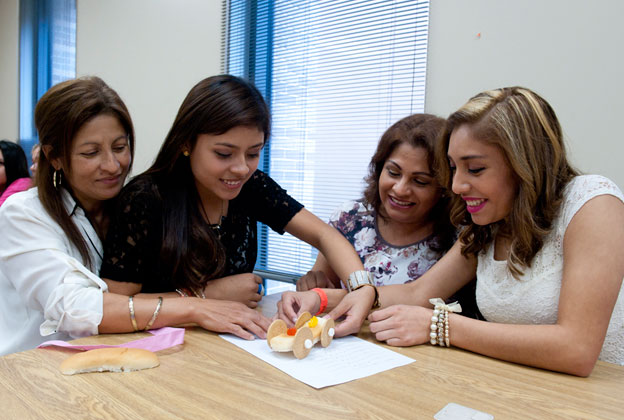 Mother-daughter teams (from left) Sabrina and Juanita Flores, and Rosa and Ixcel Guzman, from Lasara, worked together at HESTEC 2015 to build an edible car, during Latina Day on Wednesday, Oct. 7, on the UTRGV Edinburg Campus. (UTRGV Photo by Josué Esparza)
This is the first year UTRGV has hosted the weeklong conference, but its legacy institution, The University of Texas-Pan American, had directed the event since 2002.

Mothers and daughters gathered at the Fieldhouse early in the morning to hear from inspiring women, including Veronica Gonzales, UTRGV vice president for Governmental and Community Relations; Dr. Theresa Maldonado, UTRGV senior vice president for Research, Innovation and Economic Development; Norma O. McCormick, coordinator of the Ready, Set, College! Partnership, Region Education Service Center; and Briana M. Lyssy, Governmental and Community Affairs liaison for Marathon Oil.

"We have some serious girl power in this room," said Gonzales, the first woman to represent District 41 in the Texas House of Representatives. "We want you to leave here appreciating where life has taken you up to now, and more importantly, we want you to leave here energized and excited about the possibilities that await you as strong Latinas."

Maldonado, the first Hispanic female to earn a Ph.D. in electrical engineering at Georgia Tech, shared her success story, including how she attended 14 schools – four high schools – in her lifetime because her father was in the U.S. Air Force. She told the audience that at one point, she was not sure if she would go to college, or if it was right for her, or even what to study.

"The biggest lesson that I have learned is how to fail. Nobody likes to fail … You think that everyone is looking at you, making judgments. But really successful people have figured out how to fail and get beyond it. That is a huge lesson to start learning," Maldonado said.

HARD WORK AND CREATIVITY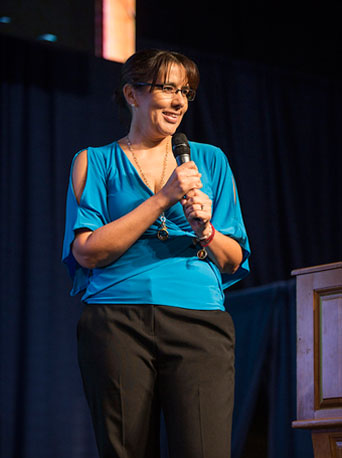 Dr. Karen Lozano, Ph.D., a Julia Beecherl Endowed Professor in mechanical engineering, is a highly lauded member of the UTRGV faculty who recently was named the Engineer of the Year. Originally from Mexico, she addressed a large crowd of Latina students and their mothers during Latina Day, a HESTEC 2015 event designed to empower and encourage women of all ages. (UTRGV Photo by Kristela Garza)
Honored during Latina Day – also her birthday - was UTRGV's own Dr. Karen Lozano, Julia Beecherl Endowed Professor in mechanical engineering who recently was named the Engineer of the Year by Great Minds in STEM.  

Lozano is only the third woman to garner this distinction in 27 years.

Working with another faculty member, Lozano invented a more efficient way to produce nanofibers that led to the creation in 2009 of FibeRio Technology Corporation, where Lozano is chief technology officer. In 2013, she was invited to the White House, along with other high-achieving Hispanics to provide advice to President Barack Obama on the contributions by immigrants to the nation.

She is the first Mexican to receive a doctorate in science from Rice, and the fifth woman to receive a doctorate in mechanical engineering and material sciences from Rice.

The Mexico native described her path to success through photos depicting stages in her life. Her parents struggled to make a living, she said, and as a college student at Rice University, she and her husband lived very simply.

 "We all have struggles, we all make sacrifices. It was super hard, but I made it," Lozano said.

OUTSIDE THE BOX

During a series of morning breakout sessions at Latina Day, the students and their mothers were challenged to solve engineering problems using household items, and heard from professionals on the myriad industries that rely on their smarts to develop new technologies.

A message driven home by many of the HESTEC corporate presenters: Be creative.

"Creativity is so important," said Kim Gonzales, a digital content engineer for Texas Instruments. "You need to think outside the box."

In one session led by Raytheon, more than 30 high school girls from IDEA San Benito College Prep High School were given a sweet and simple task: make a car – using doughnuts, cookies, candy, hotdog buns and other tasty treats – that can roll down a ramp without breaking.

Jessica Morales, 16 and a sophomore, and her team used a small chocolate doughnut, two Maria cookies, miniature marshmallows and some toothpicks to design an edible vehicle that raced down the ramp and continued traveling toward the back of the room a few feet away.

Morales said she had fun making the car and learned a lot about engineering at Latina Day.

"It opens your eyes, because I'm more set on law, ever since fifth grade," she said. "And now, seeing this, I see there's more options than I thought."

Morales, who wants to attend Harvard for her undergraduate and law studies, said she appreciates that her school district and UTRGV brought her and her fellow students to campus to hear that going to college is attainable.

"It shows you there's more," she said.

Jessica's mother, Deborah Morales, said she applauds the university for introducing the girls and their mothers to the educational and career opportunities available to them.

"We grew up in a time where we didn't have all these opportunities to see what was out there, so I'm glad that they're given the opportunity to see outside of the box," she said.

Three of the Raytheon presenters are UTPA alumni: Olga Vargas (BS '05, mechanical engineering); Elcira Bermudez (BS, '04, manufacturing engineering), who received the distinguished Pillar of Success alumni award; and Veronica Bacica (BS '00, mechanical engineering).

The women said they were happy to return to their alma mater to help encourage the next generation of young women to enter engineering and other STEM-related fields.

"We see ourselves in these girls," she said.

Other presenters included ExxonMobil, which sponsored Latina Day, the U.S. Navy, U.S. Department of Energy, NASA, IBM, Toyota, H-E-B and Wells Fargo.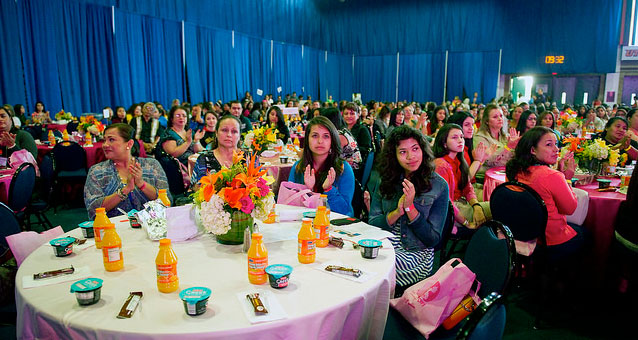 Hundreds of students and their mothers attended Latina Day on Wednesday, Oct. 7, 2015, during HESTEC 2015, held on the Edinburg Campus of The University of Texas Rio Grande Valley.(UTRGV Photo by Kristela Garza)
MEDIA CONTACTS
Marci.Caltabiano@UTRGV.edu UTRGV Director of News and Internal Communications
956-665-2742
Jennifer.McGehee@UTRGV.edu UTRGV Director of Public Relations
956-882-5105