Sub Menu Toggle
Confidence takes center stage at HESTEC's Latina Day Fashion Show
By Vicky Brito
EDINBURG, TEXAS – OCT. 7, 2015 – Confidence: It's a powerful accessory to looking your best and being professional in today's workforce.  
Hundreds of Latinas heard that message loud and clear as they watched models of all ages, shapes and sizes hit the runway at the University of Texas Rio Grande Valley Fieldhouse on Latina Day, to watch the first-ever HESTEC Fashion Show.

The event, held on Wednesday, Oct. 7, on the Edinburg Campus, was designed to highlight professional attire and accessories that can help promote a positive image in the workplace.

Telemundo's Elizabeth Robaina, the emcee, introduced the women as they walked the runway in heels, blazer ensembles and smiles. Models included high school and college students, their mothers and area professionals, and the clothing included business formal and casual Friday ensembles.
 
"It is very important, the way you look, and your professionalism," Robaina said, stressing that confidence is important regardless of one's field of study.

The confidence message was not lost on Linda Tovar, H.E.B. Public Affairs manager for the Border Region. She started a trend, shedding her jacket on the runway and coyly tossing it over her shoulder as she strutted confidently down the runway.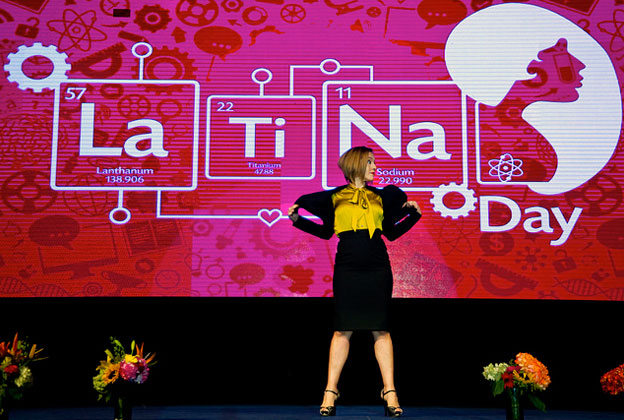 Linda Tovar, H.E.B. public affairs manager for the border region, shed her jacket on the runway and tossed it over her shoulder, highlighting the professionalism and confidence message that was the centerpiece of the first-ever HESTEC Latina Day Fashion Show. (UTRGV Photo by Kristela Garza)
"I didn't have a role model to look up to, in regards to having that female business mentor that could provide me a way of feeling confident," Tovar said. "There is nothing wrong with being a beautiful Hispanic Latina woman. I think this is a very important thing to be. It helps me inspire young Latina women into really looking confident and feeling good within their skin."

Edinburg North High School student Anissa Mercado and her mother, Nelda Mercado, gave it their all as they walked the runway in business attire.

"It was a great experience for us. We've never done anything like this before," Nelda said.

Anissa said she was glad to be able to share this learning experience with her mom.

"I feel like, if you're dressed nice, you're more confident and someone's first judgment of you is how you present yourself," Anissa said.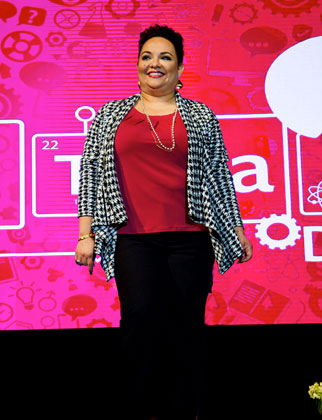 Nelda Mercado, who partnered with her daughter, Anissa, to model for the HESTEC Latina Day Fashion Show on Wednesday, Oct. 7, 2015, said it was a unique experience they both enjoyed. (UTRGV Photo by Kristela Garza)


Velinda Reyes, UTRGV assistant vice president for Community Programs and Operations, organized the event. The importance of the fashion show, she said, is to show young girls that no matter what field you are in, you need to look the part.

"We're all beautiful inside out," Reyes said. "I think it's important for them to know that you can have the education, skills, training and background, but if you show up and you're not dressed for it, you're not going to be taken seriously."
MEDIA CONTACTS
Marci.Caltabiano@UTRGV.edu UTRGV Director of News and Internal Communications
956-665-2742
Jennifer.McGehee@UTRGV.edu UTRGV Director of Public Relations
956-882-5105