Sub Menu Toggle
Students gain hands-on insight into STEM career possibilities during HESTEC 2015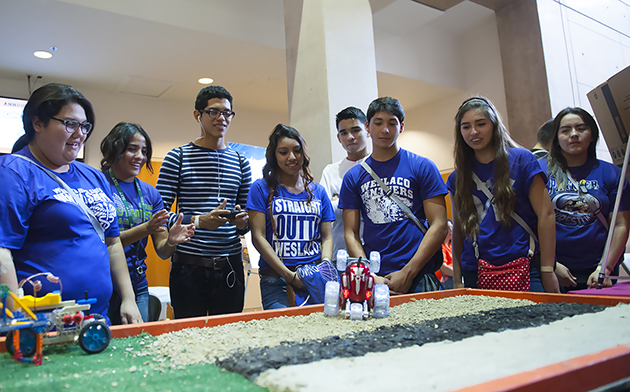 Weslaco High School juniors got to maneuver robots and learn about the STEM fields, during one of the breakout sessions at HESTEC 2015's Student Leadership Day on Tuesday, Oct. 6. (UTRGV Photo by Josué Esparza)
By Cheryl Taylor
EDINBURG, TEXAS – OCT. 6, 2015 – Rudy De La Torre, Anthony Garcia, Isaiah Ray and Odette Banda were among the Weslaco High School GEAR UP students who spent the day at The University of Texas Rio Grande Valley during HESTEC Student Leadership Day on Tuesday, Oct. 6.
After breakfast in the Fieldhouse with about 1,200 other high school students from across the Rio Grande Valley, followed by an inspiring address by Texas Gov. Greg Abbott, the group dispersed to attend informational sessions.
Inside the Engineering Building, De La Torre and Garcia spent time at a demonstration table where UTRGV students were showing off some of their renewable energy robots. Their group also attended a session on 3-D printers given by UTRGV engineering students.
"That's the first time I've seen a 3-D printer, and the models they showed us are so cool. Also, we got to see a go-cart in the Baja lab made by the students – that really caught my attention," said De La Torre, who thinks he would like to study electrical engineering.
Isaiah Ray said going to HESTEC was a good way to see the different branches of engineering sciences the UTRGV campus has to offer.
And Banda, who hopes to pursue nursing after high school, said she knows there is a lot of science to be learned on her career path.
One particularly fun learning experience was a marshmallow tower building competition between the boys' team and the girls' team.
Led by UTRGV civil engineering students Ana Pruneda and Roel Morales, the teams built their towers with large and small marshmallows and toothpicks. Morales measured for height and Pruneda simulated an earthquake on their paper towel foundations. The boys' team won, but everyone walked out with a piece of chocolate candy.
After a full morning, and on their way back to the Fieldhouse for lunch, the group stopped in their tracks to admire a shiny new Toyota Tundra pickup on display in the courtyard outside the Engineering Building.
The truck was an eye-catcher on exhibit for students to hear a message: Lots of jobs at Toyota – and innumerable other corporations – are available for students who major in STEM (Science, Technology, Engineering and Math) fields in college.
Marcos Ontiveros, a 2011 graduate of The University of Texas Pan American who is a quality engineer with Toyota in San Antonio, talked to the group about employment opportunities at Toyota.
Students asked questions of Ontiveros, including one that popped up repeatedly in many of the breakout sessions: "How much does an engineer make?"
Breakout sessions included not only STEM demonstrations but also motivational and career-focused presentations.
"Tech Talk: Revolutionizing the Future through Technology" was presented by Paul Arredondo, technical operations manager with Time Warner Cable, and Carlos Alanís, manager of information technology for KTLM Telemundo 40.
"Education will take you places you dream of, and education in STEM subjects will help you land jobs," Arredondo said. "Many of you are bilingual, and I want to encourage you to practice your Spanish and upgrade your language abilities to work in a professional setting. Being bilingual is a huge advantage."
Alanís, who graduated from UTPA with a degree in computer science in 2002, encouraged students to apply for internships.
"That's where you get the experience and where a company sees what you have to offer. Good interns generally are the ones who get the jobs," Alanís said.
This is the first year UTRGV has directed the weeklong HESTEC conference, but the 14th anniversary for the event.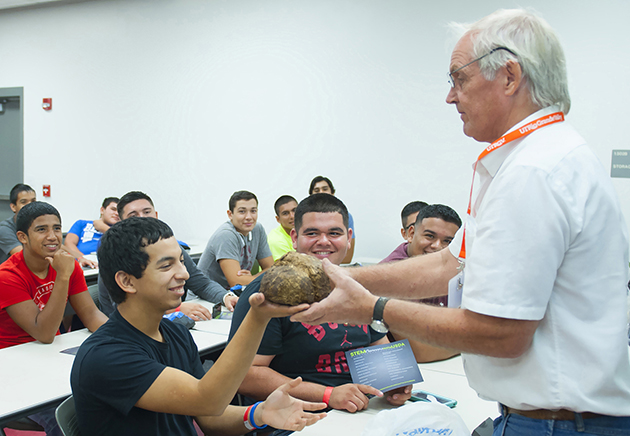 Raymondville High School juniors learned about the science in agriculture during the USDA/Hispanic Serving Institutions National Program breakout session, during HESTEC 2015's Student Leadership Day on Monday, Oct. 6.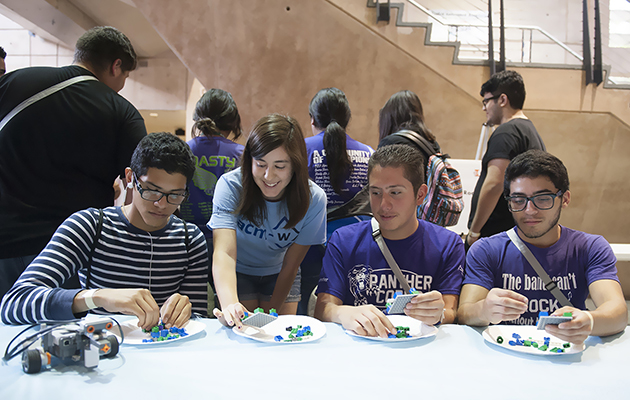 Samantha Idalecio, a UTRGV senior and ACM-W member, teaches Weslaco High School juniors Anthony Germain, Amado Rodriguez and Alejandro Sanchez how to build robots with Legos, during one of many breakout sessions at UTRGV's HESTEC 2015. (UTRGV Photo by Josué Esparza)
MEDIA CONTACTS


Marci.Caltabiano@UTRGV.edu UTRGV Director of News and Internal Communications
956-665-2742
Jennifer.McGehee@UTRGV.edu UTRGV Director of Public Relations
956-882-5105