Sub Menu Toggle
Soledad O'Brien talks voting, Latinos, and which issues are really of interest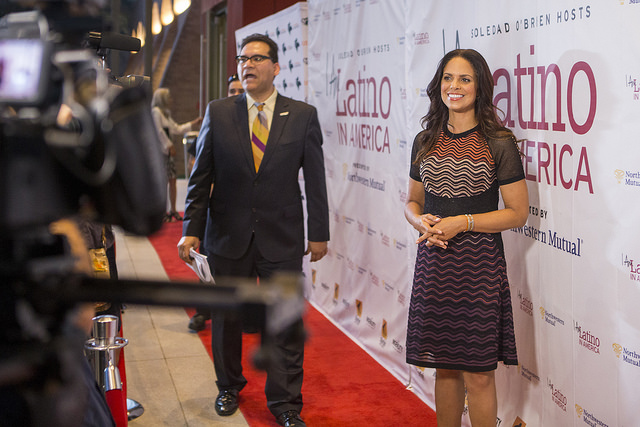 Journalist Soledad O'Brien walked the red carpet at UTRGV on Monday, Oct. 5, 2015, before taking to the stage for her 'I am Latino in America' tour panel discussion. Her appearance was in conjunction with HESTEC 2015, the UTRGV Distinguished Speakers Series and INGENUITY. (UTRGV Photo by David Pike)
By Melissa Vasquez
EDINBURG, TEXAS – OCT. 6, 2015 – With the country's Latino population at 55 million strong, it would make sense that the Latino vote would be a major factor in the 2016 presidential election.
But that's not the case, says award-winning journalist Soledad O'Brien. Voter participation in the United States for Latinos is a mere 49 percent.
"That is terrible," she said.  
"I worry that when people don't vote, it is a sign they are disengaged from the process – which speaks volumes about a bad picture for the future of this country," she said.
O'Brien's remarks came just before taking the stage at The University of Texas Rio Grande Valley on Monday, Oct. 5. And the vehicle to deliver that "get out and vote" message was her "I am Latino in America" tour, presented in conjunction with UTRGV's week-long Hispanic Engineering, Science and Technology (HESTEC) event, the university's Distinguished Speakers Series and INGEÑUITY.
Her goal is to "tap the power of the Latino voice," she said, and what better venue than this brand new university, home to a Hispanic student population of 89 percent.
"We have a good opportunity with an election coming to really talk about the issues that are relevant and important to the Latino community, and I am concerned they are not going to be covered," she said. "I think it is a good time to have a good conversation about the Latino community, here and around the country."
UTRGV was the second stop on O'Brien's tour, which began Sept. 28 at Florida International University. For O'Brien, the tour was an opportunity to open the dialogue and amplify the Latino voice on critical community issues including education, access to health care, and creating opportunities through education.
"We are trying to hit a number of different locations around the nation, because I think it underscores a lot of the message of the tour, which is, Latinos are a very diverse group," she said.  
A former CNN and NBC anchor, O'Brien is CEO of Starfish Media Group, a multimedia production and distribution company.
"We know we have roots in 21 different countries, and even generationally, we are extremely different. … We have a lot of different backgrounds and we have a lot of different issues that we want to talk about."
This was O'Brien's second visit to the Valley as part of the Distinguished Speakers Series. Her first was in October 2005 at The University of Texas-Pan American, UTRGV's legacy institution.  
A group of panelists – who earlier walked the red carpet, complete with media interviews and flash photography – joined O'Brien onstage during the 90-minute presentation at UTRGV. They included:
Comedian and actress – and San Juan, Texas, native – Cristela Alonzo.
Dr. Juliet Garcia, executive director of the UT Institute of the Americas, former president of UT Brownsville/Texas Southmost College, and the first Hispanic woman to lead a college or university in the United States.
José Antonio Tijerino, CEO, Hispanic Heritage Foundation.
Julissa Arce, former Wall Street executive turned immigration rights advocate, writer and dreamer.
Dr. Eliza Alvarado, Advocacy Alliance Center of Texas (AACT) board president.
Congressman Rubén Hinojosa (TX-15), one of the cofounders of HESTEC.
Alberto Adame, UTRGV Student Government Association president.
Louis Dartez, Ph.D. student in UTRGV's Joint Physics Doctoral Program with UT Arlington.
And Aleida Olvera, Veterans Memorial Early College High School student and state vice president of the Technology Student Association.
"My job is to ask people questions and to bring out a platform where we can have discussions," O'Brien said. "Hopefully, people will take away the message that their voice does matter and that they should decide they are going to vote."
With all the political talk on immigration this election year from candidates like Donald Trump, O'Brien said, most see immigration as the hot topic for Latinos this coming election.
Again, she said, that is not the case.
"You might think that everybody is up in arms about immigration all the time. Clearly, where we are right now, geographically, it is a big issue. But polling has shown that immigration is not the No. 1 issue for Latinos, especially in this upcoming election," she said.
Education is the critical issue for most Latinos, she said.
At the end of her tour, O'Brien said, she hopes people have walked away with two things – the motivation to vote, and a little more knowledge about Latinos in America.
"I do hope Latinos can set an agenda and say, 'You know what? We are a powerful political voice, and this is what we want. This is what is good for our people," she said.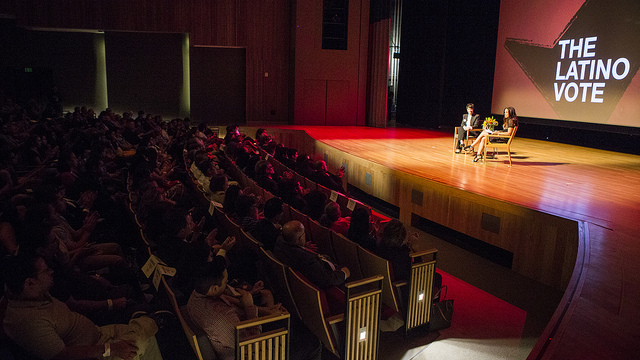 Journalist Soledad O'Brien brought her 'I am Latino in America' tour to UTRGV's Performing Arts Center on Monday, Oct. 5, 2015, for a panel discussion on the issues she has found most relevant to the Hispanic population. Her appearance was in conjunction with HESTEC 2015, the UTRGV Distinguished Speakers Series and INGENUITY. (UTRGV Photo by David Pike)
MEDIA CONTACTS
Marci.Caltabiano@UTRGV.edu
UTRGV Director of News and Internal Communications
956-665-2742
Jennifer.McGehee@UTRGV.edu
UTRGV Director of Public Relations
956-882-5105