Sub Menu Toggle
UTRGV celebrates new Science Research Building with ceremonial groundbreaking during HESTEC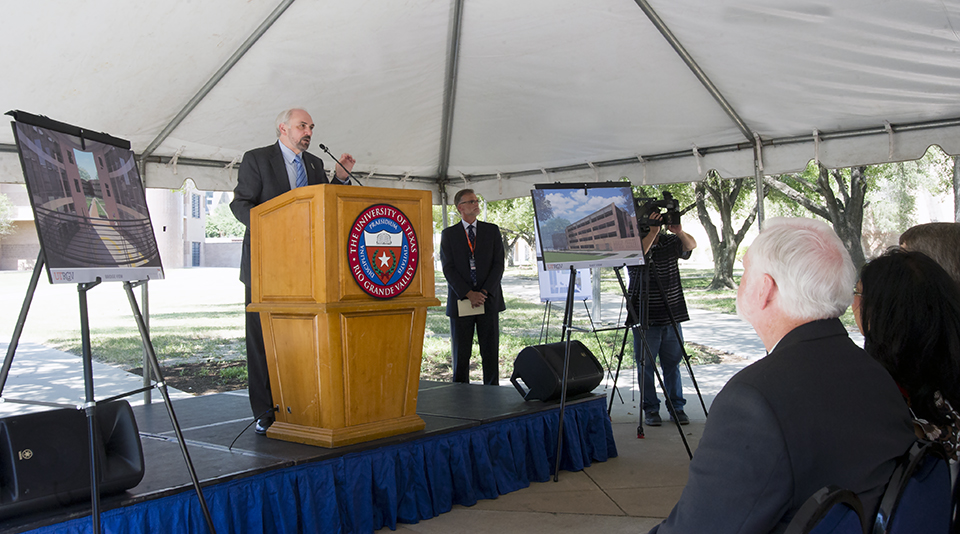 UTRGV Founding President Guy Bailey welcomed visitors to the ceremonial groundbreaking of the new university's $70 million Science Research Building, Monday, Oct. 5, during the first day of HESTEC activities. (UTRGV Photo by Kristela Garza)
By Gail Fagan
EDINBURG, TEXAS – OCT. 5, 2015 – The first day of HESTEC 2015 was a fitting time for a ceremonial groundbreaking on the much-anticipated Science Research Building on the Edinburg Campus of The University of Texas Rio Grande Valley.
The $70 million building is among the first funded for UTRGV under the Permanent University Fund, a public endowment that draws its revenues from oil, gas, and land leases to benefit the University of Texas and Texas A&M Systems. Funding was approved by the UT System Board of Regents in November 2013.
The groundbreaking was held Oct. 5 as part of the 14th annual Hispanic Engineering, Science and Technology Week, but actual construction will begin in December 2015. Anticipated completion date is February 2018.
In welcome remarks, Founding UTRGV President Guy Bailey said that, in his long career in higher education, he has never before seen an investment in a university like the one for UTRGV.
"Our (UT System) Board of Regents has invested one half billion dollars of PUF money for UTRGV. It speaks to the confidence that the System has in us, and that the State of Texas has in us," he said. "It is a great time in our history. It is a unique time in our history. And it is up to us to take full advantage of that."
The 115,000-gross-square-foot, four-story structure, designed by the San Antonio architectural firm Muñoz and Company, will be located adjacent to the current three-story science building that was built in 1998, and will complement the existing campus architecture. It will include classrooms, teaching labs, faculty and researcher offices, an instrumentation research and teaching core, and research labs supporting biological and physical sciences, including biology, physics, chemistry, math, pre-med and environmental studies.
The building will support 21st-century classroom and teaching pedagogies by providing additional group study rooms, collaboration spaces, huddle rooms located throughout the facility, and flexible classrooms and teaching labs supported with AV and IT technologies for long-distance and enhanced learning.
The project was championed by Dr. Sadiq Shah, vice provost of Research and Sponsored Projects, and Marta-Salinas Hovar, associate vice president for Facilities Planning & Operations.
Shah said construction of the building is a major step toward UTRGV's goal of becoming an emerging research university in the next five to seven years.
"We will really be shaping the next generation of scientists by allowing them the opportunities to be exposed to major research instrumentation, hands-on research in biomedical sciences, biology, chemistry and physics. So we are really creating the future of the Rio Grande Valley here with this building," Shah said.
Described as "science on display," the first floor of the building will consolidate all the major research instrumentation on campus and feature many glass walls so it will be visible and accessible to anyone on campus, including students on a tour or private industry who might want to collaborate with our researchers, Shah said.
"We want to encourage people to participate in collaborative research, and people can't collaborate unless they know what exists there and who to contact," he said.
The groundbreaking was a special event for Dr. Scott Gunn, professor of biology, who was involved in the design of the older, adjacent Science Building, and provided advice on the needs of faculty and students in the new building.
"I told them we needed research space for all the sciences, especially with becoming an emerging research university," he said. "I'm excited. I have been working on this idea for years. It is a great day and will be a greater day in two years when it is completed."
Valley native Ernest Aliseda, a member of the UT System Board of Regents who was appointed by the board as a special liaison on South Texas projects, praised everyone involved in the creation of UTRGV, including the leaders of UTRGV's legacy institutions and the Valley legislative delegation. He also touted the influence UTRGV will have on future generations in the Valley.
"We will have a positive impact in literally saving lives through education, research and medical care," he said. "I'm proud to be here on the behalf of the Board of Regents, and to say that we are part of something that is greater than ourselves. There is so much promise in UTRGV. UTRGV will not only change the Valley, but our state, forever."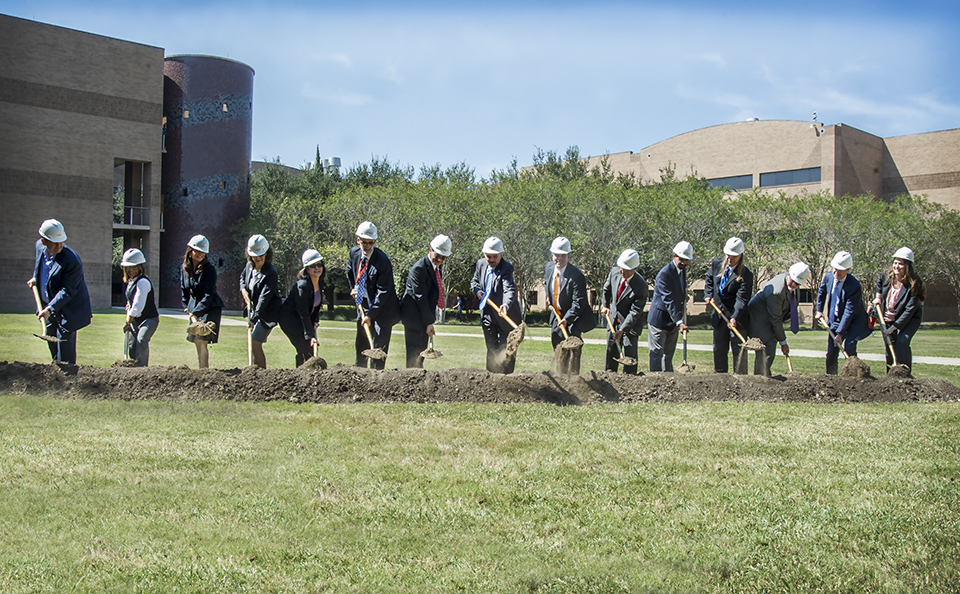 UTRGV held a ceremonial groundbreaking on a $70 million Science Research Building, Monday, Oct. 5, during the first day of HESTEC activities. (UTRGV Photo by Kristela Garza)
MEDIA CONTACTS
Marci.Caltabiano@UTRGV.edu
UTRGV Director of News and Internal Communications
956-665-2742
Jennifer.McGehee@UTRGV.edu
UTRGV Director of Public Relations
956-882-5105