Sub Menu Toggle
Educators learn exciting ways to engage students in STEM at HESTEC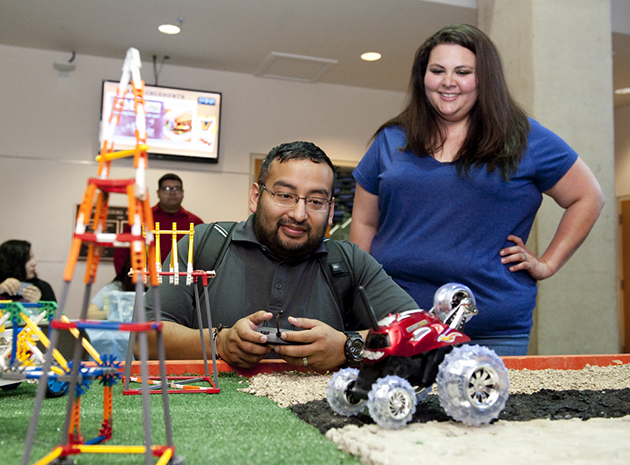 Edcouch-Elsa High School teachers Oliver Sabedra and Felicia Urbina learned about ways to teach students about the STEM fields during HESTEC Educator Day on Monday. And, they got to play with robots during an engineering breakout session. UTRGV Photo by Josué Esparza)
By Cheryl Taylor
EDINBURG, TEXAS – OCT. 5, 2015 – HESTEC 2015 created a world of wonders on its first full day of activities, during a series of special breakout sessions dealing with STEM (Science, Technology, Engineering and Math).
Clorandy Taborda, a PSJA North High School science teacher, was among hundreds of Rio Grande Valley educators who attended HESTEC Educator Day on Monday, Oct. 5, on the Edinburg Campus of The University of Texas Rio Grande Valley.
Tabordy chose the NASA workshop on teaching heat transfer for his first session.
"This will be a good way for my students to learn about heat transfer with a hands-on activity," Tabordy said. "They will like this way of figuring out this concept. I'm glad I came."
He said he had been to HESTEC Educator Day in the distant past, and was glad to attend this year, grateful his registration fee was paid by GEAR UP. PSJA North High School is a Texas Education Service Center Region One GEAR UP campus.
The heat transfer session was led by Brandon Hargis, a NASA education specialist for educator professional development. A Texas State University faculty member, Hargis is on loan to NASA for five years.
"Remember to impress the process upon your students – brainstorm, design, build, test, review, redesign, test, and keep the cycle going," he said.
Hargis was assisted by Alicia Cortez, program manager for NASA Community College Aerospace Scholars (NCAS).
"Educators are one of NASA's special audiences," Cortez said. "We create content and provide opportunities to help them teach STEM. We encourage K-16 teachers to refer to the great resources available on the NASA website."
Amanda Knies, a sixth-grade math and science teacher from the Lasara Independent School District, said her first breakout session was informative, covering the numerous career options that intertwine directly or indirectly with STEM.
"Students have many different career options now. And we have so many talented students. We are trying to recruit and keep our students here in the Valley," she said. "There are so many more opportunities, no matter what you want to be – a SCUBA diver, a scientist, a doctor or a nature photographer. Students can and should look at their broader career options."
Knies also attended "El Nino: A Driver of Global Weather and Climate," a session conducted by Tim Smith, meteorologist from KRGV TV Channel 5, and Alex Garcia, meteorologist from FOX 29 News in San Antonio. Smith and Garcia have been teaming up for about 15 years to provide educational opportunities to educators and school children.
"You teachers are on the front lines of education," Garcia said. "We know you want to go over concepts that students can relate to, such as El Niño. Everyone asks about El Niño, and kids hear the term. We have some ideas to share with you – ways for the students to use various websites in the classroom to learn about ocean-water temperatures and uncover the mysteries of what El Niño really is and why it occurs."
Knies said the weather presentation was "awesome," and she plans to use what she learned from Garcia and Smith in both her science and math classes.
This is the first year UTRGV has directed the weeklong HESTEC conference, but this is the 14th anniversary for the event.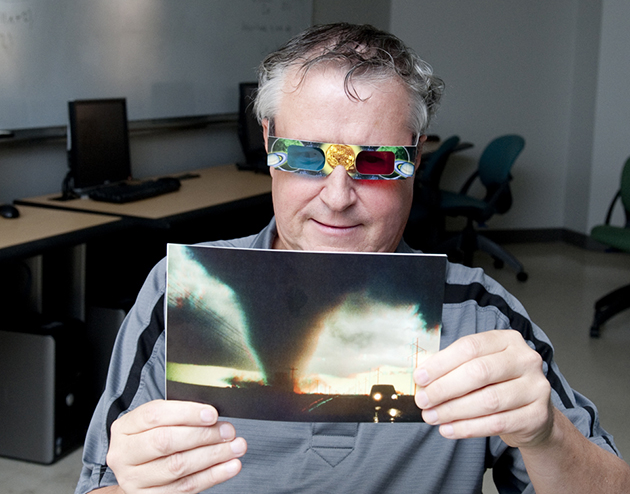 Doug Robinson, a radio and TV teacher at Santa Rosa High School, checks out a 3-D picture of a tornado, during the "El Niño: A Driver of Global Weather and Climate" breakout session at Monday's HESTEC. (UTRGV Photo by Josué Esparza)
MEDIA CONTACTS
Marci.Caltabiano@UTRGV.edu UTRGV Director of News and Internal Communications
956-665-2742

Jennifer.McGehee@UTRGV.edu UTRGV Director of Public Relations
956-882-5105

Jennilee.Garza@UTRGV.edu UTRGV Public Relations Liaison
956-665-5310