Sub Menu Toggle
UTRGV master's candidate earns state recognition for research on Brownsville resacas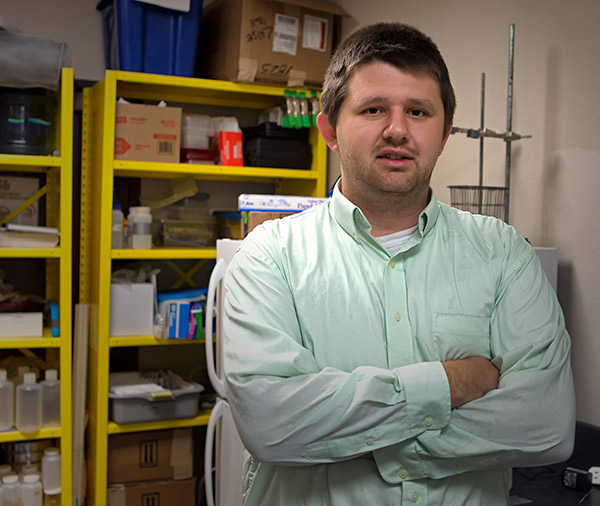 Buford Lessley, a master's candidate in the School of Multidisciplinary Sciences at The University of Texas Rio Grande Valley, has earned Best Graduate Student Presentation honors at the annual conference of the Society for Ecological Restoration-Texas Chapter, for his research on Brownsville resacas and water quality. (UTRGV Photo by David Pike)
By Vicky Brito
BROWNSVILLE, TEXAS – NOV. 25, 2015 – Buford Lessley, a master's candidate in the School of Multidisciplinary Sciences at The University of Texas Rio Grande Valley, has earned Best Graduate Student Presentation honors at the annual conference of the Society for Ecological Restoration-Texas Chapter, for his work on resacas in Brownsville.
Lessley was one of two awards granted from a field of 15 master's and Ph.D. candidates. Entries were judged on merit of research and quality of presentation. Subject matter of poster presentations addressed either terrestrial or riparian issues.
For "Assessing ecosystem health in restored and unrestored resacas of the lower Rio Grande," part of Lessley's master's thesis, he gathered information from the Brownsville Public Utilities Board's Resaca Restoration Project, which dredges Brownsville resacas.
"It's nice to get an award with the new university," Lessley said. "This was a pretty big conference in the field of ecological restoration, and several people from the Nature Conservancy, city of Austin and several private entities, attended. It helped spread the word about the university and the work we're doing."
The conference was held Nov. 13-15 at Trinity University in San Antonio. The Texas Chapter of the Society for Ecological Restoration is a non-profit organization dedicated to create networking for people engaged in ecologically sensitive repair and management of ecosystems.
"We're taking what BPUB is doing and monitoring how it is effecting the local resacas, the ones that they are working on, versus the ones that haven't been dredged yet," Lessley said.
Data is limited, he said, but he has noticed that water clarity has a relation to the depth of the water: Deeper resacas have better clarity.
The Society for Ecological Restoration awards prizes to two graduate students, for best presentation and best poster. There also are awards for undergraduate research.
Lessley is advised by Dr. Alejandro Fierro Cabo, assistant professor of Multidisciplinary Sciences. Fierro Cabo is no stranger to the award; last year, Leah McIntosh, also his student, received the award with UTRGV legacy institution UT Brownsville/Texas Southmost College.
Fierro Cabo said poster presentations must be structured well, presenting the project clearly and concisely, and Lessley's recognition at the state level underscores the quality of his research.
"The UTRGV graduate students in the School of Multidisciplinary Science are competitive students," he said.
MEDIA CONTACTS
Marci.Caltabiano@UTRGV.edu UTRGV Director of News and Internal Communications
956-665-2742
Jennifer.McGehee@UTRGV.edu UTRGV Director of Public Relations
956-882-5105