Sub Menu Toggle
UTRGV awarded six-figure DOD grant for advanced textile research and development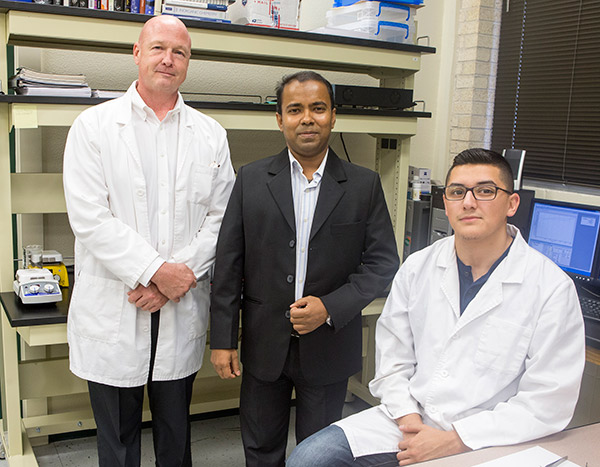 Dr. Jasim Uddin (at center) is PI on a six-figure grant from the U.S. Department of Defense that will help fund research into developing a multifunctional textile fiber that can self-cleanse and protect the wearer from UV radiation and toxic environments, among other uses.
Physics graduate student Glenn Grissom (left), and Miguel Leal (right), one of the research assistants and a senior chemistry major, are part of the seven-member team conducting the research. (UTRGV Photo by David Pike)
By Vicky Brito
BROWNSVILLE, TEXAS – NOV 25, 2015 – Dr. Mohammed Jasim Uddin has been in the Rio Grande Valley for less than two years, but in that time, he has been involved in a project that could revolutionize clothing worn by the U.S. military.
Uddin, a University of Texas Rio Grande Valley visiting associate professor of chemistry from Bangladesh, and a team of chemistry students and colleagues, are working to develop advanced textiles – specifically, a multifunctional, integrated textile that is self-cleaning and antimicrobial, and that provides protection from UV radiation.
He serves as principal investigator (PI) on a $125,000 research grant for the 2015-2016 academic year from the U.S. Department of Defense. Dr. Henry Justin Moore, UTRGV interim chair and associate professor in the Department of Chemistry, serves as co-PI.
Three unique properties will be integrated into the fiber to help protect the country's military personnel in the field, Uddin said.
"For example, they are working in remote locations around the world," he said. "Our teams are living and working in areas that don't have facilities for washing clothes. They also do not have monitoring facilities for microbial attacks."
So this textile, when exposed to sunlight, will have the capability to cleanse itself by means of an antimicrobial agent that kills microorganisms, such as germs, or inhibits their growth.
"Their clothes will have antimicrobial activity," Uddin said. "If bacterium grows on the fiber's surface, it will not survive. That is an antimicrobial textile."
Whether seaside or in the desert, soldiers are exposed to light radiations.
THE RESEARCH TEAM
Working on the textile project with Uddin and Moore are one graduate student and four undergraduate students to help with research.
Glenn Grissom, a physics graduate student at UTRGV, is joined by chemistry undergraduate students and research assistants Miguel Leal, Alan Villarreal, Darian Ortiz and Rudy Longoria.
"We were excited when we got the Department of Defense grant, because we were looking for research grants for our laboratory for the past two years," Uddin said.
The grant will be used to pay the research assistants and to buy chemicals, materials, and an instrument that will produce sunlight in the laboratory – called a solar simulator, with H2 filter.
Grissom spends most of his week in the team's lab located in the M-1 building.
"This research has given me an opportunity to learn a new area of study from beginning to end," Grissom said. "We use applied chemistry and physics to applications that actually are being used at present in a large area of research where there is lots of information available. It's a huge benefit."
Research takes serious dedication, he said, and once you get to a certain point in your research, you can't stop until you've seen it through.
"That is the effort it takes," Grissom said. "Once you reach a point on this project, you can't quit. The cells have a half-life, so you want to gather the data as quickly as possible."
Miguel Leal, a senior chemistry major, is also part of the team. He sees his time on this project as a valuable experience for the future.
"It's given me a lot of experience, and not just in an educational way, but in an industry kind of way," he said. "If I were to apply for a job, saying I worked in the lab here for over a year now, it's very beneficial."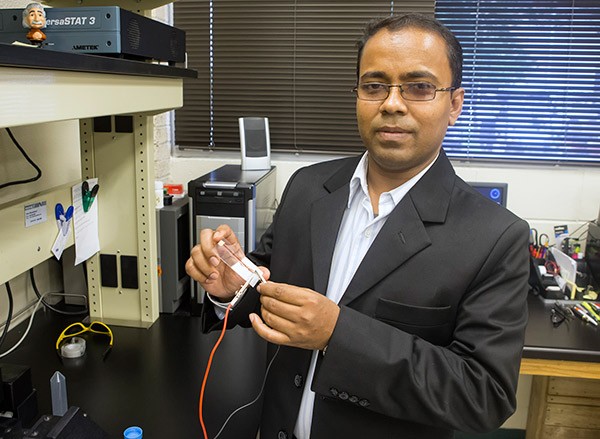 Dr. Mohammed Jasim Uddin (UTRGV Photo by David Pike)
MEDIA CONTACTS
Marci.Caltabiano@UTRGV.edu UTRGV Director of News and Internal Communications
956-665-2742
Jennifer.McGehee@UTRGV.edu UTRGV Director of Public Relations
956-882-5105