Sub Menu Toggle
UTRGV international students gobble up local traditions during Thanksgiving luncheons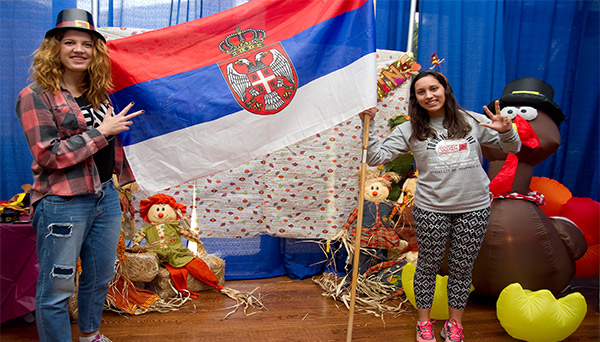 Bojana Mitrovic (at right) and Tina Seculic (at left), both UTRGV sophomores from Serbia, said they were excited to participate in a Thanksgiving luncheon, a tradition they would not experience in their home country. (UTRGV Photo by Kristela Garza) (UTRGV Photo by David Pike)
By Cheryl Taylor and Kristela Garza
EDINBURG & BROWNSVILLE, TEXAS – NOV. 25, 2015 – International students at The University of Texas Rio Grande Valley were treated to a lunch feast of Thanksgiving turkey and all the trimmings, Monday, Nov. 23, on the Brownsville Campus, and Tuesday, Nov. 24, on the Edinburg Campus.
Hosted by the Office of International Admissions and Services, the Thanksgiving lunch was the continuation of a long tradition at UTRGV's two legacy institutions, offering a taste of a truly American custom to students from around the world.
Samantha Lopez, director of international admissions and student services, said the university has the event to show international students a part of this country's traditions and culture.
"We are cooking for them, we are serving them," she said. "We want them to feel we are their family and we are here to care for them."
Donning aprons, pilgrim hats and turkey headbands, staff from International Admissions and Student Services decorated the venues – and themselves – for the occasion.
"This Thanksgiving feast is just one day out of the year that we can say to our students what is true all year long: Thank you for choosing UTRGV – you are our number one priority," Lopez said.
INTERNATIONAL STUDENTS TALK TURKEY
For many students, this year at UTRGV is their first experience with the Thanksgiving holiday. Many took turns at the photo wall decorated with hay and scarecrow dolls. Some put on the pilgrim hats and turkey headbands and snapped festive selfies.
Tina Seculic, a sophomore from Serbia, said she was "super excited" about the Thanksgiving luncheon.
"We don't have this at home," she said. "We think this a great family event, and it is an opportunity to meet other international students.
Bojana Mitrovic, also a sophomore from Serbia, was just as excited as Seculic.
"This is amazing," she said. "We are very thankful for this event, because we know that someone is thinking of the international students."
Uriel Gongora, a sophomore from Mexico, wasn't as far from home as some, but the luncheon fascinated him just the same.
"I think that they are doing a really good job trying to get us to know the culture and customs," he said. "It is really cool that they do these types of events, we really appreciate it."
Junior Adonis Rwabigwi, an honorary "international student" originally from Rwanda, came to UTRGV from his home in Florida. He may be familiar with Thanksgiving traditions now, but he values the camaraderie.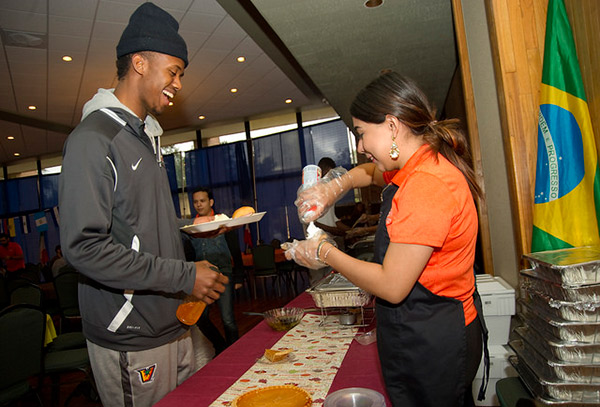 Adonis Rwabigwi, a junior and an "honorary" international student originally from Rwanda, came to UTRGV from his home in Florida and said the Thanksgiving luncheon reminded him of home. (UTRGV Photo by Kristela Garza)
"I left Rwanda when I was a kid," he said, "but this reminds me of home. I hadn't had food like this, Thanksgiving food, in a long time because of basketball season, so it is nice to sit down, especially with my friends."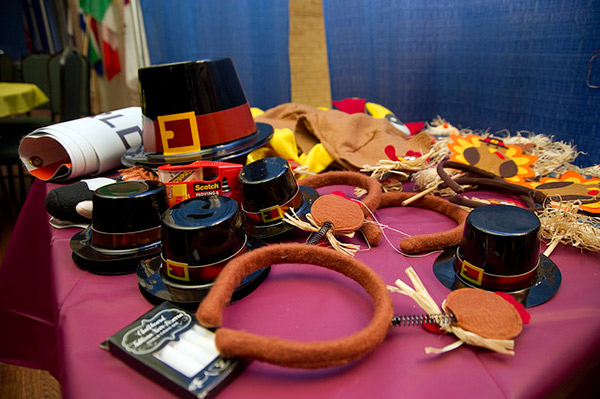 International students at UTRGV got into the Thanksgiving holiday spirit, taking turns at a photo wall decorated with hay and scarecrow dolls and donning "selfie" headgear (shown here) like pilgrim hats and turkey headbands. (UTRGV Photo by Kristela Garza)
Brownsville Campus Thanksgiving: https://www.flickr.com/gp/utrgvnews/bNb1QZ
Edinburg Campus Thanksgiving: https://www.flickr.com/gp/utrgvnews/22mv2n
MEDIA CONTACTS
Marci.Caltabiano@UTRGV.edu UTRGV Director of News and Internal Communications
956-665-2742
Jennifer.McGehee@UTRGV.edu UTRGV Director of Public Relations
956-882-5105