Sub Menu Toggle
UTRGV Brownsville Campus Student Food Pantry now open, accepting donations

UTRGV Student Food Pantry Administrator Ivan Prado and Food Pantry Coordinator Jennifer Cerda cut the ribbon marking the official opening of the Brownsville Campus food pantry. (UTRGV Photo by David Pike)
By Vicky Brito
BROWNSVILLE, TEXAS – NOV. 24, 2015 –As we prepare for the holiday season, many of us have family close by and we can rely on the celebratory foods we love. But for some students at The University of Texas Rio Grande Valley, home and hearth are thousands of miles away, and having a full meal can be a daily struggle.
To address food insecurities among students, the UTRGV Student Food Pantry was established in Edinburg last fall, and opened on the Brownsville Campus on Tuesday, Nov. 24, with a ribbon cutting ceremony to help spread the word.
The Student Food Pantry provides groceries for UTRGV students who are facing food insecurities. In Brownsville, it is located in the Veteran's Service Center in Cortez 224. The location in Edinburg is at the University Center UCTR 114.
Students can go to the pantry, fill out two forms and prove they are an enrolled student at UTRGV, to receive a bag of groceries.
Ivan Prado, a junior nursing major in Brownsville, serves as the campus Food Pantry attendant.
"Some students can't really afford the price of college, and maybe they have to cut back on some expenses. We're here to help them get food."
Prado said he has heard of students going up to two days without eating.
"Imagine going to class not having food in your stomach and not being able to concentrate," he said.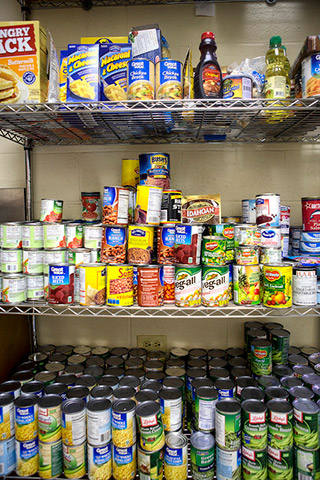 The UTRGV Student Food Pantry has officially opened on the Brownsville Campus, providing food for students who need help. (UTRGV Photo by David Pike)
Associate Dean of Student Support Michael Banegas oversees the Student Food Pantries on both campuses.
"This idea of a Food Pantry started about a year ago," Banegas said. "It was a dream of the previous dean of students at UT Pan American to start something in Brownsville that will help our students with issues of hunger and food insecurities. We have been working on this for an entire year. Today, that dream has been realized."
Jennifer Cerda, program coordinator for the Student Food Pantry, said donations are always welcome.
"We are trying to focus on getting donations from anyone – faculty, staff, anyone in the community," she said. "What we do is count how many meals we serve, and also give information to students as to where they can get food if we are not open."
Cerda said the Edinburg Student Food Pantry serves 40 to 50 students each day, and relies entirely on donations from the community and the Food Bank RGV.
"We're trying to develop a plan to make this project bigger," Banegas said. 'We want to make sure that when students in need are on campus, that they have the food needed during the course of a day to be academically sound."
The Food Pantry is open from 2-5 p.m. Monday, Tuesday and Thursday, and from 1-4 p.m. on Fridays. It is closed on Wednesdays to receive inventory.
The Student Food Pantry accepts nonperishable items. Donation bins in Brownsville are located at Cortez Hall, or be taken directly to the office.
Any student in need of food or wanting to donate can call (956) 882-8980 for more information.
"We're starting small, but great mountains are made from one grain of sand at a time, and this is one grain of sand," Banegas said.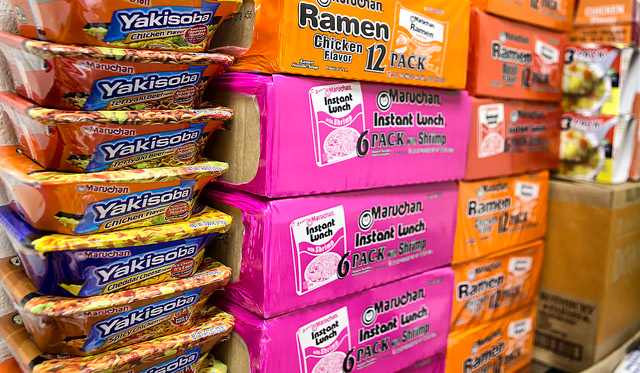 The UTRGV Student Food Pantry provides food for students who need help with meals. Among the items available on the shelf is the ubiquitous and popular student staple, ramen. (UTRGV Photo by David Pike)
MEDIA CONTACTS
Marci.Caltabiano@UTRGV.edu UTRGV Director of News and Internal Communications
956-665-2742
Jennifer.McGehee@UTRGV.edu UTRGV Director of Public Relations
956-882-5105