Sub Menu Toggle
Distinguished neuroscientist joins UTRGV School of Medicine to chair Department of Psychiatry and Neurology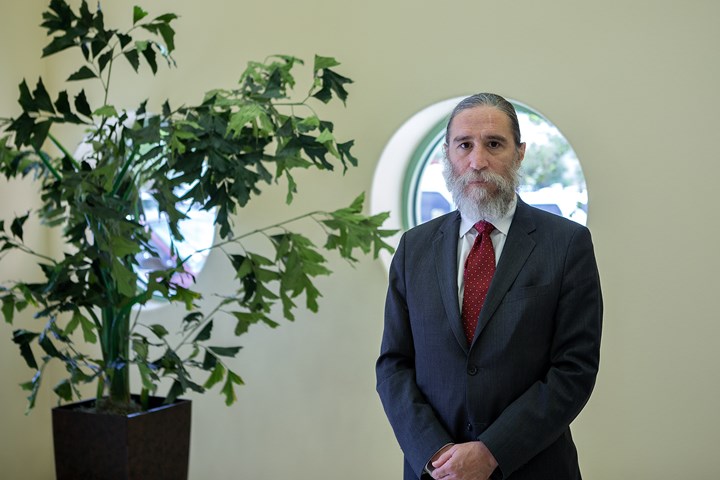 DR. GABRIEL De ERAUSQUIN (UTRGV Photo by Paul Chouy)
By Gail Fagan
RIO GRANDE VALLEY, TEXAS – NOVEMBER 16, 2015 – Gabriel A. de Erausquin, M.D., Ph.D., M.Sc., a leading researcher in neuroscience and psychiatric illnesses, has been named founding chair of The University of Texas Rio Grande Valley School of Medicine's Department of Psychiatry and Neurology.
De Erausquin came to UTRGV from the Morsani College of Medicine at the University of South Florida, where he held the following positions:
Professor of Psychiatry, Neurology and Neurosurgery.
Roskamp Chair of Biological Psychiatry.
Director, Roskamp Laboratory of Brain Development, Modulation, and Research in the Department of Psychiatry and Behavioral Neurosciences.
Director, Center of Neuromodulation.
A native of Argentina, de Erausquin earned both his M.D. and a Ph.D. in behavioral pharmacology from the Universidad de Buenos Aires, and a Master of Science (M.Sc.) in genetic epidemiology from Washington University in St. Louis, Missouri.
He did his psychiatry residency at Yale University, neurology residency at Washington University, and was a post-doctoral fellow at Georgetown University.
De Erausquin's long list of publications, presentations and awards include a 2007 Young Investigator Award and the 2008 Klerman Award in Clinical Psychiatry Research, both from the National Alliance for Research on Schizophrenia and Depression – now called the Brain & Behavior Research Foundation.
In the move to the Valley and UTRGV's School of Medicine, De Erausquin brings his extensive and accomplished clinical and research background to an area of the country with a distinct population and that is severely underserved by psychiatrists and neurologists.
It was an opportunity he couldn't pass up, he said.
"This is a unique, once-in-a-lifetime opportunity to build a set of new academic programs in neurology and in psychiatry, in a situation of complete lack thereof," he said. "… How many times will we build academic programs tailored to unique situations from scratch?"
With the Rio Grande Valley's distinct population in terms of genetics and cultural background, he said the medical services provided need to be to the same extent unique. An advocate of personalized or individualized medicine, he compares his research on illnesses to the intricate, multi-step process of an engineer trying to understand why a particular engine in a particular airplane on a particular flight might fail.
"We want to know: What is the likelihood of this one particular person, at this particular time, with this particular history and these particular genes, to have this one particular disease, now or in the next year? We have to, like engineers do, use thousands of pieces of data … imagery, genetics, functional studies, diet, behavioral habits, and so forth … to understand and predict what's going to happen to him or her at a particular time," De Erausquin said. "That is my research, and that is particularly important in the Valley because the averages that we have learned from other populations in the country don't necessarily apply here because this is a largely Hispanic population."
In his research on chronic schizophrenia, which has been associated with diabetes and obesity, De Erausquin has studied the Quéchua, descendants of the Incas located in a remote area of the Argentine Andes. There, he established and used a system of community folks – similar to Valley promotores – trained in preventative medicine and early detection of mental illness. Here, he hopes to make use of promotores to minimize risks and promote interventions in colonias and other places where there are unmet needs.
In the field of neurology, De Erausquin wants to develop and implement new treatments that rely on neuromodulation – the use of electricity to help the brain heal itself. Neuromodulation devices have been created to treat Parkinson's disease, essential tremors, pain and other neurological disorders.
"Those are clinically approved medications, there are many more in the pipeline including those to treat morbid obesity, headaches and depression," said de Erausquin, who hopes to collaborate with the College of Engineering and Computer Science as well as industry to develop other advanced neuromodulation treatment devices."
Dr. Francisco Fernandez, inaugural dean of the UTRGV School of Medicine, said he is excited to welcome De Erausquin to the UTRGV School of Medicine.
"As we seek to achieve national and international recognition for UTRGV's research capabilities, the School of Medicine is focused on interdisciplinary work, on reaching across traditional discipline boundaries to integrate our research teams and optimize the impact of their efforts," he said. "With Dr. de Erausquin joining UTRGV, we have positioned ourselves to guarantee such integration, as well as to develop the therapies that will greatly benefit all our patients and their families."
De Erausquin's caring, innovative approach will be important in creating a healthier community, Fernandez said.
"He will play a key role in creating a more robust and impactful research endeavor to better meet the needs of individuals in our local and global communities," he said.
De Erausquin, whose appointment was effective Nov. 1, is married; he and his wife have 11 children, ages 28 to 8.
MEDIA CONTACTS

Marci.Caltabiano@UTRGV.edu UTRGV Director of News and Internal Communications
956-665-2742
Jennifer.McGehee@UTRGV.edu UTRGV Director of Public Relations
956-882-5105