Sub Menu Toggle
Border economics symposium highlights Valley challenges, opportunities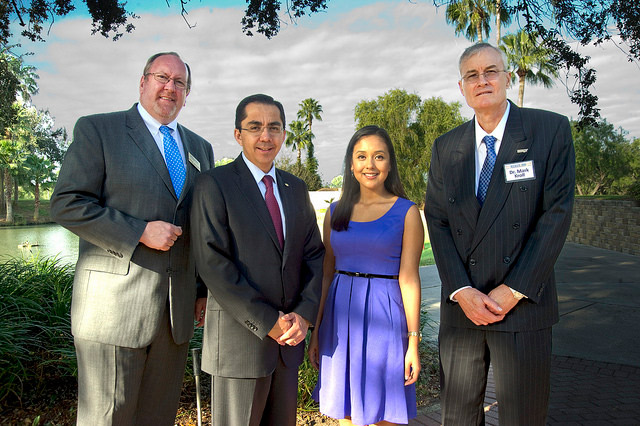 Shown from left are McAllen Chamber of Commerce President and CEO Steve Ahlenius; keynote speaker Dr. Robert Coronado, assistant vice president in charge and senior economist for the Federal Reserve Bank of Dallas, El Paso Branch; Fabiola Urgel, a UTRGV senior economics major and a community development intern for the Federal Reserve Bank of Dallas, San Antonio Branch; and Dr. Mark Kroll, dean of the UTRGV College of Business and Entrepreneurship, at the 2015 Border Economics, Development and Entrepreneurship Symposium, held Nov. 10, 2015, at the McAllen Country Club. (UTRGV Photo by Kristela Garza)
By Gail Fagan
McALLEN, TEXAS – NOV. 10, 2015 – Top issues important to the Rio Grande Valley border economy took the spotlight during a symposium co-sponsored by the UTRGV Department of Economics and Finance, the Federal Reserve Bank of Dallas and the McAllen Chamber of Commerce.
The Border Economic, Development and Entrepreneurship Symposium (BEDES), which began at UTRGV's legacy institution, The University of Texas-Pan American, in 2011, drew nearly 100 local government and business leaders, as well as UTRGV students and faculty members, to learn more about this year's primary topic – transportation and electronic infrastructure issues that offer both challenges and opportunities for the Texas-Mexico border economy.
"This symposium is a winning collaboration between the Fed, UTRGV and the Chamber," said Steve Ahlenius, president and CEO of the McAllen Chamber of Commerce. "Getting a glance at what the trends are and the things that are going to impact us in this region, and getting an understanding of those, gives you an additional leg up on your competition. Information is a powerful, powerful tool."
Speakers included Rigo Villarreal, superintendent of the McAllen-Hidalgo and Anzalduas international bridges, City of McAllen; Jordan Barton, senior community development adviser for the Federal Reserve Bank of Dallas, San Antonio Branch; Caroline A. Mays, interim director of the Freight and International Trade Section, Texas Department of Transportation; and Dr. Mark Kroll, dean of the UTRGV College of Business and Entrepreneurship.
Keynote speaker was Dr. Roberto Coronado, assistant vice president in charge and senior economist for the Federal Reserve Bank of Dallas, El Paso Branch, who gave an overview of the national and local economies. He drew from the Fed's wide-ranging research – found at www.dallasfed.org – conducted in collaboration with UTRGV faculty and other universities and organizations.
At the national level, the economy continues to recover with an increase in recent consumer spending, Coronado said. In the Valley, 2015 has been a good year.
However, a look at the economies of Brownsville and McAllen indicates the growth levels have not returned to those prior to the recession, he said. He had a positive outlook on trade in the region, but said challenges remain.
"With regard to educational attainment, there is a lot the entire border region still has to do on that front," he said, citing low numbers of high school and college graduates, thus, lower earning power. 
Both Villarreal and Mays cited funding needs for infrastructure improvements. Villarreal said cross-border trade has increased and, of the 38 million jobs in the United States that depend on international trade, six million are directly tied to U.S.-Mexico trade.
"It is important to make the needs of our ports of entry a priority," Villarreal said, citing the positive economic impact of these sites from San Diego to Brownsville.
Barton presented statistics gathered by the Fed for its 2015 report, "Las Colonias in the 21st Century: Progress along the Texas-Mexico Border," which highlights the pressing need for greater access to computers and broadband in the region.
"The Internet is changing the world and the economy. Digital equity must be central to community economic development. It is not a luxury, it is a necessity now," she said.
Kroll, who recently took on his new role as dean, talked about UTRGV's efforts to create an entrepreneurial culture in the Valley. He described the university's new Center for Innovation and Commercialization, which will assist budding entrepreneurs and create a laboratory where students can see the entrepreneurship process unfold. 
"We want the center to be a unifying force across the Valley. We believe creating an incubator will not succeed if you don't have what we call the frontend help. The frontend help takes that individual with a new idea, from a cocktail napkin idea to a full business model," he said.
Kroll also gave details on the creation of an angel investor network in the Valley, and a hospitality and tourism program at UTRGV. He also talked about the college's involvement in the Binational Economic Development Project, which will create political infrastructure that allows for the development of economic zones along the border that would be magnets for advanced manufacturing.
During the symposium, UTRGV business students got to share their top-rated economics and finance research posters. Their research topics ranged from income discrimination of Hispanics and females along the border, to the relationship between university crime and the number of police officers employed.
"The Fed has top economic researchers in areas our students cover in their classes. Having access to the Fed provides a unique opportunity for them to interact with Fed researchers," said Dr. Jorge Vidal, UTRGV lecturer in economics and finance, who helped organize the event.
U.S. Congressman Rubén Hinojosa (TX-15), attended the event. He praised the Federal Reserve Bank's interest throughout the country in community development, particularly citing its financial literacy programs – one being conducted the same day with the Region I Education Service Center's parents and students at the McAllen Convention Center. He lauded their desire to be "conveners," bringing together local, state and federal government officials and representatives with private and public investors, to strengthen the regional Internet connectivity needed to keep up with population and business growth here.
"If we don't do this, then we will fall behind," Hinojosa said.
For more information on BEDES, contact Jorge Vidal at Jorge.vidal@utrgv.edu.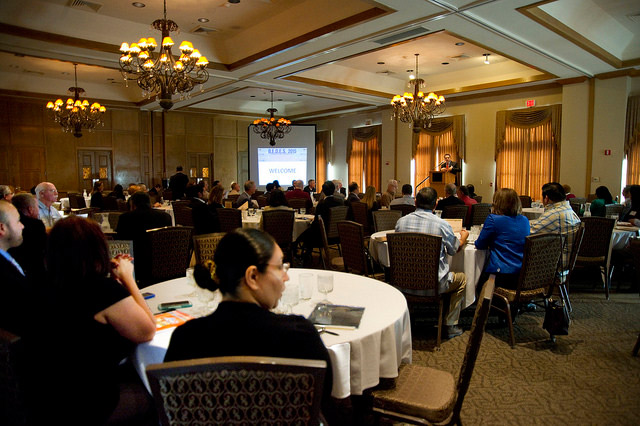 The University of Texas Rio Grande Valley's Department of Economics and Finance in the College of Business and Entrepreneurship co-sponsored the 2015 Border Economics, Development and Entrepreneurship Symposium, Nov. 10, 2015, at the McAllen Country Club. (UTRGV Photo by Kristela Garza)
MEDIA CONTACTS
Marci.Caltabiano@UTRGV.edu UTRGV Director of News and Internal Communications
956-665-2742
Jennifer.McGehee@UTRGV.edu UTRGV Director of Public Relations
956-882-5105