Sub Menu Toggle
Runners of all ages cross finish line of 16th annual STEMS Fun Run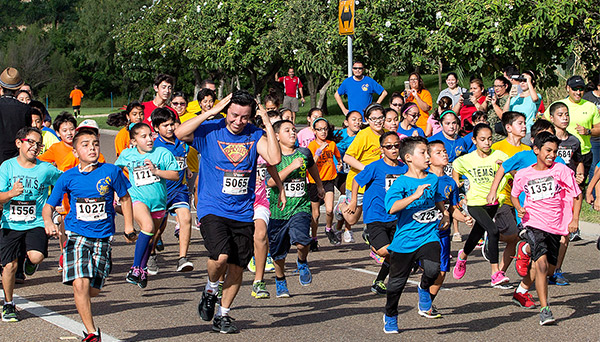 Actor Efren Ramirez (#5065) ran with a group of children in the UTRGV 16th annual STEMS Fun Run on Saturday, Nov. 7, 2015, in Brownsville. Ramirez is best known for his role as Pedro Sanchez in the 2004 movie "Napoleon Dynamite." (UTRGV Photo by Paul Chouy)
BROWNSVILLE, TEXAS – NOV. 8, 2015 – Ten-year-old David Perez was among 460 school children, teenagers and adults participating in the 16th annual STEMS Fun Run, Saturday, Nov. 7, on The University of Texas Rio Grande Valley Brownsville Campus.
Cheered on by his 6-year-old brother, Santiago, and his mom and dad, Claudia and David, David finished first in the one-mile category for boys ages 10-13.
"I feel great. I'm going to keep on running," said David, who also is a competitive swimmer.
 A fifth-grader at IDEA Brownsville, he practices running with Coach Alejandro Mora.
"I'm proud of David and all our students. We had about 35 running today," Mora said. "We establish a healthy environment at IDEA Brownsville, keeping the students engaged in exercise at school and out in the community at events such as this."
One of the adults who took home a trophy was Hollywood actor Efren Ramirez, in town to promote his new movie, "Endgame." Filmed in Brownsville with local extras, the movie tells the story of Brownsville school children winning the Texas State Chess Championship for a number of consecutive years.
"I love to be in Brownsville and do anything I can for the community. What a great chance to be here to join the folks in this run," said Ramirez, who plays the role of Mr. Alvarado, the school chess coach. "I try to stay in shape by running in Los Angeles, and wherever I go around the world, I always pack my running shoes."
The STEMS Fun Run is a fundraiser for the South Texas Engineering, Math and Science STEMS Mentor Club, and is one of the Rio Grande Valley Science and Arts Festival (RiSA) activities.
The STEMS Mentor Club provides opportunities for college students to be involved with K-12
students and communities. UTRGV students volunteer hundreds of hours every year to support all events, field experiences and activities related to the STEMS program.
MEDIA CONTACTS
Marci.Caltabiano@UTRGV.edu UTRGV Director of News and Internal Communications
956-665-2742
Jennifer.McGehee@UTRGV.edu UTRGV Director of Public Relations
956-882-5105