Sub Menu Toggle
RiSA Latina Day encourages young women to pursue STEM opportunities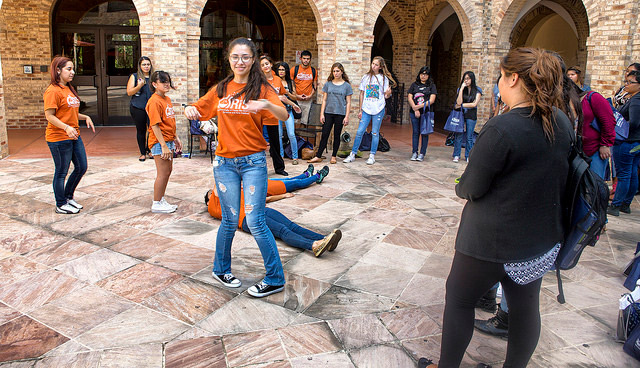 RiSA Director Joey Key explains the origins of Gravitational Wave Theory, proposed by Albert Einstein, and the part the UTRGV Brownsville Campus hopes to play in finally detecting the wave. (UTRGV Photo by David Pike)
By Vicky Brito
BROWNSVILLE, TEXAS – NOV. 5, 2015 – Dozens of young high school girls attended The University of Texas Rio Grande Valley's RiSA – Rio Grande Science and Arts – Festival during Latina Day on the Brownsville Campus. 
"As part of the science festival, one of the events is RiSA Latina Day, where we have high school girls come to campus to experience science with faculty and students and local experts. It's really about encouraging the girls to think about science and arts careers," said RiSA Director Joey Key. "Today, we had a special panel of experts, including some community students, talking about STEM and energy careers – specifically careers that are nontraditional female careers."
RiSA, started by legacy institution UTB/TSC, integrates science with art and helps them intertwine. 
Latina Day kicked off with speaker Lina Alvarez, an electrical engineer from the Brownsville Public Utilities Board who spoke about her experiences as an engineer.
"I think this event is very important, because we have such a small number of females in our career. We need to encourage girls to consider engineering and science," Alvarez said. "Somehow, females do not consider engineering. We want to promote the idea that they can indeed consider it."
The young women attending were broken up into two groups, Team Mars and Team Luna. The teams then branched out into two different workshops. On the engineering team, they created watercolors; the physics team designed catapults using paper, tape and glue guns. 
Veteran's Memorial High School juniors Cristina Pullen and Nadeen Salhadar worked diligently to complete their paper catapult. The girls are part of their school's Advanced Placement Physics class. They said Latina Day was fun and interesting.
"I think that it builds creativity that you can use in the real world," Pullen said of the importance of science.
The girls then had lunch at Salon Cassia, where they heard from four professional women in STEM who discussed career possibilities.
The four panelists included Jackie Perez, director of the Engineering Academies and Workforce Development Program at Texas A&M University; Amanda Quiñones, a representative from the U.S. Department of Energy; Valerie Davis, from the U.S. Department of Labor; and Laura Gomez, from the U.S. Environmental Protection Agency's String Cities Strong Communities Taskforce.
Gomez said math wasn't necessarily her favorite subject, and she now works in a science-driven field. It is important, she stressed, to pick a field you care about.
"When you have an interest in something, that will give you the passion and drive to keep on going," she said.
After lunch Teams Mars and Luna broke again into two more workshops. One, led by Key, was a lecture on nanogravity and included aspects of Key's specialty, gravitational wave astronomy. The other workshop help was a demonstration of the Black Hole dancers, in which RiSA volunteers guided the high schoolers into "dancing" how light travels through a black hole to illustrate the functions of these complex stars.
MEDIA CONTACTS
Jennifer.McGehee@UTRGV.edu UTRGV Director of Public Relations
956-882-5105
Marci.Caltabiano@UTRGV.edu UTRGV Director of News and Internal Communications
956-665-2742