Sub Menu Toggle
Big boot means big step for UTRGV and City of Mercedes partnership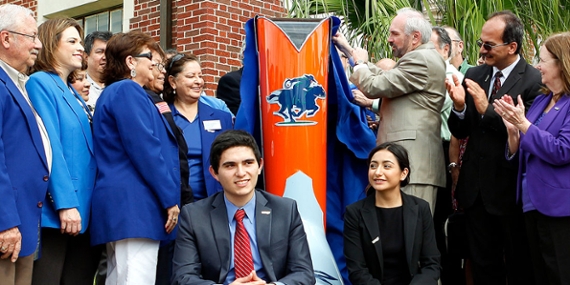 UTRGV Founding President Guy Bailey did the honors in Mercedes on Monday morning, unveiling a
five-and-a-half-foot-tall aluminum boot bearing the new university's colors and logo.
The Development Corporation of Mercedes spearheaded the celebration, which adds the UTRGV boot
to the city's public art project, "Las Botas de Mercedes." Looking on is Dr. Havidán Rodríguez, UTRGV
provost and executive vice president for Academic Affairs. Seated in front of the boot are Alberto
Adame, inaugural president of the UTRGV Student Government Association, and Beatriss Flores,
a student at the South Texas High School for Health Professionals who graduates in June and has
early acceptance to UTRGV.
MERCEDES, TEXAS – May 4, 2015 – Many Texans own a pair of boots and wear them with pride. Now, The University of Texas Rio Grande Valley's Vaqueros get their very own, five-and-a-half-foot-tall cowboy boot, proudly displayed in the heart of the city of Mercedes.
The new university, set to open August 31, was honored by the Development Corporation of Mercedes (DCM) on Monday, May 4, with the unveiling of a custom-made aluminum boot painted with the UTRGV colors and logos.
UTRGV President Guy Bailey was at the big reveal to personally remove the drape that concealed the boot's design.
"You (Mercedes) are the first community to create a symbol of the new university. This is a first for all of us," he said. "What a great way of recognizing institutions and promoting higher education. This is unique in the country and I don't know anything like it. … We are deeply honored to be a part of it."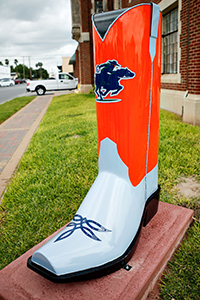 The UTRGV boot will be added to the city's public art project, "Las Botas de Mercedes," which helps Mercedes promote a college-going culture and celebrate the city's long-established tradition of boot-making in Mercedes. Currently, two nationally known boot-makers – Rios of Mercedes and Camargo Boots – call Mercedes home.
"The presence of this boot will remind us, and remind you, that we are your university," Bailey said.
UTRGV is now among 29 other boots representing colleges from across the state and Mexico in a one-of-a-kind display. It was established in November 2013 by Hernan Gonzalez, DCM executive director.
The UTRGV boot has a place of honor on Ohio Avenue and Fourth Street, directly in front of the historic Mercedes City Hall, which will undergo a $2 million remodel in a year and a half to create a new meeting space and venue.
Gonzalez said placing the UTRGV boot in front of the building brings together "the history of the Valley with a promise of a new university."
"It (City Hall) will be repurposed and brought to new life, just like this university promises to bring new life to this region," he said.
The UTRGV boot follows in the footsteps of the UTPA and UTB/TSC boots, currently displayed at separate locations in Mercedes.
Attending the unveiling and welcoming UTRGV to its community were City of Mercedes and Chamber of Commerce officials, along with Mercedes ISD and South Texas ISD leaders. In addition, the inaugural UTRGV Student Government Association President Alberto Adame addressed the crowd gathered for the unveiling.
"To be able to be here and celebrate the establishment and collaboration between local communities and the university is really exciting," Adame said. "Just to see that we have the support, not only as a university, but as students, means so much to us."
The UTRGV boot was crafted by AC-DC Signs of Weslaco, which has been the boot artist on the project since its inception in 2013. Owner Eddie Castro said it is a labor of love for him and his crew to design these boots.
"We love to do the boots," he said. "No boot is identical to the other one because the metal moves according to the heat when we weld. That is why every boot is unique."
Each has its own flare and takes about a week to construct and weld, he said. All the oversized aluminum boots on display are based on an original, 1953 leather cowboy boot designed by Rios of Mercedes.
For more information on UTRGV, visit www.utrgv.edu.
MEDIA CONTACTS
Marci Caltabiano Ponce
UTRGV Director of News and Internal Communications 
956-665-2742
Jennifer McGehee-Valdez
UTRGV Director of Public Relations 
956-882-5105
Letty Fernandez
UTRGV Director of Media Relations
956-882-6535