Sub Menu Toggle
Texas Gas Service provides support for scholarships to UTRGV students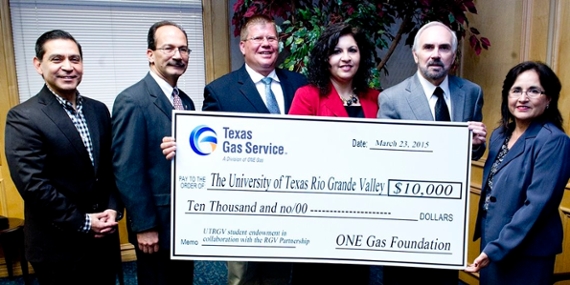 Texas Gas Service recently donated $10,000 toward the Rio Grande Valley Partnership Endowed
Scholarship that will benefit deserving students from Hidalgo, Cameron, Starr and Willacy counties who attend
UTRGV. Pictured are left to right Julian Alvarez, RGV partnership CEO and director; Dr. Havidán Rodríguez,
UTPA president ad interim and UTRGV provost and executive vice president for Academic Affairs; Tom Capps,
RGV director, Texas Gas Service; Naomi Perales, community relations manager, Texas Gas Service;
Dr. Guy Bailey, UTRGV president; and Lydia Aleman, UTPA interim vice president, Division of University Advancement.
EDINBURG, TX- MAY 22, 2015-Texas Gas Service has generously donated $10,000 to the Rio Grande Valley Partnership Endowed Scholarship, which will benefit deserving local students enrolling at The University of Texas Rio Grande Valley.
The endowment was created in 2013 by the RGV Partnership to provide scholarships for students pursuing any area of study and from Cameron, Hidalgo, Starr and Willacy counties. The RGV Partnership, which is governed by a 43-member Board of Directors of business leaders and functions as a chamber of commerce for the four Valley counties, has since encouraged other area government entities and businesses to contribute to help support students.
Texas Gas Service, a division of ONE Gas Inc., is the third-largest natural gas distribution company in Texas, with more than 639,000 customers in 97 communities. The company, which contributed to the scholarship through the ONE Gas Foundation, is represented as a member of the RGV Partnership Board. 
Tom Capps, RGV director for Texas Gas Service, said the RGV Partnership Endowed Scholarship is an excellent example of the alignment of ONE Gas, Inc. and Texas Gas Services' community investment efforts, which are centered on the empowerment of self-sufficiency, and funding programs and organizations that enable individuals to achieve independence and success.
"Education is the foundation for success and scholarship programs offer opportunities for individuals regardless of economic barriers. By investing in this scholarship endowment, we affirm our long-term commitment to UTRGV's vision for the future," Capps said.
 RGV Partnership CEO and Director Julian Alvarez said establishing the scholarship was his organization's way of showing support for UTRGV, and its medical school, in particular, which is slated to open in fall 2016. Raising money for scholarships follows the organization's mission to advocate and support the interests of economic development in South Texas, he said.
"We want to educate students who are local and hopefully have them successfully graduate and stay here in the Valley," he said. "We know if they stay here, it strengthens the economy. Hopefully, they (doctors) will have a practice here, nurses will train here and stay here ... We know it has a snowball effect."
Alvarez applauded Texas Gas Services' commitment to support nonprofits in the communities they serve.
"They have been great contributors to our events and the money raised here (RGV Partnership) goes back into the community," he said. "This scholarship provides help to those students who need that little extra push financially to complete their college degree."
An endowed scholarship is the most enduring gift a donor can make to the University, since it is a permanent fund that will exist in perpetuity, said Dr. Kelly Overley Cronin, UTRGV vice president for Advancement.  With a goal to reach $100,000, Cronin said, the university continues to seek regional partners to contribute to the RGV Partnership Endowment Scholarship.
"This fund will benefit students from across the region. When donors establish student endowed funds, it's their way of stepping in to be part of something that's a game changer for the students and their families. The scholarships help lift a student's self-confidence, which in turn results in them earning their degree quicker," she said.
For more information about giving opportunities, contact Dr. Kelly Overley Cronin, UTRGV vice president for Advancement, at kelly.cronin@utrgv.edu or  (956) 665-5301.
MEDIA CONTACTS
Marci Caltabiano Ponce
UTRGV Director of News and Internal Communications
956-665-2742
Jennifer McGehee-Valdez
UTRGV Director of Public Relations
956-882-5105
Letty Fernandez
UTRGV Director of Media Relations
956-882-6535