Sub Menu Toggle
Inaugural South Texas Business Opportunity Forum set for March 11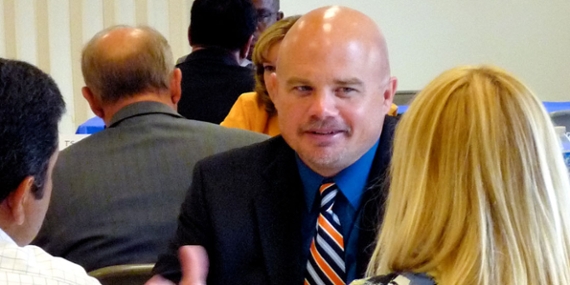 BROWNSVILLE, TEXAS – MARCH 4, 2015 – Rio Grande Valley business owners and representatives interested in learning about obtaining federal, state and local contracts are encouraged to attend the Inaugural South Texas Business Opportunity Forum (STBOF), a free informational event from 8 a.m. to 2 p.m. on Wednesday, March 11.
The STBOF will take place at The University of Texas Rio Grande Valley Brownsville Campus in El Gran Salón of the Student Union on Ringgold Road.
The Rio South Texas Regional Procurement Technical Assistance Center (RSTR PTAC) at The University of Texas Pan American presents the event in conjunction with The Honorable Filemon Vela Jr., U.S. Representative, Texas 34th District, and The Honorable Eddie Lucio Jr., Texas State Senator, 27th District.
Hosts include The University of Texas Rio Grande Valley, The University of Texas System Office of HUB Development and Brownsville Chamber of Commerce.
"We all see the business opportunities that are arising with the growth of the Rio Grande Valley, and many of these prospects involve federal, state and local jobs," said Irv Downing, UTRGV Associate Vice President for Economic Development. "This forum will provide necessary information for business owners and representatives on finding and obtaining contracts, large and small, with projects that will be opening up."
Dr. William Fannin, The University of Texas at Brownsville/Texas Southmost College President ad Interim, and Representative Vela will speak at 8:30 a.m.
Breakout sessions will follow at 9 a.m., with 45-minute sessions covering contracts with federal, state and local agencies. Among the agencies holding information sessions will be the U.S. General Services Administration, the City of Brownsville, Brownsville Metro, McAllen Independent School District, the Texas State HUB Program and the TXMAS Program.
Breakout sessions will be followed by a lunch program at 12 p.m. The UT System Office of Facility Planning and Construction, University Campus Purchasing and the prime contractors for the upcoming construction projects on both campuses will present an overview of the UTRGV Capital Improvement Program.
Lunch will be provided; seating is limited. Attendees are encouraged to RSVP at 956-665-8931.
"This event has been carefully planned to maximize everyone's time, for interested parties to meet, greet and learn," Downing said. "Opportunities are on the horizon; this will be time well spent for anyone in business who is seeking to gain new opportunities; now is the time to plan and prepare."
The UTPA RSTR PTAC provides free and confidential business counseling and training to businesses interested in obtaining contracts with local, state and federal governmental entities. With more than $16.7 million in assisted projects in FY 2014/15, the UTPA PTAC helps clients with business certifications and growth strategies to be ready to compete in the marketplace.
To learn more about these services or for assistance, please contact the >UTPA Rio South Texas Regional PTAC at 956-665-8931, or www.utpa.edu/ptac or facebook.com/utpa.ptac.
Media Contact:
Letty Fernandez, UTRGV Director of Media Relations
956-882-6535 Letty.Fernandez@utrgv.edu