Sub Menu Toggle
Grainger Foundation supports UTRGV's food pantry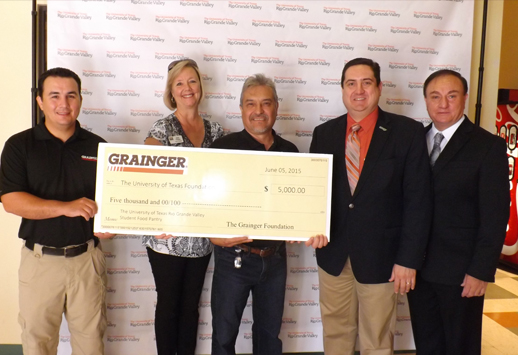 Pictured from left are Eric Fernandez, McAllen Grainger Company onsite service consultant;
Jody Nelsen, RGV Food Bank Board President; Alfredo Cuellar, McAllen Grainger Company
manager; Ernesto "Ernie" Rodriguez, Jr., senior development officer for the Division of
University Advancement; and Banegas.
McALLEN, TEXAS – JUNE 19, 2015 – The University of Texas Rio Grande Valley Food Pantry recently accepted a $5,000 donation from The Grainger Foundation to contribute to the university's efforts to provide food items to students experiencing hunger or food insecurity.
Grainger, an independent, private foundation based in Illinois, was established by William W. Grainger, founder of the industrial supplies provider W.W. Grainger Inc.
"We are proud to recommend the programs offered by the UTRGV Student Food Pantry," said Alfredo Cuellar, branch manager of W.W. Grainger Inc.'s McAllen location who suggested UTRGV's food pantry for the donation.
"We understand the need for assisting students in need at UTRGV by providing food supplements to those who have been impacted by financial problems or conditions and subsequently are experiencing difficulty meeting their basic need of adequate nutrition."
Dr. Michael Banegas, associate dean for Student Support at The University of Texas – Pan American, said the food pantry coincides with the university's values in supporting student retention.

"This grant will be used for supplying food for the enrolled students in summer and fall," Banegas said. "We support the safety, health and wellbeing of university students, who are a primary concern of UTRGV."
The food pantry, launched last fall at UTPA, provides non-perishable food items once a week to currently enrolled students in need of assistance. The pantry, under the sponsorship of the Food Bank of the Rio Grande Valley, is located in Room 104 of the University Center and is open from 4 p.m. to 6 p.m. Mondays, Tuesdays and Thursdays and from 3 p.m. to 5 p.m. Fridays. This is the second university-run food pantry in The University of Texas System; the first is at The University of Texas at Dallas.
For more information about the UTRGV Food Pantry, contact Jennifer Cerda, food pantry coordinator, at jcerda1@utpa.edu or visit the website at www.utpa.edu/foodpantry.
ABOUT UTRGV
The University of Texas Rio Grande Valley was created by the Texas Legislature in 2013 in a historic move that made it possible for residents of the Rio Grande Valley to benefit, for the first time, from the Permanent University Fund, a public endowment contributing support to eligible institutions of The University of Texas System and the Texas A&M University System.
UTRGV also will be home to a School of Medicine and will transform Texas and the nation by becoming a leader in student success, teaching, research and health care. UTRGV will enroll its first class in fall 2015, and the School of Medicine will open in fall 2016
ONLINE
For more information on UTRGV, visit the website at www.utrgv.edu, like its Facebook page, or follow @utrgv on Twitter. 
MEDIA CONTACTS

Marci Caltabiano-Ponce, UTRGV Director of News and Internal Communications
956-665-2742
Jennifer McGehee-Valdez, UTRGV Director of Public Relations
956-882-5105