Sub Menu Toggle
Orientations underway at UTRGV for new students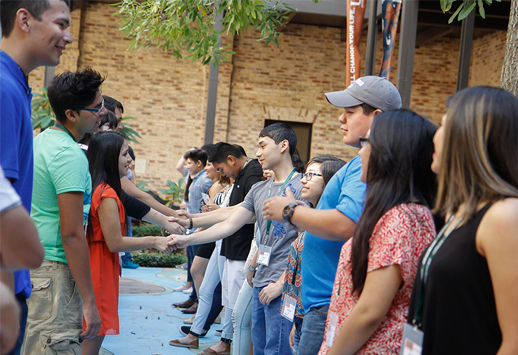 EDINBURG & BROWNSVILLE, TEXAS – JUNE 16, 2015 – The University of Texas Rio Grande Valley is welcoming its first class through several new student orientations that began in May and will be held until mid-August.
Sessions are taking place at both the Edinburg and Brownville campuses. Organizers said multiple departments and committees are working hard to create a smooth transition into the new university, as well as making orientation an enjoyable, interactive experience for the incoming class.
"We want to help new undergraduates understand the nature of the university, the educational opportunities available to them, the values and functions of the university community and the central objective of the university as an academic enterprise," said Mayra Martinez, UTRGV associate director of recruitment and outreach.
During orientation, students tour the campus, join ice-breaking group activities and learn about clubs and organizations, student services, financial aid, academic programs and student life. In addition, orientation gives students the opportunity to meet UTRGV faculty and staff and get an early start in building Vaquero spirit.
Incoming freshman Michel Hernandez, a graduate of Idea College Preparatory High School in Donna, Texas, said the experience has allowed her to interact with prospective classmates.
"I stepped out of my comfort zone, which was something that was hard at the beginning. But then I started talking to new people," she said.
As of June 12, nearly 1,300 students had attended orientation sessions.
"It's exciting, being a part of this new legacy and being able to say, 'We're the first class, let's set the bar for the next one so they can aim even higher,'" Hernandez said.
To register for an upcoming session, new students should log on to ASSIST at my.utrgv.edu/home. The last session at the UTB/TSC campus will be Aug. 12. At UTPA, the last session will be Aug. 14.
For more information about registration or orientation for new students, call the Admission and New Student Services Office at (956) 665-5206.
ONLINE
For more information on UTRGV, visit the website at www.utrgv.edu, like its Facebook page, or follow @utrgv on Twitter.   
MEDIA CONTACTS
Marci Caltabiano-Ponce, UTRGV Director of News and Internal Communications
956-665-2742
Jennifer McGehee-Valdez, UTRGV Director of Public Relations
956-882-5105