Sub Menu Toggle
Chess Community Day a blockbuster for enthusiasts of all ages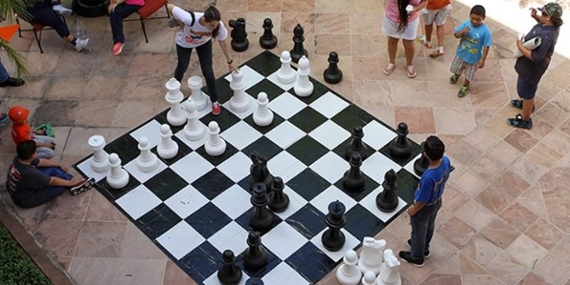 Link to photo gallery of UTRGV Chess Community Day
BROWNSVILLE, TEXAS – JUNE 10, 2015 – Kings, queens, rooks, bishops, knights and pawns joined chess enthusiasts of all ages at The University of Texas Rio Grande Valley's first Chess Community Day.
Dr. William Fannin, president ad interim of The University of Texas at Brownsville, welcomed some 200 guests – youngsters, teens, parents, school chess coaches, community chess players, and university students, faculty and staff – to the Gran Patio at Main for the morning event on Saturday, June 6.
After the introduction of Chess Grandmaster Bartek Macieja as UTRGV Chess Coach and Alfonso Almeida as the senior program coordinator for chess, guests watched players match wits against Macieja as he played 20 opponents simultaneously in a "simul" match.
In another area, five-minute blitz games were taking place, with guests trying their skill against UTB/TSC chess team players. Yet another spot was set up with oversize chessmen on a giant chessboard, where youngsters battled with university players and each other.
Attending were three families from Brownsville's Hudson Elementary School, home of the 2015 Texas State Elementary Chess Champions, and their coach, Luis Gomez. Two of Gomez's students, brothers Alik and Uriah Garza, arrived early and immediately began playing on the lawn chess board. Seven and five years old, respectively, each started playing chess in kindergarten.
"We look forward to more successes at Hudson Elementary, and I hope to see some of our players become members of the UTRGV chess team in the coming years," Gomez said.
Orlando Perez, going into sixth grade at Brownsville's Manzano Middle School, was there with his parents, Lisa and Fernando Perez.
"Chess gave me something interesting to do," Orlando said. "Actually, my dad got me started playing chess; he taught me a lot, and now I beat my dad."
Claudia Alaniz brought her children, Deevine and Devante, from San Benito. Deevine, going into third grade, and Devante, going into second grade, train with Jesse Sauceda, their coach at San Benito's Dr. Cash Elementary School.
"There is a table with a chessboard in the school library, and Devante was curious about it. He came home one day and said he wanted to play chess, so that's how it started. Then he helped his sister learn," Alaniz said.
High school students were in attendance, too, with players from Brownsville Early College High School and Brownsville's Veterans Memorial High School.
Three members of the age-55-plus Winter Haven Resort Chess Club also attended. As he was participating in the "simul" with Macieja, Howard Slackman, club president, said they are happy that the new university's chess program will expand upon the outreach programs started by UTB/TSC.
Outreach is part of Macieja's plan for UTRGV Chess, with one idea being the establishment of a chess academy with regularly scheduled classes.
"Parents and school coaches have expressed an interest in an academy, and I look forward to pursuing this idea," he said.
Macieja also wants to focus on training K-12 chess coaches throughout the Rio Grande Valley.
"I am pleased to welcome Alfonso Almeida to our team," Macieja said. "Alfonso can offer high-level instruction, and his experience from other programs and districts will be valuable, along with the advanced tools he brings for online teaching."
Dr. Havidán Rodríguez, president ad interim of The University of Texas Pan American and UTRGV provost and executive vice president for academic affairs, spoke of Macieja's numerous accomplishments in the international world of chess before he arrived at UTB/TSC in 2012.
"We look forward to working with our team's leadership, to expand the chess program across all our campuses at UTRGV," Rodríguez said. "Chess has been an important part of the history here at UTB/TSC, and chess will also play an important role at UTRGV."
Although the chess program will be based on the Brownsville campus, Macieja said, he and Almeida will be present on all UTRGV campuses. As at UTB/TSC, UTPA has had an active chess club. Members of the UTPA chess club attended the event, along with club president David Ortiz, a biology and psychology major, and faculty advisor, Dr. Nancy Razo, clinical assistant professor in educational psychology.
"As for the UTRGV team, I have already started recruitment of players," Macieja said. "I hope there are some among the young students today who will become UTRGV chess team members in a few years."
Macieja announced that summer chess camps will take place on the Edinburg campus and in Brownsville using the facilities of Episcopal Day School. Chess camps are open to the public, for all levels including beginners, during the week of July 27–31.
ONLINE
For more information on UTRGV, visit the website at www.utrgv.edu, like its Facebook page, or follow @utrgv on Twitter.   
MEDIA CONTACTS
Marci Caltabiano-Ponce, UTRGV Director of News and Internal Communications

956-665-2742
Jennifer McGehee-Valdez, UTRGV Director of Public Relations

956-882-5105