Sub Menu Toggle
Chess enthusiasts invited to attend UTRGV Chess Community Day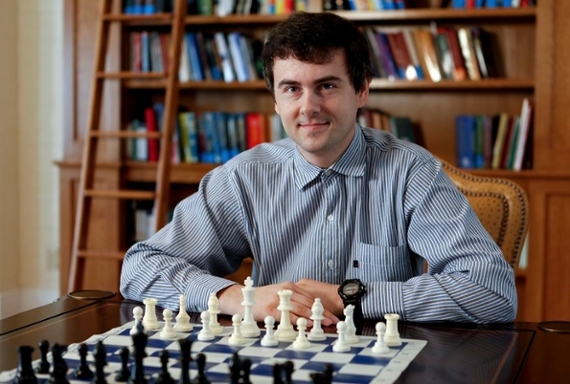 UTRGV Chess Coach Bartek Macieja
BROWNSVILLE, TEXAS – JUNE 2, 2015 – Chess enthusiasts of all ages and levels of expertise are invited to Chess Community Day hosted by The University of Texas Rio Grande Valley from 10 a.m. until noon Saturday, June 6.
The family friendly event will take place on El Gran Patio of Main at the Brownsville campus. Visitors will have a chance to meet Chess Grandmaster Bartlomiej "Bartek" Macieja, who will be introduced officially as the UTRGV chess coach.
Anyone wishing to match wits against Grandmaster Macieja will have that opportunity in a simultaneous "simul" match, with Macieja playing multiple players at one time.
Members of the UTB/TSC chess team – soon to become the UTRGV Chess Team members – as well as members of the chess club at The University of Texas Pan American, will be on hand to talk to visitors and sign autographs for youngsters.
Those from the UTB/TSC team include Armando Cortez (Mexico), Mkhitar Hobosyan (Armenia), Daniela De la Parra (Mexico), Jeffrey Serna (Taos, New Mexico) Simon Vasquez III (Harlingen) and Felix Ynojosa (Venezuela).
Blitz games will take place during the event, with players demonstrating their skill using life-size chessmen on the giant chessboard.
A special moment will occur with a ceremonial chessboard signing, when Dr. William Fannin, president ad interim of The University of Texas at Brownsville/Texas Southmost College, and Dr. Havidán Rodríguez, president ad interim of The University of Texas Pan American, will be joined by Dr. Juliet V. García, executive director of The Americas Institute, to sign a commemorative chessboard.
Macieja has been chess coach at The University of Texas at Brownsville/Texas Southmost College since December 2012, when he arrived in time for him to meet and conduct some last-minute coaching sessions with most of the players prior to the team's departure for the 2012 Pan American Intercollegiate Team Chess Championship.
Prior to accepting the position with UTB/TSC, Macieja and his family spent a year in his home country of Poland where he completed his master's degree in physics from the University of Warsaw.
Macieja had been primarily an international chess player before his involvement with collegiate chess, bringing with him a long list of accomplishments in a variety of categories, including Polish Individual Championships, Zonal Tournaments, European Individual Championships, Individual World Championships and World Cups.
Community Chess Day will be a casual event that includes free goodies for youngsters, including UTRGV chessboards.
Parking will be available in the large lot across West University Boulevard; visitors are encouraged to use the crosswalk at the traffic light.
For more information on Chess Community Day, call 956-832-5761.
MEDIA CONTACTS
Marci Caltabiano Ponce
UTRGV Director of News and Internal Communications 
956-665-2742
Jennifer McGehee-Valdez
UTRGV Director of Public Relations 
956-882-5105