Sub Menu Toggle
STITCH brings preventive health care to Indian Hills colonia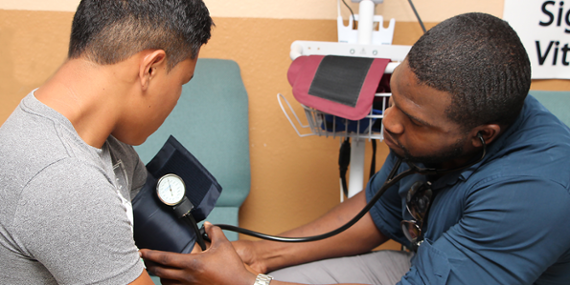 UTRGV medical resident Dr. Charles Lewis checks blood pressure for residents of the Indian Hills
colonia during a recent STITCH health care fair.
MERCEDES, TEXAS – JULY 20, 2015 – The University of Texas Rio Grande Valley School of Medicine has launched an interdisciplinary approach to providing preventive health care for Valley residents who are underserved.
UTRGV, in partnership with the Hidalgo County Health Department and a host of other collaborators including hospitals, nonprofit organizations and educational institutions, has started offering health screenings and other services to Valley residents who live in the colonia of Indian Hills in Hidalgo County, and in Cameron Park in Cameron County.
The colonia health program is part of UTRGV's South Texas Interprofessional Team Collaborative for Health, known as STITCH, which involves representatives from a variety of professions including researchers, clinicians, promotoras and others, in providing care to the community.
The colonias were selected based on their size, need for care, level of infrastructure and other criteria set by the state.
UTRGV and the Hidalgo County Department of Health on July 11 kicked off the health care program at Indian Hills with free screenings, including blood pressure monitoring, vision and hearing testing, immunizations, diabetes education sessions and dental assessments.
Dr. Francisco Fernandez, inaugural dean of the UTRGV School of Medicine and vice president for Medical Affairs, said community activities like STITCH are an important component of the School of Medicine's role as a pivotal community partner.
"We believe prevention and early detection provide the best approach to maintaining health and avoiding disease," Fernandez said. "We want to improve the health and well-being of Valley residents by delivering top-notch health services, so our STITCH program in the colonias is important for all of us.
For more information on the UTRGV School of Medicine, visit the website at http://www.utrgv.edu/som.
MEDIA CONTACTS
Marci Caltabiano-Ponce, UTRGV Director of News and Internal Communications
956-665-2742
Jennifer McGehee Valdez, UTRGV Director Public Relations
956-882-5105