Sub Menu Toggle
Regents' Teaching Award professor follows family tradition as educator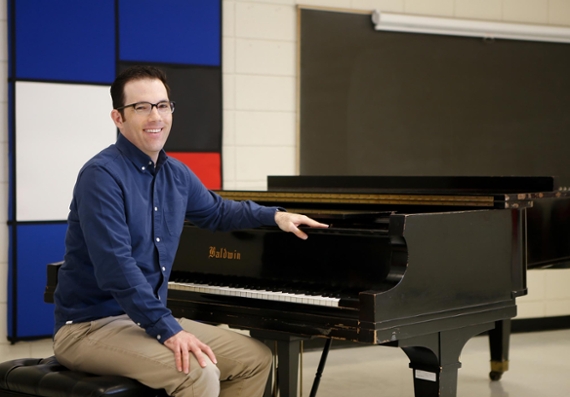 BROWNSVILLE, TEXAS – JULY 15, 2015 – Dr. Daniel Hunter-Holly, associate director of the School of Music at The University of Texas Rio Grande Valley, said there was a time when he took access to education for granted.
"I grew up in a household of teachers," he said. "A transformative moment for me was realizing that not everyone expects or feels they deserve an education. Understanding this has made me thankful for my family's support of my educational goals and deepened my sense of responsibility to help others who are striving – and sometimes struggling – to find a better life through education."
Hunter-Holly joins an elite group of 79 professors throughout The University of Texas System to be named a recipient of the 2015 Regents' Outstanding Teaching Award.
"I am truly honored to receive this award, and thankful that the UT System and Regents continue to recognize the importance of undergraduate teaching in this way." he said. "I strive to do my best, both in terms of teaching students all of the musical concepts they need to know, and in helping them mature into responsible, engaged citizens, and future teachers themselves." 
Hunter-Holly's students regularly place as winners and finalists in National Association of Teachers of Singing competitions. Many of his students become successful music educators at Rio Grande Valley schools and beyond; some pursue performance careers.
Jason Whitney, a 2014 music education graduate, was recently named the head choir director at Brownsville's Lopez High School.
"Dr. Hunter-Holly was one of the greatest professors I ever had," Whitney said. "I would not be the teacher and performer that I am today without his guidance. His mentorship has made a great impact on my teaching, and I pass that along to my own students."
A baritone, Hunter-Holly teaches applied voice, vocal pedagogy, vocal literature and opera workshop. He is an active recitalist, specializing in American art song and French mélodies. His current research focuses on teaching techniques that strengthen a comprehensive liberal arts education within the music degree curriculum.
"As a teacher, my main objective is to inspire my students to become musical and scholarly investigators, capable of self-evaluation, who eagerly choose to be life-long learners," he said.
Jessica Rosas, a 2013 UTB/TSC graduate, is currently pursuing a master's degree in vocal performance at Texas Tech University.
"As a proud former student of Dr. Hunter-Holly's, I was provided with the finest tools I needed to become both a highly skilled singer and an accomplished educator," Rosas said. "His passion and dedication were the key factors that inspired me to take the next step towards my singing career. I could have not made it this far without his support and guidance."
Outreach into the Brownsville community has been a hallmark of Hunter-Holly's seven years at UTB/TSC. He has built upon the tradition of Bravo Opera Company's annual production of Hansel and Gretel for local elementary school children every October. More than 1,000 students attend this performance; for most, it is their first time to the university campus, to a performing arts theater and to an operatic performance.
A member of the UTB/TSC music faculty since 2008, Hunter-Holly holds degrees in Vocal Performance from The Ohio State University, University of North Carolina Greensboro, and University of California Santa Barbara.
The Regents' Outstanding Teaching Awards are the UT System Board of Regents' highest honor, offered annually in recognition of faculty members who have demonstrated extraordinary classroom performance and innovation in undergraduate instruction at the UT System's nine academic and six health institutions.
"These amazing educators are responsible for helping to prepare the next generation of great leaders," said Regents Chairman Paul Foster. "With a total award of more than $1.9 million dollars this year, no other university system in the nation is making this kind of an investment in rewarding outstanding faculty. The efforts of these faculty members significantly enhance the educational experiences of our students and the UT Board of Regents is pleased to have this opportunity to honor them."
Hunter-Holly will receive his award medallion and join the other recipients of the Regents' Outstanding Teaching Awards at a banquet to be held on Wednesday, Aug. 19, in Austin.
Media Contacts:
Marci Caltabiano Ponce, UTRGV Director of News and Internal Communications
956-665-2742
Jennifer McGehee Valdez, UTRGV Director of Public Relations
956-882-5105