Sub Menu Toggle
Collaborative exchange program renewed with university in China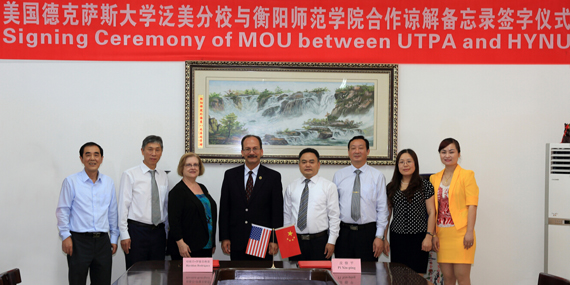 EDINBURG, TEXAS – JULY 1, 2015 – A six-year partnership between The University of Texas-Pan American and Hengyang Normal University (HYNU) in China was renewed during a recent visit to China by two UTPA faculty members and Dr. Havidán Rodríguez, UTPA president ad interim and provost and executive vice president for Academic Affairs at The University of Texas Rio Grande Valley.
A  sister university agreement, signed in 2009, established opportunities for faculty from UTPA and HYNU, a teaching institution of similar size in the city of Hengyang in Hunan Province, to study and conduct research on each other's campuses. The agreement will carry over to UTRGV in fall 2015, when UTPA and The University of Texas at Brownsville/Texas Southmost College become The University of Texas Rio Grande Valley.
Rodríguez described the meeting as an emotional moment for the HYNU hosts and the UTPA guests, as they reunited with those who had visited the Edinburg campus in the past.
"This get-together really showed the impact that UTPA and its faculty have had across the world and the importance and power of these ongoing substantive partnerships," he said.
The partnership began with faculty exchanging methods and research on teaching English as a Second Language (ESL). Then art and computer science faculty members travelled to HYNU to teach. In exchange, some 20 faculty from HYNU have served as visiting faculty at UTPA. 
This newest agreement primarily provides for similar exchange opportunities for students from both universities.
"Globalization is a mission of our university," said Dr. Yong Lang, UTPA professor of English, who accompanied Rodríguez on the trip, along with Dr. Pamela Anderson-Mejías, also a UTPA English professor. "It shouldn't be an empty word. It should be in our programs, in our curriculum and in every office and department. For students here to go outside the Valley and travel to places like China … it is transformational."
Rodríguez said collaborative exchange programs like the one with Hengyang Normal ensure that our faculty and students will have opportunities to interact with different cultures, languages, methods of teaching and perspectives on the world.
"We want our students to be successful, but also to become competent, culturally sensitive global citizens in an increasingly globalized society. This collaboration definitely reinforces this important goal of The University of Texas Rio Grande Valley," he said. "We need to continue to expand the global reach and impact of our institution."
The document was signed by Rodríguez and Xiuping Pi, HYNU's academic president, who is planning to visit UTRGV in fall 2015.
"Agreements like this allow for a more seamless exchange of faculty and research scholars between the two institutions. It also provides tuition benefits by securing financial aid and scholarships at students' home institutions," said Dr. Sandra Hansmann, who currently directs UTPA's Office of International Programs.
The agreement plans for HYNU to recruit students for a joint master's in the ESL program starting in fall 2016. Also in fall 2016, HYNU will send visiting students to UTRGV to study for a semester, and will offer several UTRGV students a one-semester scholarship to learn Chinese at HYNU. In addition, it provides for eight visiting professors from HYNU to teach here starting in fall 2015, and welcomes faculty members from UTRGV to teach in their specialized field using English at HYNU.
The agreement also plans for one of the visiting professors from HYNU to teach a voluntary course in wushu or taiji (also known as T'ai chi) sports derived from traditional Chinese martial arts.
"Seeing more of the world through the eyes of other people helps our students mature and recognize that there are more than just Spanish and English worlds out there," Anderson-Mejías said.
While in China, Anderson-Mejías gave a presentation on second-language acquisition and online learning and, along with Rodríguez, was given an honorary professorship at HYNU.
For more information on UTRGV, visit the website at www.utrgv.edu, like its Facebook page, or follow @utrgv on Twitter.   
MEDIA CONTACTS
Marci Caltabiano-Ponce, UTRGV Director of News and Internal Communications
956-665-2742
Jennifer McGehee-Valdez, UTRGV Director of Public Relations
956-882-5105