Sub Menu Toggle
UTRGV Athletics hires Todd Lowery to lead volleyball program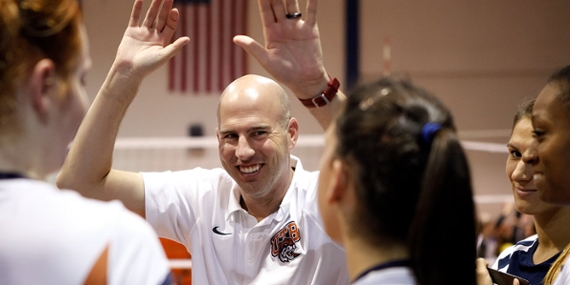 EDINBURG, TEXAS – JANUARY 9, 2015 – The University of Texas Rio Grande Valley (UTRGV) Department of Intercollegiate Athletics announced on Friday that Todd Lowery, who won two national championships as the head coach of the University of Texas at Brownsville/Texas Southmost College (UTB/TSC) volleyball team, is the new head coach of the UTRGV volleyball team.
Lowery will serve in the role of head coach for The University of Texas-Pan American (UTPA) this spring as well. He will resign in his role as UTB/TSC Director of Athletics and head volleyball coach on Jan. 31 before joining UTPA on Feb. 1.
"Anytime we're in the process of selecting a new head coach, we are searching for those candidates that have the ability to be the CEO of their respective sport programs and also serve as a great fit in our community," UTRGV Director of Athletics Chris King said. "With the transition to UTRGV, one of my main priorities is to unite the Brownsville and Edinburg campuses. I've known Todd for the past five years, and have had the opportunity to watch him build a program that was a national powerhouse both on and off the court, while earning respect throughout the community and the nation. We want to compete for WAC Championships on an annual basis, and with Todd's extensive international recruiting contacts and prior competitive excellence, we are confident that he can take this program to the next level."
Lowery was the head coach at National American University (NAU) from 2002-08 and UTB/TSC from 2009-14. He holds a career record of 416-36 (.920) to go with four NAIA national championships (2002, 2006, 2011, and 2013). His team went 211-22 (.906) at NAU, including 41-0 records in 2002 and 2006, and 205-14 (.936) at UTB, including a 37-0 record in 2013.
This past season, Lowery led UTB/TSC to a 34-5 record and the No. 2 ranking in the nation after reaching the national championship match.
His student-athletes have included 31 NAIA All-Americans, three NAIA National Players of the Year, six Region III MVPs, and six Red River Athletic Conference (RRAC) MVPs. His teams have achieved a cumulative grade point average of 3.0 or higher nine times.
Lowery has racked up the personal accolades as well, earning the 2006 NAIA National Coach of the Year award, two NAIA National Tournament Coach of the Year awards (2006 and 2011), 12 regional coach of the year awards (2002-07 and 2009-14), six RRAC Coach of the Year awards (2009-14), and one South Dakota Associate Press Coach of the Year award (2002).
"Since joining the WAC, UTPA, and now UTRGV, have had significant success in hiring proven head coaches that have coached at the highest levels of intercollegiate athletics," King said. "Todd's accolades and success, both in recruiting All-Americans and winning national championships, make this hire a huge coup for UTRGV Athletics.
Lowery earned his Master of Education degree in Education Administration in 2002 from Chadron State. He completed his Bachelor of Education in Physical Education with a Minor in Athletic Coaching, Chemistry, and Health and Wellness at Black Hills State in 2000.
"I would like to thank Chris King, Dr. Guy Bailey, and the rest of the search committee for the opportunity to lead the volleyball team at UTRGV," Lowery said. "I could not be more excited about the future of the new university and the athletic department. To be given the chance to be a part of that is an honor. I can't wait to get on campus and get to work. I would like to thank Dr. Juliet Garcia and Dr. Hilda Silva for their support over the years at UTB/TSC."