Sub Menu Toggle
Family honors doctor's legacy with scholarship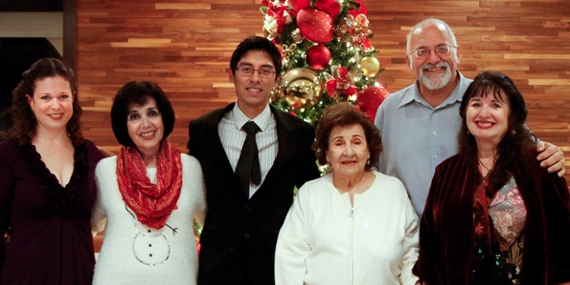 BROWNSVILLE, TEXAS – JANUARY 9, 2015 – Brownsville native David Castillo, a 20-year-old biomedical studies student at The University of Texas at Brownsville/Texas Southmost College, has the same aspirations of becoming a medical doctor as did a young Rafael Marcos De La Cruz, who was born in Cabezas, Cuba, in 1923.
Whereas Castillo's life story is yet to be written, De La Cruz' story – 90 years with various twists and turns – can be summed up in one word: Love.
De La Cruz, who passed away in late October, possessed undying love for his wife of almost 64 years, Carmita; unconditional love for his three children; a love for his lost homeland; a passion for democracy and loyalty to his new country; a dedication to medicine and his hundreds of thousands of pediatric patients – and a love of education.
"We wanted to establish an educational scholarship in my parents' names because our father was a man who believed so much in education, in people and in the incredible capacity of human beings to heal," said daughter Dr. Carmen Rocco, a Brownsville pediatrician. "He believed that goodness could only be achieved by extending the cause of goodness, and he was supported in his passion for medicine by our mother throughout all their years together."
Rocco, along with her sister, Dr. Maria De La Cruz, a psychologist, and their brother Rafael M. De La Cruz, a writer and journalist, have established The Rafael and Carmita Pre-Med Academic Excellence Scholarship, a permanently endowed scholarship.
"My dad loved each and every one of our extended family members, and everyone has been very supportive of creating this scholarship," Rocco said.
Wanting to extend a hand to a deserving student immediately, the siblings and their families created a special scholarship for the spring 2015 semester. On the recommendation of Dr. Hugo Rodriguez, Assistant Professor in the College of Biomedical Sciences and Health Professions, sophomore David Castillo was selected to receive a $2,000 scholarship.
"I am grateful that Dr. Rodriguez recommended me, and the De La Cruz family felt I deserved this scholarship," Castillo said.
To introduce Castillo to the family and celebrate what would have been their parents' 64th anniversary, the De La Cruz siblings hosted a dinner on Dec. 22. Castillo, accompanied by his mother Adriana, brother Emiliano and sister Kenia, were guests of the family for the evening. 
"It was a wonderful event," Castillo said. "All the family members were very welcoming, and it was a great experience to meet Mrs. De La Cruz for the first time. The moment she saw me she quickly extended her hand and then gave me a big hug."
Castillo said he learned more of the legacy of Dr. De la Cruz, overcoming tremendous hardships including the childhood loss of parents and siblings in a tidal wave in Cuba. De La Cruz worked his way through medical school and was practicing medicine in Cuba at the time when Fidel Castro was overtaking the country. He perilously escaped Cuba and relocated his family to the United States where he had to requalify as a licensed physician. In time, De La Cruz found his way to Brownsville, where he practiced medicine as a pediatrician for 27 years.
"At the dinner, Mrs. De La Cruz told me that the field of medicine is not easy, and that I will encounter many obstacles as I progress through the journey," Castillo said. "She told me no matter what obstacle I may encounter, I should brush it aside and keep on moving forward. Those are words that I won't forget."
Rocco said December 22nd was always a special day in the De La Cruz family – the day her parents would renew their vows and the family would have a celebration.
"It was only logical that we would use that energy and remember my parents with something as special as a scholarship recipient who would carry on the work of medicine that my father embraced so completely," she said. "We are so proud that David is the first recipient. He and his family exemplify the wonderful virtues that we need to nurture in aspiring health care providers – simple and true goodness with a profound and intense desire to help humankind."
Rocco said the family hopes to raise well beyond the necessary minimum of $25,000 for the permanent endowment.
"We want to create this endowment fund so our local aspiring and gifted doctors-to-be will have the support they need to pursue careers in medicine," Rocco said. "We invite all hospital entities, health care entities of all kinds, friends and families to contribute anything they can to this important scholarship – particularly relevant with The University of Texas Rio Grande Valley School of Medicine opening in fall 2016."
By the time the UTRGV School of Medicine opens its doors, Castillo, who is the first in his family to attend college, should already have started his medical training at The University of Texas Medical Branch in Galveston or The University of Texas Health Science Center at Houston.
As a student in the A PRIME TIME [Accelerated Professional, Relevant, Integrated Medical Education (A-PRIME) Transformation in Medical Education (TIME)] program, Castillo will complete three years at UTB/TSC, and then three to four years in medical school. He will receive conditional acceptance this semester for one of the two schools.
"The good nature and generosity of Dr. Rocco and all the family members make me aspire to become a physician who always puts patients first," Castillo said. "I want to continue the spirit of kindness and generosity that Dr. De la Cruz so greatly embodied."
For more information about giving opportunities, contact Priscilla G. Cortez, UTRGV Interim Vice President for Major and Principal Gifts, at pcortez@utsystem.edu or 512-499-4212.
Media Contacts:
Letty Fernandez, UTRGV Director of Media Relations
(956) 882-6535 Letty.Fernandez@utrgv.edu