Sub Menu Toggle
Scholarship in honor of former professor awarded to first two students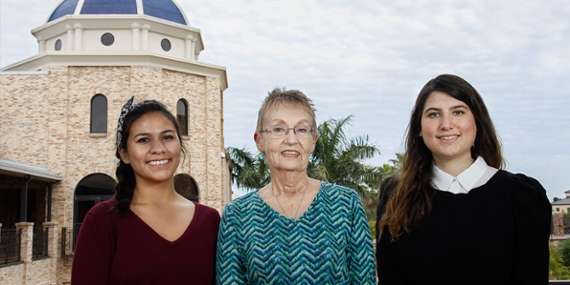 BROWNSVILLE, TEXAS – JANUARY 26, 2015 – Ana Cavazos and Jazmin Gonzalez never got to meet Dr. Norman "Joe" Binder, but they hope to honor his legacy as the first beneficiaries of the Joe Binder Scholarship Endowment for Students of Politics.
A longtime member of the faculty of The University of Texas at Brownsville/Texas Southmost College, Binder passed away two years ago.
"Being one of the first recipients of this award is very special," said Gonzalez, a junior government and sociology double major at The University of Texas at Brownsville/Texas Southmost College. "Mrs. Binder and the rest of the Binder family are very generous by setting up this scholarship. I hope to set a high precedent for future awardees."
Gonzalez has some family roots in government; her father works in the U.S. Probation Office and her aunt serves on the Texas Board of Education. Last fall, she interned in the office of State Representative Eddie Lucio III.
"I think government is one of the most interesting facets of our nation," said Gonzalez. "I have always been fascinated by politics and the effects of government on people, particularly on minorities since we are so marginalized and not fully represented by our government."
Knowing volunteers are the backbone of political campaigns, Gonzalez volunteered for the political action committee Battleground Texas last year during the 2014 mid-term elections. 
When not talking government and political science, Gonzalez is on the soccer field. She played soccer throughout her school years in Harlingen, travelling the country to attend tournaments. Now she is employed as a soccer referee for the Brownsville Independent School District, and she coaches soccer clubs for teens and elementary-aged children.
Upon graduation, Gonzalez plans on going to law school and working as an advocate for women's rights and issues as a consultant or legislation writer for a politician.
Cavazos, also a double major at UT Brownsville/Texas Southmost College, is studying public service as well as government. Passionate about politics, she, too, is proud to be among the first two students chosen to receive the Binder scholarship.
Cavazos has a campus job, working with Upward Bound, tutoring students in social sciences and English at Brownsville's Porter High School.
"The goal is to work with first-generation college students and help them focus on continuing their education after high school," Cavazos said. "Aside from tutoring, we help them with college applications and filling out financial aid forms."
While her family has no connections to politics, she started working in the office of state Senator Eddie Lucio Jr. this semester, a requirement for her legislative internship course.
A junior, Cavazos wasn't always focused on politics; she first wanted to follow her mother's lead and declared she would major in architecture. 
"After one semester, I realized it wasn't my thing, so I switched to government," she said.
After receiving her two bachelor's degrees, she hopes to earn her master's degree in economics and eventually go on to law school, with the goal of applying her knowledge in economic policy and international law to being an advocate for human rights.
Originally from Monterrey, Nuevo Leon, Mexico, Cavazos feels like becoming a government major is the best decision she's made in her life and admires the passion displayed by her professors.
Binder was known for his enthusiasm in the classroom and was viewed as popular among his students. Whether they were government majors or majoring in other disciplines, students were enthralled with his broad knowledge on life's subjects beyond those related to politics and government.
"Joe loved teaching," said Arlene, Binder's wife of 50 years. "He especially enjoyed working with and encouraging the students in his classes. He was a great believer in furthering one's education, and the opportunities that will arise from the scholarship endowment will be a great memorial to him."
During his career, Binder served as Chair of the Departments of Political Science and Social Sciences, Director of the Office of Assessment and Evaluation and the University Experience, and was a valuable participant on countless university committees.
"Dr. Binder would be proud that this endowment is in place," Arlene Binder said. "It gave him great pleasure to help many students financially – with tuition or books – through his years here at UTB/TSC and did not ask for them to reimburse him."
With this scholarship, she believes her husband's name will live on, and he will continue to lend a hand to students for years to come.
The Joe Binder Scholarship Endowment for Students of Politics will continue into The University of Texas Rio Grande Valley upon its opening in fall 2015.
For more information about giving opportunities, contact Priscilla G. Cortez, UTRGV Interim Vice President for Major and Principal Gifts, at pcortez@utsystem.edu or (512) 499-4212.
Media Contact:
Letty Fernandez, UTRGV Director of Media Relations
956-882-6535 Letty.Fernandez@utrgv.edu