Sub Menu Toggle
Valley Baptist Legacy Foundation grant will help establish mental health nursing certification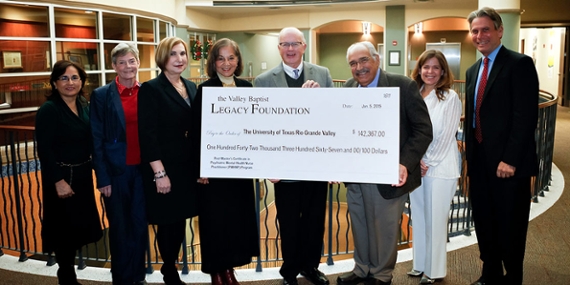 BROWNSVILLE, TEXAS – JANUARY 16, 2015 – The Valley Baptist Legacy Foundation awarded a grant to The University of Texas Rio Grande Valley that will make a significant impact on nursing education and mental health services in South Texas.
 The grant for $142,367 supports developing a Post-Master's Certificate in the Psychiatric-Mental Health Nurse Practitioner (PMHNP) program to be offered at UTRGV.
 Co-principal investigators Dr. Mary Diaz, Professor of Nursing Education in the College of Health Sciences and Human Services at The University of Texas Pan American, and Dr. Eloisa Taméz, Professor of Graduate Nursing Education in The University of Texas at Brownsville/Texas Southmost College College of Nursing, developed the grant – the first collaborative grant between the nursing programs at UTB/TSC and UTPA.
 "We are delighted to receive this grant from the Legacy Foundation to establish the first program of its kind south of San Antonio," said Taméz. "This area of healthcare is greatly underrepresented in our region; presently, there are only three programs in the State of Texas that offer this nursing specialty. Having PMHNP nurses will enable community-based clinics to expand their services to all Valley residents, including the high-need demographic of adolescents."
 The Legacy Foundation grant will enable the planning team to continue developing the PMHNP program.
 "We are working toward establishing practice education collaborations throughout the Valley community, an essential component of this certification," Diaz said. "Every aspect of the program – including curriculum and collaborative healthcare partnerships – must undergo scrutiny and eventual acceptance by the Commission on Collegiate Nursing Education (CCNE)."
 Another first: the grant is in the first grant cycle being awarded by the Legacy Foundation since beginning its new focus in 2011.
 "The Legacy Foundation continues in the tradition of excellence set forth by the two Valley Baptist hospitals, addressing the healthcare needs of our community," said Randall Baker, Executive Vice President and COO of Valley Baptist Legacy Foundation. "This grant furthers our vision to work with other organizations to measurably improve the health of those living in the lower Rio Grande Valley by promoting healthy lifestyles and providing increased access to healthcare for all."
 The PMHNP program will educate nurses to assess, facilitate and manage the psychiatric and mental healthcare needs of individuals in a cost-effective way. Applicants must be nurses who have achieved the level of Master of Science in Nursing or Certified Nurse Practitioner.
 "We see wonderful opportunities for collaboration between the College of Health Affairs, the UTRGV School of Medicine and our health care community," Taméz said. "Students will spend considerable hours in their clinical rotations to ensure superb hands-on training."
 The first student cohort is expected to consist of 10 nurses; they will begin their studies in August 2015. Classes will be held at both UTRGV Brownsville and Edinburg campuses.
 "In the coming years, we hope to attract more mental health providers to South Texas," said Francisco Fernandez, M.D., Vice President for Health Affairs and Dean of the UTRGV School of Medicine. "As with all healthcare specialties throughout our region, physicians trained in psychiatry are sorely in short supply, and the need is equally great for nurses with advanced degrees and specialties such as mental health. Nurses are on the forefront of mental health care, and this certification will enable these professionals to make a profound impact throughout our community."
Media Contact:
Letty Fernandez, UTRGV Director of Media Relations
956-882-6535 Letty.Fernandez@utrgv.edu