Sub Menu Toggle
Archer Fellows encourage students to consider a 'life-changing' semester in Washington, D.C.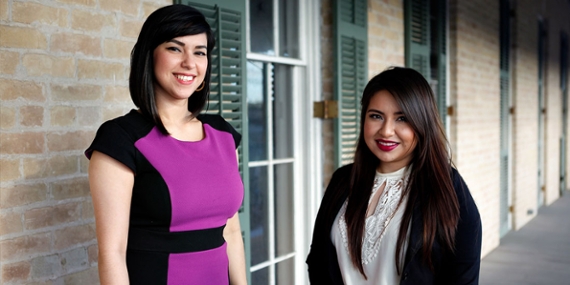 Bianca Davila, left, and Stephanie Mendez encourage students to apply for an Archer Fellowship
BROWNSVILLE, TEXAS – FEBRUARY 16, 2015 – Stephanie Mendez and Blanca Davila are enthusiastic promoters of the Bill Archer Fellowship Program, an education program designed to provide students from throughout The University of Texas System with an intense learning and exploration experience in Washington, D.C.
Students attending The University of Texas at Brownsville/Texas Southmost College – who will be enrolled at The University of Texas Rio Grande Valley in the fall – can apply to the Archer Fellows Program for the 2015–2016 academic year. The application deadline for both the fall 2015 semester and the spring 2016 semester is Monday, Feb. 23.
Mendez, who will graduate from UT Brownsville/Texas Southmost College with her Bachelor of Business Administration in Marketing and Management in May, was an Archer Fellow during the fall 2014 semester. Davila, who will receive her Master of Public Policy and Management from UTB/TSC in May, participated in the Archer Graduate Program in Public Policy in summer 2014.
Students in the Archer program receive 15 credit hours and take communication, history, and policy classes along with a fulltime internship of their choice.
"I encourage anyone who wants to broaden their horizons and learn more about how our federal government works to apply for this fellowship," Mendez said. "There is still time to apply."
"I grew so much during my Archer experience, being exposed to committed and driven people who greatly inspired me," said Davila, who interned at Achieving the Dream (ATD), a non-governmental organization dedicated to helping community college students realize greater economic opportunity to achieve their dreams.
"At ATD, I did research on organizations and individuals who have key roles in education, determining ways that ATD can work with these foundations or people," she said. "I also helped with strategic planning. My duties included collaborating with staff at Excelencia in Education, and that gave me experience working with a Hispanic-focused organization. I learned so much during this internship; it was invaluable experience."
Mendez was a policy intern for the White House Initiative on Educational Excellence for Hispanics, housed at the U.S. Department of Education. She worked on the Federal Interagency Working Group, which is a group of federal agencies that strive to make investments in education that benefit the Hispanic community. 
"I would maintain communication with participating agencies, helped set meetings, created talking points and briefings, and created a guide for the interagency working group," she said.
At times, D.C. was like old home week for Mendez.
"I got to see Dr. Juliet V. García when she was honored at the Congressional Hispanic Caucus Institute Gala, and I met with Congressman Filemon Vela," she said. "I saw my school superintendent from Pharr-San Juan-Alamo, Dr. Daniel P. King, be honored at the White House for being a Champion of Change, and got to see our UTRGV President, Dr. Guy Bailey, at the Congressional Hispanic Caucus Institute Public Policy Conference."
Every semester, approximately 40 students from UT System schools are named to be Fellows. Archer Fellows continue to receive financial aid or scholarships they would ordinarily qualify for as a full-time student on their home campus. Also, they are eligible to apply for scholarships made possible by supporters of The Archer Center and the Archer Fellow Alumni Association (AFAA).
"My expenses for the semester were more costly than staying here and living at home, but the benefit of participating in the Archer program was worth every penny," Davila said. "I was very fortunate to receive assistance – financial and moral support – from so many sincere friends and acquaintances. Being an Archer Fellow, living and working in D.C., was a very humbling experience that enabled me to learn so much about life, work and leadership. I'll always be enormously grateful to everyone who sponsored me on this journey."
Davila and Mendez said among the many advantages of being an Archer Fellow is making new friends and colleagues, invaluable social and professional contacts that could help lead to continued internship opportunities and jobs after graduation.
"It was such an honor for me to represent UT Brownsville and the Rio Grande Valley in our nation's capital," Mendez said. "This experience allowed me to get out of my comfort zone and see and experience a world I had never seen."
The deadline to apply for both the fall and spring semesters of the 2015–2016 academic year is Monday, Feb. 23.
For more information, contact Stephen Cisneros, Interim Director of Student Engagement, at 956-882-7152.
About The Archer Center
The Archer Center is the D.C. home of all academic programs and experiential learning for students, staff, faculty and alumni from the various campuses of The University of Texas System. William "Bill" Reynolds Archer Jr. partnered with his alma mater, The University of Texas at Austin, and specifically with the College of Communication and the UT System Office of Federal Relations, to create The Archer Center. Archer represented Texas in the U.S. Congress from 1971 until 2001, serving the last six years as Chairman of the House Ways and Means Committee.
Media Contact:
Letty Fernandez, UTRGV Director of Media Relations
956-882-6535 Letty.Fernandez@utrgv.edu